The rejection of Renzi: a good day for democracy
Italians have had enough of this unelected PM.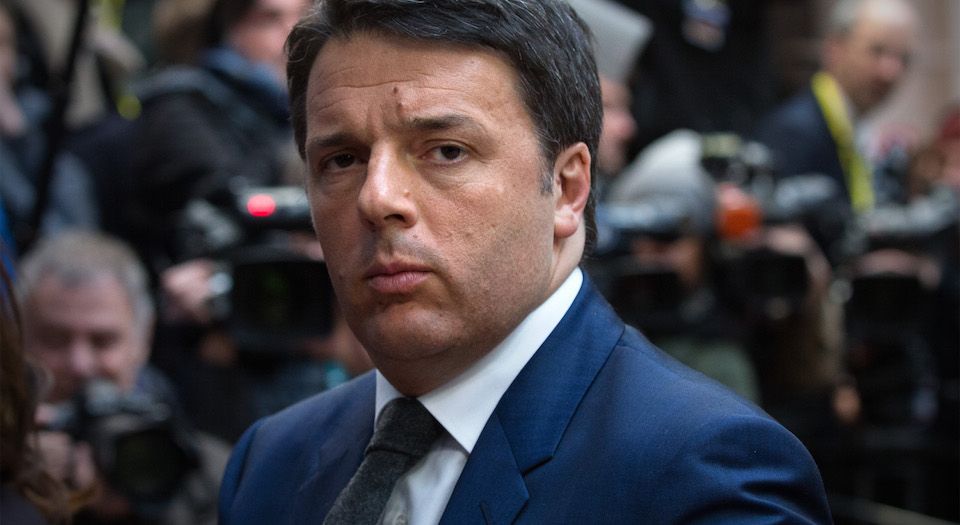 On Sunday 4 December, Italy held a referendum on constitutional reforms: 59.9 per cent of voters rejected the reforms, while 40.1 per cent supported them. Prime minister Matteo Renzi, who spearheaded the reforms, announced his resignation, but the president has asked him to stay on temporarily while the current budget is agreed. The euro fell to a 20-month low and stock index futures and Italian bonds initially slumped following the referendum. There has been much talk of the 'No' vote as a 'populist' surge fuelled by 'fake news'. What has really happened in Italy?
It is important to begin with what the vote rejected. The referendum proposed changing 47 of the Italian constitution's 139 articles. These changes would have impacted on how the two houses of parliament govern and how laws are passed, and on the balance of power between central government and Italy's 20 regions.
The most controversial change would have been to the upper house of parliament, the Senate. The referendum proposed shrinking the Senate's elected membership from 315 to 95; in addition, five members nominated by the president and ex-presidents would have sat in the new Senate. Seventy-four of the 95 senators would have been chosen from representatives in Italy's 20 regions, and 21 would have been chosen from mayors. The exact mechanism for choosing the senators was not clear.
The key proposed change was for the Senate to lose its role as a check and balance on the lower house of parliament, the Chamber of Deputies. Under Italy's constitution, legislators in both houses must approve identical drafts of bills before they become law, which means any changes made by one house must be sent back to the other for approval. Under the proposed new system, the Senate would have become a consultative body only, examining certain forms of legislation, mostly on constitutional matters. So the executive arm of government would have been greatly strengthened.
Furthermore, the reforms would have provided for the elimination of provincial governments across Italy. This is a level of government below regional government. Some of the powers held by regional governments, including civil protection, strategic infrastructure, energy and major transportation issues, would have reverted to central government control in Rome. This would have reversed the devolution of certain powers that occurred over a decade ago. The reforms would have abolished the national council on economy and labour, which advises the government and parliament. They also would have changed the way in which judges are elected to the highest court. Finally, the reforms would have made it easier for the prime minister to choose the president.
In short, the reforms would have intensified the centralisation of government and strengthened executive power. Supporters of the reforms argued this was a necessary step to speed up the passing of legislation and make government more efficient. But this claim doesn't hold up to the experience of government in Italy. 'Since the 1950s', noted Chris Harris of Euronews, 'Italy has made more laws than the UK, France and Germany'. 'In the three-and-a-half years of this legislature, there has been a law passed every five days', observed Luigi Di Maio, a deputy speaker of the lower house and leading member of the Five Star Movement.
So the proposed changes to the Senate seemed to be less about relieving a legislative logjam, and more about strengthening the executive. Indeed, the reforms would have developed a long-term trend in Italy towards passing laws with limited parliamentary scrutiny. Consider the increasing use of decree laws and legislative decrees since the 1990s. Under Article 77 of the constitution, Italian governments can adopt a decree law which lasts for 60 days and loses effect if parliament does not approve it in that period. Similarly, under Article 76 of the constitution, parliament can grant legislative power to the executive to adopt legislative decrees. Between 1996 and 2012, 43.6 per cent of legislation was adopted via decree law and legislative decree.
These legislative mechanisms and the proposed changes to the Senate go against the spirit of the 1948 constitution. After the experience of Mussolini's fascist dictatorship, the constitution sought to constrain governments by spreading power equally between the lower and upper houses of parliament. Of course, the existence of two houses does not guarantee democracy; indeed, two houses can prove problematic, and there are countries where democracy functions with one house (Norway, for example). Nevertheless, Renzi was clearly proposing reforms that would have interfered with nearly 70 years of a certain style of constitutional government, and he wasn't doing so to make democracy more direct but rather to boost his and the executive's power to do politics without too much parliamentary or popular deliberation.
However, too many of the critics of Renzi's proposed reforms have argued that Italy is naturally susceptible to authoritarianism and this is why power should not be over-centralised. 'This is the country that produced Benito Mussolini and Silvio Berlusconi and is worryingly vulnerable to populism', argued The Economist, which favoured a rejection of Renzi's proposals. Today, said The Economist, Italy could end up being dominated by someone like Beppe Grillo: 'The spectre of Mr Grillo as prime minister, elected by a minority and cemented into office by Mr Renzi's reforms, is one many Italians — and much of Europe — will find troubling.'
Grillo is a comedian and unlikely to become Italy's new strongman. His Five Star Movement does not constitute a coherent political force. Grillo opposes the euro, but he is against leaving the EU. His movement has appealed to younger voters, aged 18 to 34, who voted overwhelmingly against the constitutional reforms (81 per cent). Yes, his movement is likely to be the immediate beneficiary of the rejection of Renzi, but it is questionable whether it has a serious desire to rule in any meaningful way. European fear of Grillo fundamentally speaks to European elites' feeling of things being out of control. It was right to reject Renzi's proposals, not out of fear of populism, but to prevent the dilution of parliamentary and popular consideration.
Much depends on what happens next. Either a caretaker government will be formed with a mandate to create a new electoral law and pass the current budget bill, or Italy will have new elections based on Italicum. Whatever step Italy takes, Sunday's referendum was a good day for democracy, in that it held back a drive to strengthen the executive over open discussion. It was a bad day for Renzi, but why shed tears for a man who became prime minister through a party coup and who has never been elected to either house of parliament? He made the mistake of turning the constitutional referendum into a vote on his premiership, and clearly a majority of Italians have had enough of a stagnant economy, very high unemployment, and Renzi's manipulation of the EU. So they sent him, and what he represents, packing.
Dominic Standish lectures for the University of Iowa at its CIMBA campuses in the Veneto region of Italy. He is the author of Venice in Environmental Peril? Myth and Reality, published by University Press of America. (Buy this book from Amazon(UK).) Visit Dominic's website and blog here. He can be contacted at dstandish@europe.com.
Picture by: Getty Images.
To enquire about republishing spiked's content, a right to reply or to request a correction, please contact the managing editor, Viv Regan.