The war of attrition on Brexit
The elite is trying to break the public spirit. We must resist.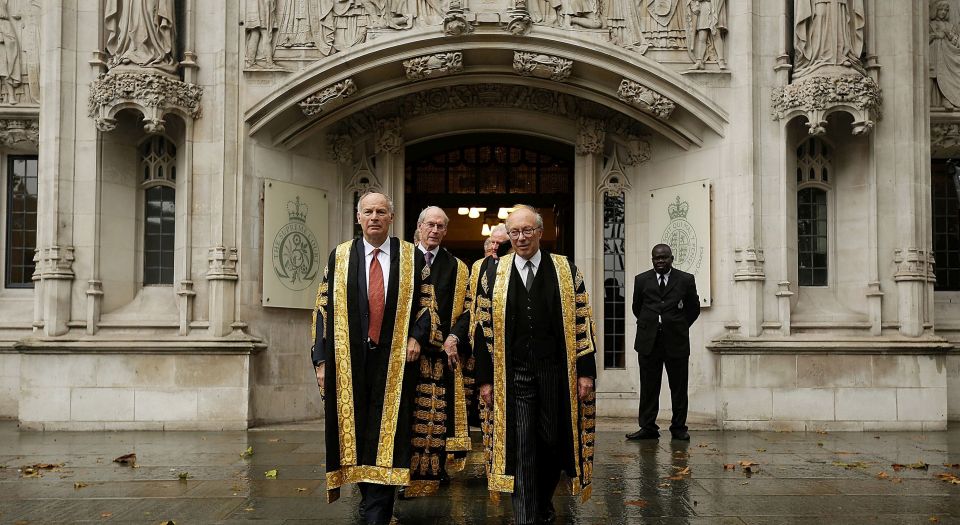 Today begins the government's Article 50 appeal in the Supreme Court, following last month's High Court ruling that triggering Brexit required parliamentary approval. The case itself hinges on dry constitutional questions. Does the government have the power to initiate Brexit? Can the government use the Royal Prerogative to trigger Article 50, as it would if it were unmaking a treaty? Or is Brexit something different? Given that triggering Article 50 would hollow-out the European Communities Act, and thus nullify the EU rights it enshrines, would this breach the principle that the government cannot unmake laws or strip us of our liberties? That, we're told, is what this case is about.
But, let's be honest – it's not. Not by a long shot. If it were, it would be of interest primarily to legal scholars and political geeks. The reason all 11 Supreme Court judges are hearing this appeal, the reason these judges, who no one knew from Adam a few weeks ago, are plastered across every newspaper, the reason the Supreme Court is expecting a packed house and has even readied two video-linked spill-over rooms, is because this is quite clearly not just about 'process', as the cash-stuffed claimant Gina Miller put it last month. This is about frustrating, delaying, smashing Brexit. This is about people who were made 'physically sick' by the Leave vote trying to stop it from being upheld.
So let's leave aside for one moment the question of whether this is any of the judiciary's business, about whether this is a constitutional question (within the court's remit), or a political question (butt out, M'lud). (I tend to think the latter.) And let's leave aside whether these judges are 'enemies of the people' or objective saints sent down from on high completely unbiased, unjaundiced, as they brew over the highly contentious question before them. Let's ignore Lady Neuberger, wife of the Supreme Court's president, calling the referendum 'mad and bad', and the result 'a protest vote'. And the fact that Baroness Hale, Neuberger's deputy, has been pontificating about the Brexit process in recent speeches. Let's forget all of that for a sec.
Instead, let's look at what surrounds this case. Let's look at the people who celebrated the High Court ruling, plainly stating that 'MPs acting from courage and conviction [can now] stop Brexit'; at Sarah Olney, the grinning new Lib Dem MP for Richmond Park, who pledged on Friday to vote against Article 50, hailing her victory as the spark for a Remainer fightback that might 'override the referendum'; at the governments of Northern Ireland and Scotland (the Remain regions), who have been invited to take part in this case; and the new legal challenge being formulated against leaving the Single Market – the latest attempt to pick through EU law in search of anything that might ply Brexit off the tracks.
The Article 50 case has been brought, fought, funded and cheered by reeling Remainers, by elite anti-democrats throwing all their money, influence and energy into stopping the Brexit vote from being implemented. Through this case, the law has been weaponised, turned into one prong in a frenzied elite scheme to override the biggest democratic mandate in British political history. And now more lawyers, Lords and Brexit-bashing MPs are piling in, emboldened to push for a second referendum, a Soft Brexit (aka Not Brexit), or create the conditions whereby the whole business of Brexit can be neatly, and bureaucratically, avoided. The government's dithering on invoking Article 50, on upholding the people's will, has allowed these anti-democrats time to stage a coup.
We can argue about this case until the paralegals pass out. It doesn't change the fact that this is about more than who can trigger what when. The die-hard deniers are now so cocky, they're not even trying to hide their intentions. Lib Dem leader Tim Farron has openly admitted that a second referendum ('on the deal') would mean a chance to thwart the Brexit vote entirely and stay in the EU. 'Opponents of Brexit should settle in', writes Martin Kettle in the Guardian. He says the legal challenge and the bureaucratic bunfights to follow will allow Remainers time to 'chip away' at Leave's support: 'Every time something new and troubling happens, make it clear that things would be different if Brexit were stopped.'
The elite is engaged in nothing short of a political war of attrition. By delaying Brexit, by taking it out of the public's hands and putting it into the hands of judges, by burying it in bureaucracy and process, it is trying to weaken our resolve, to grind us down until we either give in or give up. We shouldn't be surprised. This is how EU referendums work. When the French, the Irish and the Dutch dared to vote down EU treaties, their own elites either forced the treaties through anyway or asked them to vote again, after enough time had passed and pressure was applied to make sure the public made the 'right' decision. We can't let this happen again.
The Brexit vote brought real democratic politics back to life. That's why the elites hate it. That's why they're trying to put politics back where they feel it belongs, in the closed-off chambers and courtrooms of Westminster, far away from public passion. And yet, in the face of their bald attempts to undermine the vote, they have the gall to hold up Leavers' justified anger with the elite, with politicians, judges and millionaire anti-democrats, as proof that the mob must be kept in check. Polly Toynbee, hysterical at how assertive Question Time audiences have become, wrote last week that there is a 'whiff of civil war cordite in the air'. She's half-right. This is war, albeit a peaceful one. And it's a war we must win.
Tom Slater is deputy editor at spiked and convenor of spiked's Invoke Article 50 NOW! campaign. Follow him on Twitter: @Tom_Slater_
To enquire about republishing spiked's content, a right to reply or to request a correction, please contact the managing editor, Viv Regan.