East Aleppo: a catastrophe of the West's making
How Western meddling pushed Syria over the edge.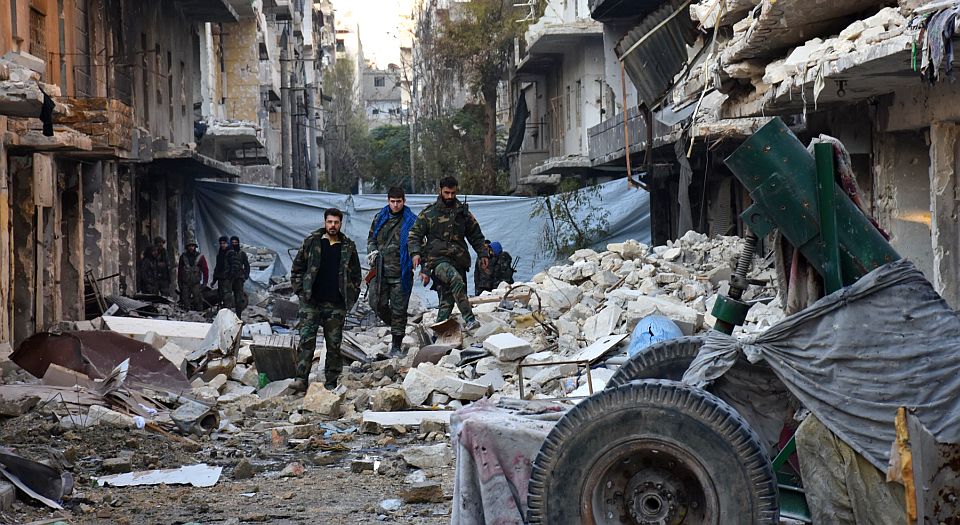 The terrible siege of East Aleppo may be nearing an end. Syrian government forces backed by Iranian militias, Hezbollah and the Kurdish YPG are retaking areas in East Aleppo that have been held by various jihadi groups. Tens of thousands of civilians have fled the fighting and gone to government- or Kurdish-held areas of Aleppo. Up to 250,000 people (figures vary) are still caught in the warzone. The toll of death and destruction in Syria is staggering. Maybe 400,000 are dead, millions are displaced within Syria, and an estimated five million Syrians are displaced in Turkey, Jordan, Lebanon and Egypt.
What is the endgame? Assad plans to reconquer East Aleppo. Then anti-government forces that are willing to make deals with the government will be allowed to go to other areas controlled by Islamist groups — a similar deal to those carried out in areas around Damascus and Homs. Eventually this will result in a de facto partitioned Syrian state in which the government will control the main cities and a few other key areas.
The latest assault follows a period of relative calm during which the Syrian government and Russia suspended airstrikes and established 'humanitarian corridors' in order to allow civilians to leave East Aleppo. Few did. The Syrian government said this was because the Islamist groups holding East Aleppo would not allow them to go. UN special envoy for Syria Staffan De Mistura offered personally to escort Al-Nusra fighters out of East Aleppo in order to save the city from further destruction. Of course, to leave East Aleppo would be to surrender this key position; Al-Nusra and other groups refused to go.
There is a very specific narrative about the Syrian War in the Western mainstream media: America and European allies have stood by and let Syria burn, giving evil genius Putin a free hand to rearrange the Middle East. Putin is a busy man for sure: as well as overthrowing Hillary Clinton, meddling in the upcoming German and French elections, and masterminding Brexit, he has apparently been sponsoring the Syrian War since 2011, too. He's clearly a global manipulator on a scale history has rarely seen.
This narrative, of course, doesn't stand up. To begin with, Russian intervention in Syria began in September 2015, when the Syrian government formally requested military help, not in 2011, when the war started. In 2015, the Syrian government was about to lose power to the coalition of Islamist groups sweeping the state, and so Russia intervened with clearly stated objectives: to bolster the government and prevent a rerun of Iraq.
How did Syria fall into such a dire state in the four years before Putin got involved? This is the news about Syria that rarely makes the headlines. The Syrian War has dragged on agonisingly for years because America, Britain, Turkey, Saudi Arabia, Qatar and the UAE have sponsored various groups, including jihadi groups, to fight Assad. Far from a lack of intervention, America, Britain and other states have been intervening in Syria from the start of the Arab Spring, and it is this intervention that has kept the catastrophic war alive.
Following the Assad government's brutal response to anti-government protests in the spring of 2011, the potential for civil war started to emerge. From the start, America, Britain and other European allies explicitly argued that Assad could not remain in power. That is to say, the sitting head of a government of a long-existing state was effectively told he could not legitimately fight to keep control of this country. This inevitably emboldened so-called rebel elements and jihadi groups, and conflict intensified. Soon, Western governments were not only denuding Assad of legitimacy but were also hand-picking those they thought should fight against him and replace him. The war was on.
An assortment of people with little or no relationship to what was going on in Syria were picked by America and its allies and trotted around European capitals as the 'democratic answer' for Syria. The main body, the Syrian National Council, has since vanished, because it had no substance or any real connection with the people of Syria. The Free Syrian Army is another name you will come across in the media, but it also doesn't really exist in any substantive way. As Mark Lynch argued in 2012, it's a 'mailbox' for various disparate groups, ranging from defectors from the Syrian army to serious jihadis.
American and European support has not been limited to talking up opposition organisations and military groups. Western governments have also actively funded and armed groups to fight against Assad. These are the so-called rebels. In essence these rebel groups are a mix of Islamists. Some, such as the CIA-funded Nour al-Din al-Zenki (known for beheading children), fight under the banner of the Free Syrian Army. Others are linked to Jabhat Al Nusra, an al-Qaeda affiliate, or to the Islamic Front. These Islamist groups often fight among themselves, but they share the aim of establishing an Islamist state in Syria. American and British taxes are going towards buying weapons for groups that execute children and want to set up an ISIS-style regime.
In 2012, MI6 and the CIA started funnelling weapons from collapsed Libya to various Syrian groups. The CIA oversees what Reuters calls 'a military aid programme that provides arms and training to "moderate" groups'. It is claimed weapons and money only go to 'vetted' groups of the Free Syrian Army, not to extremist groups. But the FSA barely exists, and in a warzone like Syria money and weapons easily spread between groups. Indeed, the factions are all so entwined that it can be hard to tell them apart.
Meanwhile, Western allies Turkey, Saudi Arabia, Qatar and the other Gulf States do not even maintain the pretence of funding 'moderate' groups. They have been channelling money and weapons straight to ISIS. And this is being done with American and British knowledge.
Iraq, Libya, Syria: it seems Western foreign-policy makers are trapped in a kind of fantasy land in which intervention in other people's conflicts is a good idea and must be pursued again and again. Despite the millions dead in Iraq and the chaos that followed intervention there, Western forces went and did the same in Libya. And then in Syria. Western political elites seem oblivious to the horrendous consequences of their actions. So the ink had barely dried on the excellent House of Commons report on the Libyan disaster when British MPs were demanding more intervention in Syria. It's madness.
However bad a situation is, Western intervention makes it worse. Without Western meddling over the past five years, Syria would not be in the state it is in right now, and Putin would not have intervened in 2015. If you care about saving lives, say no to intervention.
Tara McCormack is a lecturer in international politics at the University of Leicester. She is author of Critique, Security and Power: The Political Limits to Critical and Emancipatory Approaches to Security, published by Routledge. (Buy this book from Amazon(UK).)
Picture by: Getty Images.
To enquire about republishing spiked's content, a right to reply or to request a correction, please contact the managing editor, Viv Regan.