The wrath of the do-gooders
Are bien pensant observers the most hateful people in politics?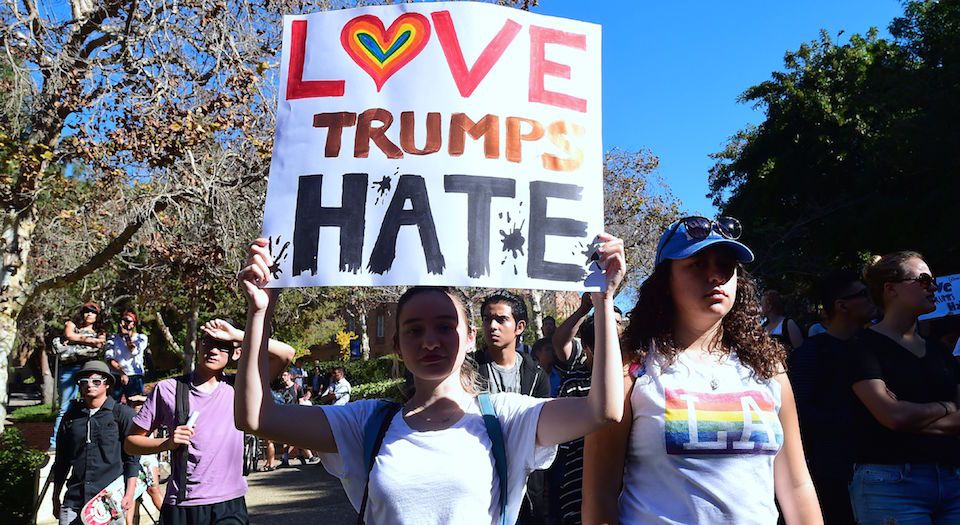 Everyone agrees that to be left-wing and liberal is to be a better, more caring and compassionate human being. It proves what an enlightened and open-minded person you are. It sets you apart from conservatives and right-wingers, those selfish and nasty folk who are obviously racist, oafish and horrid. I mean, just look at Nigel Farage, Donald Trump and people of that ilk. Aren't they ghastly?
All this is true, right? Wrong. Being caring is actually a licence to be nasty. Not only this year have we witnessed a torrent of abuse and slander from the supposedly caring left, directed at so-called populists in the UK and the US, we have also seen physical violence acted upon them. Consider the aftermath of the US presidential election. On the New York subway, someone tried to strangle a 24-year-old wearing a 'Make America Great Again' cap. A 49-year-old in Chicago was dragged down the street by a crowd screaming 'you voted Trump!' and 'you're gonna pay for that shit!'. In Maryland, a group of high-school protesters – carrying signs with the words 'Love Trumps Hate' – came across a 15-year-old fellow student wearing a Trump hat and beat him up.
The list of attacks goes on. But none of this should surprise us. There has always been a malicious, vengeful streak in sections of the compassionate new left. Consider how they have always boasted about 'hating the Tories', as if hatred is an emotion to be proud of. The far left always talk of 'smashing' or 'fighting' things, whether it be capitalism, racism or the system. The rhetoric of caring and combat paradoxically go hand-in-hand. As Albert Camus observed in his attack on Sartre in his 1951 L'Homme révolté, the more someone professes to care about humanity, the more they tend to dislike people as human beings.
To be of the left these days is to assume a sanctimonious mindset. The more people are possessed of self-righteousness, the more they are convinced of the inherent goodness of their beliefs, and the moral deviance of their enemies, the more they feel at liberty to abuse others. Just as people who have religion can justify anything they do because they have God on their side – from Tony Blair starting wars because he 'believed it was the right thing to do' to ISIS executing people in the name of Allah – the holy liberal-left can justify any behaviour because it is well-meaning.
The more caring a pose someone assumes, the more shrill and wrathful they become. For the righteous, anything is permitted. Conversely, the more one embraces the virtue of doubt, the less likely one is to want to smash things. The doubtful tend to be governed by pragmatism: 'We don't have answers. We prefer questions. We don't know what's right or wrong. We possess no solid certitudes with which to bash people. We live beyond good and evil.'
---
The closing of the Irish mind
Talking of insufferable prigs, haven't the Irish become a nation of bland and predictable bien pensants? I'm allowed to say this, as technically I'm an Irish citizen, one who will no doubt be refused NHS treatment next time I'm in hospital because my Irish passport renders me a foreigner, 'health service tourist' and sponger.
But really, the Irish have become intolerable. Turn on RTE, or open the Irish Times, and bear witness to staggering levels of sanctimony, often directed towards Britain and its supposedly racist politicians. The Irish love nothing more than being shocked and offended by Farage, preaching about how racist the Brits are, which is no doubt connected to the fact that Ireland takes in practically zero refugees from abroad, and has no visible ethnic-minority areas. Were Irish people a minority in Dublin or Limerick, as white British people are in some parts of the UK, perhaps we would have less grandstanding and more thinking from the Dublin 4 set and the sainted Fintan O'Toole.
After Trump's victory, O'Toole – who pronounces like an archbishop and whose words are revered accordingly – lamented 'an all-white banner with, at its centre, a big fist with the middle finger raised. The US as we have known it, in all its gilt and glory, has become a giant insult: to women and people of colour.' His namesake at the Irish Times, Emer O'Toole, laments how Trump is 'offering whites racial superiority; he's offering men masculine domination'.
Ireland's liberal-left are only surpassed by Australia's in their mechanical standpoint, self-regard and lordly detachment from reality. What an irony for a country that prides itself in having unshackled itself from religion, and for being rebellious, in that it should have become so preachy and conformist. One of the few voices of reason in the country is probably Kevin Myers of the Irish edition of The Sunday Times – but he grew up in Leicester. Ireland's contemporary free-thinkers mostly seem to belong to its diaspora.
---
A healthy interest in evil
We continue to be told that the killer of the late Labour MP Jo Cox had lots of books and DVDs about Hitler and the Nazis, as if this fact is indicative itself. As upsetting as the case was, I don't think having an interest in evil is proof that someone actually is evil.
I have a family relation who, as a youth, was not only obsessed with Hitler, but also had a fascination with Jack the Ripper. He used to tour Whitechapel, taking photographs, which he assembled in his own Jack the Ripper photo album. This is perfectly normal teenage-boy behaviour. He is now a married man, proud father and well-adjusted member of society.
Evil fascinates us all. That's why the Nazis are always on the television. Being interested in evil is not itself a sign of mental illness, or a sign that one could be a potential threat to society. Having an interest in the evil, odd, strange, eccentric or the different, is usually a sign of an open mind, not a diseased one. We could all do with reading more books about Hitler and the Nazis.
Patrick West is a spiked columnist. Follow him on Twitter: @patrickxwest
Picture by: Getty Images.
To enquire about republishing spiked's content, a right to reply or to request a correction, please contact the managing editor, Viv Regan.