The Red Pill: are men oppressed?
A new film offers a fascinating insight into the men's rights movement.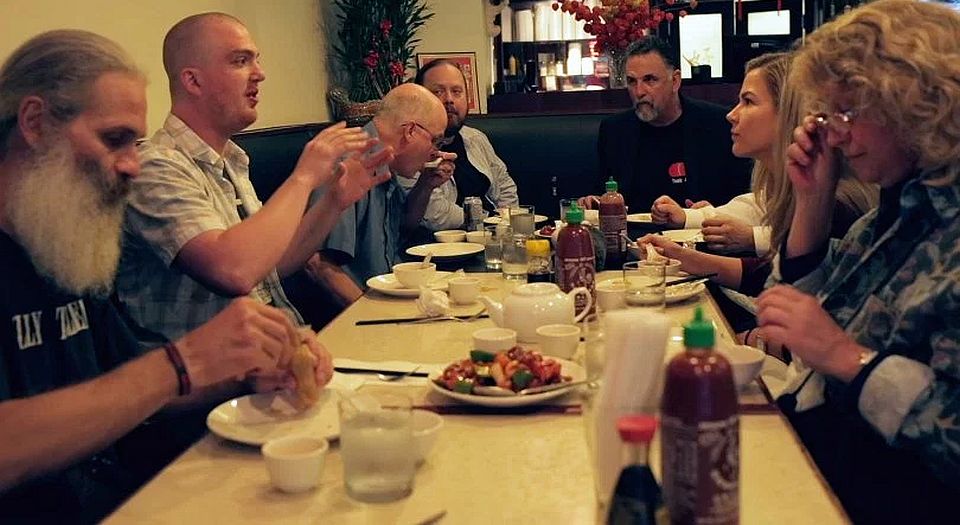 Cassie Jaye was a feminist who discovered A Voice for Men, a men's rights activist (MRA) website run by controversial figure Paul Elam, at a time when she was looking for a new documentary to make. The Red Pill was born: an in-depth look at the men's rights movement with a particular focus on the US.
The film, which required a Kickstarter campaign to get going, has faced opposition from feminists in Australia and elsewhere. It has been labelled 'misogynistic propaganda'. At the heart of the film is Jaye's personal journey from ardent feminist to someone who seriously questions her own views, even asking herself, 'Do women now have it better?'.
Statistics show that deaths in the workplace, deaths in armed conflict and suicides are overwhelmingly male, which should give any rational person pause for thought. Further, when one MRA interviewee in the film asks why we don't see feminists lobbying for more equal representation among ditch-diggers, he raises an important problem with feminist thinking: its tendency to compare ordinary women's lives with extraordinary men's lives, rather than with the experience of most ordinary, working men.
Katherine Spillar, executive director of the Feminist Majority Foundation, argues that MRAs are just frustrated because they unfavourably compare their lives to that of their grandfathers, who 'had it good'. Now, she says, too many men are simply annoyed that we live in a level-playing field. But this misses some important points. Firstly, wasn't it these very same grandfathers who, far from having it good, risked their lives fighting in the First and Second World Wars?
Also, while women must of course have the opportunity to go into the workplace, let's not pretend that the older era when men were the sole or main provider for their family was some sort of idyllic state of affairs for them. I'm sure that, for many women, being forced to live the life of a housewife was agony; but, for many men, being the breadwinner also involved stresses and concerns, and, yes, agonies. To look back on history with a sole focus on the struggle of women overlooks the struggles of men. Existence tends to be one big struggle for us all.
The film is slickly shot, and although Jaye doesn't press her interviewees with any sort of ferocity — Elam makes some controversial statements that remain uninvestigated — this is nonetheless a compelling watch. The film raises important questions: men are currently falling behind in school, women earn more than men under the age of 29, and there are those aforementioned suicide rates… what does this all mean for men? And how concerned should we be?
The Western world has undoubtedly become feminised, as some of Jaye's interviewees argue. This very feminisation is one of the contributing factors to today's unprecedented levels of global peace, as discussed by Steven Pinker in his optimistic tome The Better Angels of Our Nature. We live in the least violent time in terms of homicide rates, suicide and war deaths, and if feminisation has played a part in that, then it would be easy to agree that it is a good thing. But there have been adverse effects from feminisation, too, particularly on young men — and particularly when one factors in the collapse of industrial jobs. What does it mean to be a man now, when so many 'masculine' traits are seen as toxic and harmful?
The 'manosphere', the swirl of blogs, websites, subreddits and forums that make up the men's rights movement, is at its best when it tries to give men tangible ways to feel more masculine. The 'Red Pill' subreddit – named, like the film, after the red pill in The Matrix, which allows one to escape the Matrix and enter the real world – is full of self-improvement advice, encouraging men to get into the gym and out into the world, to approach women, to have sex. (Sex being a heavily recurring theme.)
Where lots of people are put off by men's rights activism is in relation to its reductionist view of men and women. Much of it is deeply rooted in evolutionary psychology and biology, with men seen as wanting to spread their seed and women viewed as 'hypergamous' individuals, looking for the best genes and the best financial support.
The Red Pill is a thought-provoking film. It points to what might be the next big trend in gender relations: young men taking back the meaning of masculinity. Some of the arguments made in the film are based too much on anecdotes, and there is also a tendency towards self-pity, a habit feminists are quite rightly criticised for. Nonetheless, it raises pertinent and crucial questions, and it chips away at the increasingly unsustainable idea that women in the West face awful and unique oppression today.
The most powerful argument comes from the anti-feminist Karen Straughan, with her analysis of the #BringBackOurGirls phenomenon. She explains in great detail the gross mistreatment of young boys by Boko Haram – apparently 10,000 have been kidnapped – yet points out that it wasn't until the notorious kidnapping of 273 schoolgirls that we saw a global outpouring of grief and concern. What better evidence could there be that boys and men may not be as valued as girls and women.
Fionn Shiner is a writer based in London.
Watch the trailer for The Red Pill:
To enquire about republishing spiked's content, a right to reply or to request a correction, please contact the managing editor, Viv Regan.