The Trump swamp
Cronyism and bigotry already define the Trump administration.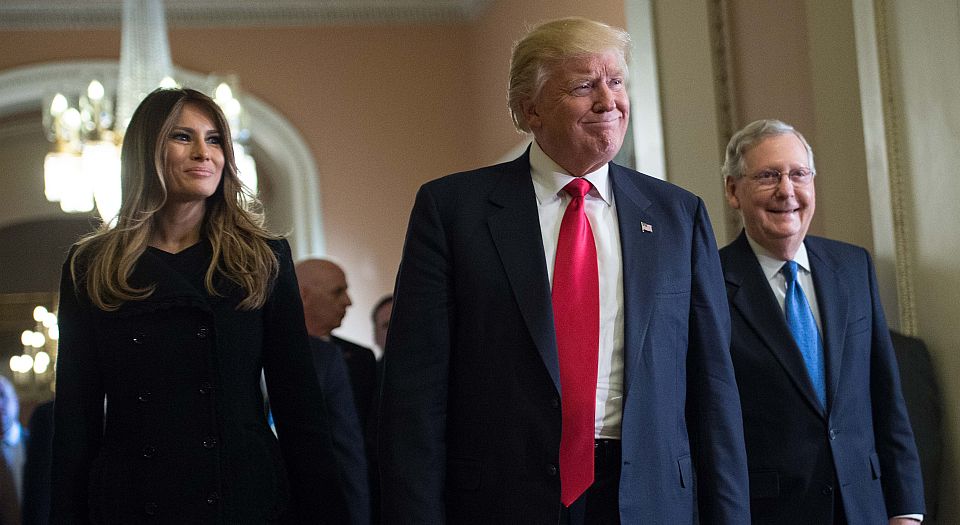 Donald Trump will not be the first US president to embrace elements of white nationalism: Richard Nixon was an anti-Semite (as the Nixon tapes demonstrated) and Woodrow Wilson was a segregationist. But Trump will be the only president of the post-civil-rights era to employ as his senior adviser and strategist a known purveyor of white nationalist propaganda – Stephen Bannon, executive chairman of Breitbart News. This news network, described as a leading organ of white supremacy, seems poised to become a de facto organ of the new administration. As several commentators have observed, Trump, 'libel bully' and opponent of a free press, now has his Pravda.
Democrats have decried the prospect of a White House housing white nationalist sympathies, and there are, I bet, Republican leaders who don't look forward to it. On occasion an out-of-power Republican will speak out against Bannon's appointment. 'Just to be clear news media, the next president named a racist, anti-Semite as the co-equal of the chief of staff', Republican consultant John Weaver tweeted. But, in general, Republicans in power are exercising their rights to remain silent. Republicans abide by their own rules of political correctness, and criticising the president-elect's concessions to far-right identity politics would be profoundly incorrect.
Of course the far right does not generally represent Trump voters, but if it did not speak to a segment of his base, Stephen Bannon would not be moving to the White House. Of course Trump voters do not constitute a monolithic bloc of bigots, as some hyperbole from the left suggests – some had previously voted for Obama. But the silence of the Republican leadership when confronted with bigotry can make the hyperbole seem true.
Besides, Republicans intent on maintaining power may realise that Trump will need his de facto state-run media to lie about the incompetence and corruption that seem certain to mark his presidency. Trump, whose ignorance of government and policy has long been on display, appears to know little about what his new job – presumptive leader of a so far relatively free world – will entail. When President Obama 'walked his successor through the duties of running the country', the Wall Street Journal reports, 'Mr Trump seems surprised by the scope'.
His transition team seems equally amateurish, as well as arrogant, and, so far, his transition has reportedly been marred by petty vendettas and purges, and slowed by the failure to fill out routine paperwork. 'By all accounts, his ignorance, and that of his entourage, about the executive branch is fathomless', a former Bush administration adviser lamented in the Washington Post.
Still, not all of Trump's transition advisers are new to the game. Orienting him to his new responsibilities are denizens of the swamp he promised to drain. As Politico reports, his transition team 'is packed with veterans of the GOP establishment, as well as with lobbyists for the fossil fuel, chemical, pharmaceutical and tobacco industries… they are leaning heavily on the sort of DC insiders that the billionaire railed against on the campaign trail – people who cut their teeth working for Presidents George HW Bush, George W Bush and former nominee Mitt Romney, as well as on the influence peddlers Trump accuses of "rigging" the system against ordinary Americans.'
But the continuation of business as usual and a renewed deference to Wall Street and the big banks, so mistrusted by Trump's economically stressed voters, pose lesser threats than the likelihood of crony capitalism on the grand scale. There will be no meaningful degrees of separation between the Trump family business and the Trump administration. Trump is not jettisoning his business or setting up a blind trust. Instead he is ceding control of the business to his three oldest children, who he also named to his transition team, ensuring no degree of separation. And even if their control of the Trump Organization is not merely nominal, Trump will maintain knowledge of how the business will benefit from foreign and domestic policies and government spending programs, like the gazillion-dollar infrastructure initiatives he seems likely to propose.
If the Trump administration contracts with private construction companies that kick back to or otherwise enrich the family business, who's to know? We, the people, will have little, if any, knowledge of the new president's self-dealing and myriad conflicts, since neither he nor his children will likely release their tax returns, or otherwise reveal the extent and nature of their business holdings and any foreign debts. Republican critics of Hillary Clinton's failure to divorce herself from the Clinton Foundation, as secretary of state, should be apoplectic about soon-to-be President Trump's refusal to divorce himself (and his children, whom he will surely not divorce) from a much more lucrative, wide-ranging, global licensing and development business. (You can find a guide to Trump's complicated web of conflicts at Politico.) Trump ally Rudy Giuliani, now rumoured to be a leading candidate for secretary of state, is also entangled in foreign financial conflicts that would disqualify him from running the State Department in any somewhat ethical administration. Still, confronted with the prospect of so much corruption, in addition to bigotry, Republicans leaders remain silent.
This is not the libertarian moment that some believed or hoped would follow a revolt against both Democratic and Republican establishments. (It's not even the fall of the Republican establishment.) People who disdain crony capitalism and identity politics, whether emanating from the right or left, and people who support a free, independent press and honest laissez-faire economic policies should temper any optimism about the coming Trump administration. The libertarian moment has been indefinitely postponed.
Wendy Kaminer is a lawyer and writer, and a former national board member of the American Civil Liberties Union. She is the author of several books, including: A Fearful Freedom: Women's Flight from Equality (1990); I'm Dysfunctional, You're Dysfunctional (1992); and Worst Instincts: Cowardice, Conformity and the ACLU (2009).
Picture by: Getty
To enquire about republishing spiked's content, a right to reply or to request a correction, please contact the managing editor, Viv Regan.