Meet the new Cold Warriors
Evil Empire-bashing is no longer the preserve of the right.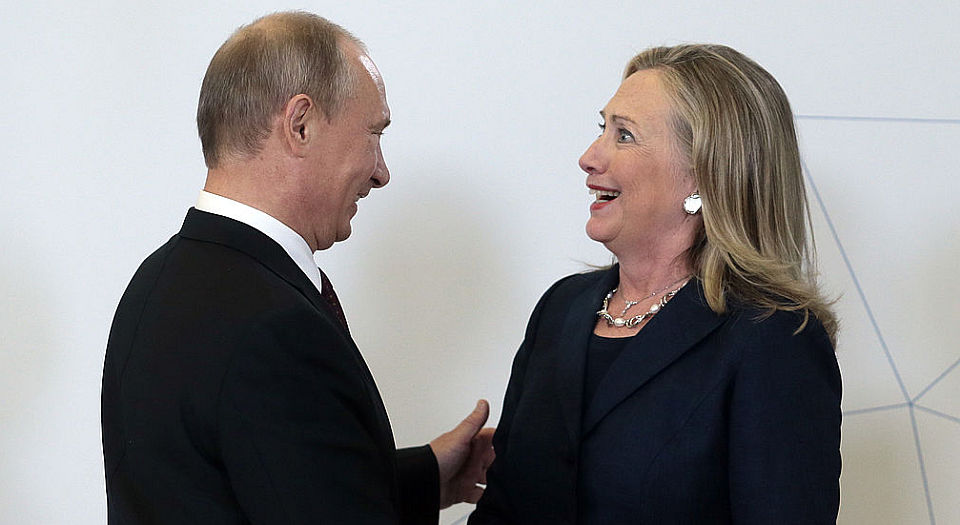 During the old Cold War, it tended to be right-wing Western politicians who were most comfortable stoking the fires of anti-Russian fear and loathing. Think of McCarthyite warnings of reds under the beds in 1950s America or of US president Ronald Reagan's attacks on the 'evil empire' in the 1980s. But no more. Today, conjuring up Russia as the nefarious demiurge of world affairs, with Vlad the Bad Putin as demon-in-chief, has almost become the self-styled progressive's stock-in-trade. Think of Russia's almost pariah status in the international community, of the ease with which the right-thinking liken its actions to those of Hitler's Germany. And think of Hillary Clinton and her supporters during the US election routinely painting now president-elect Donald Trump as 'Putin's puppet', and accusing Russia of hacking and quasi-rigging the election. So while there are of course still plenty on the right of Western politics (to the extent that a right exists) who cling to the certainties of the old Cold War, it's the liberals, the left-leaning, the now frayed and frazzled establishment, who seem most keen to fuel the fires of the new Cold War, in an attempt to rediscover some sense of moral purpose.
You can see it in the anxious, Putin-fearing response to Trump's election victory. 'Some in Europe worry that the Russian president may already be rubbing his hands with glee', reports NBC. This after all fits the pre-election narrative of Trump as Putin's grotesque marionette. And now that Trump has been installed, Putin, noted for his 'aggressive behaviour', as the New York Times puts it, can continue 'to try to revive Russian greatness', with all the chaos and peril that entails.
Over and over again, Russia is portrayed as the bringer of global instability, and now the power behind Trump's throne. So The Times (London) happily reports that a former UK ambassador to Moscow claims that Putin is gearing up for a 'hot war'. Elsewhere, a commentator warns that Putin 'is ruthless and decisive and we are not'. And all agree that Trump's victory is also a victory for Putin. Former NATO secretary general Anders Fogh Rasmussen even urged Trump to recognise that 'the best approach with Russia is a firm hand'. After all, without the US's firm hand, Russia will be all too free to pursue its 'revanchist mission', as the NYT puts it: its 'Soviet policy [of] preventing Western encirclement… fighting proxy battles to support Russian interests… and challenging Western power wherever possible'.
From the liberal anti-Russian perspective, the post-Trump anxiety over Russia is understandable. Trump has called NATO, that remnant of US, Cold War-era imperialism, 'obsolete'; he has praised Putin's leadership, saying he'd give it an 'A'; and, during this week's phonecall to Putin, Trump stressed he was 'very much looking forward to having a strong and enduring relationship with Russia and the people of Russia'. So if you're convinced that Russia is intent on bringing the West down, and reviving its 'evil empire' in the West's stead, Trump's 'bromance' with Putin, his denigration of the Western military alliance of NATO, and his readiness to throw the US's lot in with Russia really will look a little bit like the end of the world.
But then, that's the problem with this all-too-mainstream animus towards Russia; not only does it fuel and entrench the new Cold War, it blinds its advocates to their own role in fomenting this new Cold War. They can demonise Putin, they can wax darkly about Russian atavism, and invoke its imperial designs, but it's not Putin who is planning on deploying 4,000 troops to the Baltic states and Poland – it's NATO. It's not Putin who is going to send a heavy infantry brigade to Eastern Europe early next year – it is Obama's US. And it is not Putin who, witnessing a section of another nation's people protesting an election result, sides with the protesters and says conspiratorially 'they deserve free, fair, transparent elections' – that was then US secretary of state Hillary Clinton in 2011, talking about Russia's presidential elections.
In fact, Clinton has been an orchestrator-in-chief of the anti-Russian forces. She has spoken of seeking to 'confine, contain, [and] deter Russian aggression in Europe and beyond'; she said Russia's annexation of Crimea after the West/EU-stoked unrest in Ukraine, was reminiscent of Hitler's justification for taking over parts of Eastern Europe; and, in the run-up to her failed election bid, she declared, 'I remain convinced that we need a concerted effort to really up the costs on Russia and in particular on Putin'.
This is not just rhetoric. It had and continues to have real, destablising consequences. So over the past couple of months, with many predicting the victory of the anti-Russian, anti-Putin Clinton, Russia has rapidly increased its involvement and intervention in Syria: Russian warships and submarines are in place off the Syrian coastline; aircraft are flying and bombing; and Iranian and Hezbollah militias are actively assisting the reinforced Syrian regime. And the strategic motivation for ramping up the military campaign in Syria now, and with such brutality? A fear of a Clinton presidency, replete in anti-Russian sentiment, and determinedly anti-Assad commitment.
This is the effect the new liberal, right-thinking purveyors of the Cold War have been having on world affairs. They have been destabilising relationships, exacerbating tensions and prompting Russia to retroactively aggress, act out, protect itself. Given all this, is it not possible that Trump's seemingly conciliatory approach towards Russia, which while no longer super, is still a power, is far less likely to disorder and barbarise assorted regions of the world than the not-so-passive aggression of a Clinton White House?
Tim Black is a spiked columnist.
To enquire about republishing spiked's content, a right to reply or to request a correction, please contact the managing editor, Viv Regan.