Oil must find a route through North Dakota
The oil pipeline protests have been hijacked by anti-progress greens.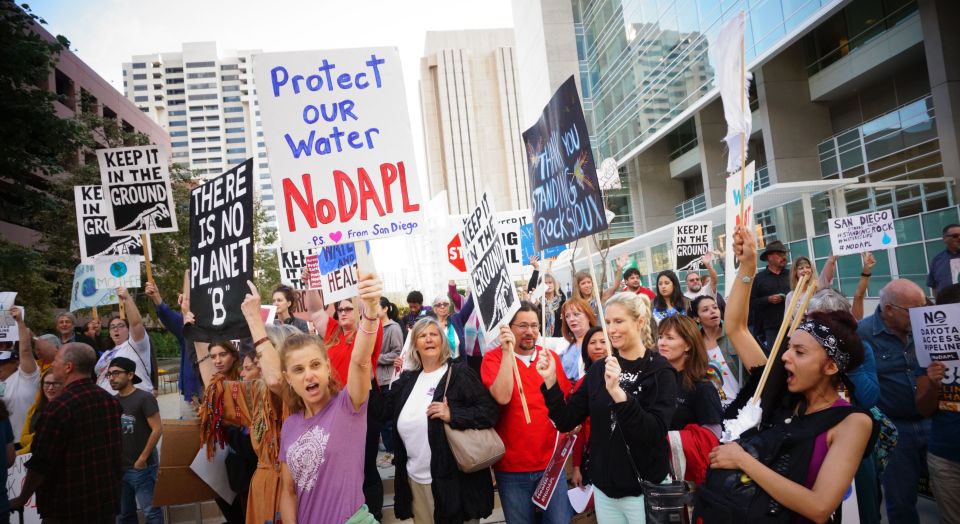 In the past few weeks, hundreds of people have been arrested and detained in North Dakota over their attempts to block the construction of an oil pipeline known as the Dakota Access Pipeline. The pipeline is intended to connect North Dakota's Bakken oil fields to a shipping depot in Illinois, helping to facilitate the transportation of North Dakota's growing oil output, a product of America's recent boom in fracking. The heavy-handed response to protesters from local authorities – including allegations of people being detained in dog cages – has elicited a great deal of sympathy on social media around the world.
The protests against the pipeline initially grew out of local concerns. On its route through North Dakota – before cutting through South Dakota and Iowa – the pipeline will cut below the Missouri river a few miles away from the Standing Rock Sioux Reservation. Understandably, many local Native American residents have expressed concern that should the pipeline leak, their supply of fresh water would be under threat.
This potential risk is easy to find sympathy with. Equally so is the injustice felt by the same Native Americans, considering the pipeline's proximity to the Standing Rock reservation came about after it was rerouted from its initial location near North Dakota's capital Bismark due to the potential threat to municipal water supplies.
However, what started as local protests against the pipeline route has grown into the largest cause for environmental groups worldwide. Hundreds of activists have taken to setting up camps in the area and clashing with police in Standing Rock, in an attempt to stop the construction of the pipeline. From the arrest of Democracy Now's Amy Goodman, to celebrities such as actor Chris Hemsworth proclaiming his support for the protests, showing 'support' for Standing Rock protests has become a cause celebre.
What should simply have been a local dispute over the route of this pipeline – a legitimate concern to raise – has become a movement that opposes the creation of the oil pipeline on principle. That the pipeline had already been rerouted once gives credence to the argument from local Standing Rock residents that it perhaps could be rerouted again. Of course, the possibility of finding another route that doesn't raise concerns from residents in close proximity to it is uncertain.
What is clear, however, is the need for North Dakota to create such an oil pipeline. Much of the coverage of the protests has been sympathetic to those wishing to stop the pipeline. But many of the groups supporting the protest have portrayed the pipeline as unnecessary, as a thoughtless decision taken by evil oil firms for no reason other than to wreck the planet. In truth, the pipeline is essential to North Dakota's oil industry. Rather than opposing it on the grounds of the route it is taking, much opposition now seems borne of environmentalist anti-progress sentiment.
Since the early 2000s, North Dakota has seen a boom in oil production, thanks to the use of fracking technology. Daniel Gross, writing in Slate, noted that 'the advent of a new technology — fracking — led to the discovery of a vast new oil resource in the Bakken Shale in the western part of the country. Companies large and small rushed in to drill for oil. Production boomed, from about 90,000 barrels of oil per day in 2004 to about 500,000 barrels per day in 2011 to about 1.2 million barrels per day last year. That's an increase of more than 13-fold in 11 years.' The problem, however, is that North Dakota has not had the infrastructure in place to deal with this increase in production.
With a lack of adequate pipelines to transport North Dakota's booming oil production, producers have opted for trains. But moving such highly flammable liquids via railroads has a few inherent risks. Although the risk is overstated, there have been a few well-publicised cases of trains transporting oil or natural liquid gas exploding, with fatalities. Overall, oil pipelines are a much safer way of transporting oil.
Building the pipeline is essential for supporting North Dakota's most important economic sector. Replacing North Dakota's current rail method of transporting oil with a pipeline is also, on balance, safer and better for residents. Inevitably, as with any major project, competing interests have clashed. A dispute between local people of one area and the wider interests of the rest of the state population is the reality of most big infrastructure projects. America's need for an infrastructure renewal is a constant talking point of op-eds and special reports. And updating the country's oil transportation infrastructure would need to be a part of any plan for US infrastructure renewal.
Large infrastructure projects, be it highways, bridges, dams, ports, or even wind farms, all cause disruption to people in particular locations, and inevitably disrupt and alter the natural environment. New train tracks cutting through grazing land are likely to be an inconvenience to cattle ranchers; a new road going around a town is likely to endanger the livelihood of local business owners located on now desolate back roads; wind farms kill endangered species of bats. But this is no reason to shy away from such projects. How you balance particularist concerns with overall interest is the stuff of politics: it raises questions as to what extent local concerns can trump the overall benefit of society and the economy.
The flow of fossil fuels sustains America's economy. With renewable energy and other favoured options still not adequate to supply America's energy needs, stopping the 'the machinery to keep fossil fuel flowing', as a Guardian writer says the protesters should do, would leave Americans poorer. Preventing the flow of oil in North America will mean the US will import more from abroad, as it did prior to the boom in fracking-led domestic production. The past few years of the US oil boom has, on balance, bought major material benefits to the US economy. North Dakotans, and Americans in general, are not going to give this up, so the oil will still need to be transported. This leaves the state with two options: continue to use trains to transport oil, or construct a pipeline.
Tom Bailey is a writer based in London.
Picture by: Getty
To enquire about republishing spiked's content, a right to reply or to request a correction, please contact the managing editor, Viv Regan.