Remembering Helen Reece
Luke Gittos pays tribute to an intellectual inspiration.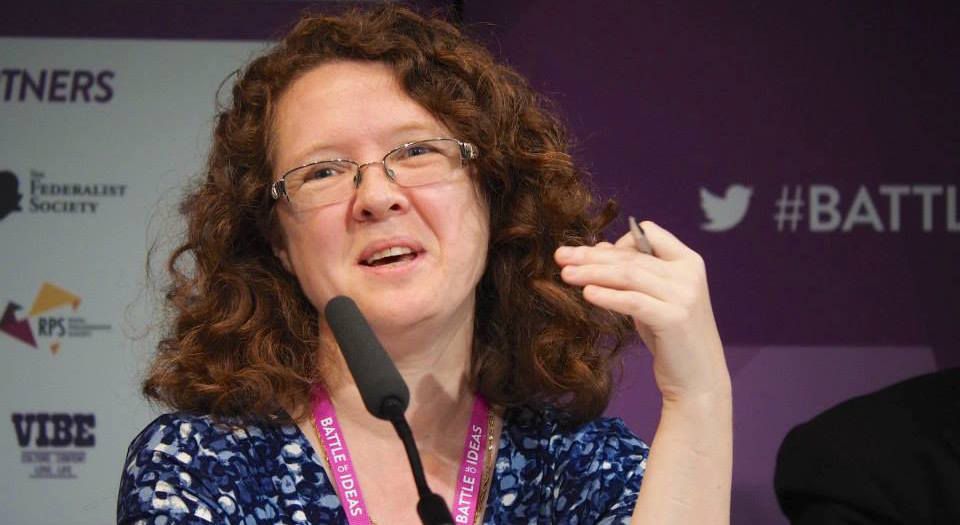 Our friend and colleague Helen Reece has passed away. A contributor to spiked and its previous incarnation, Living Marxism, Helen was diagnosed with cancer in 2015, and died last week. She was 48.
Helen was a frequent contributor to public debate, and a hugely respected scholar. Since 2009, she had been a reader and associate professor in law at the London School of Economics, publishing regularly on issues relating to family law. In 2003, she published her acclaimed book Divorcing Responsibly, which was awarded the Socio-Legal Studies Association Book Prize in 2004. Her writing on Tort law won her the Wedderburn Prize in 1997, and was cited with approval by the House of Lords. She qualified as a barrister in 1992.
While her research was wide-ranging, her most recent work focused on the relationship between family life and the state. She said in an interview in 2014 that she had ended up specialising in family law almost by accident, having been invited to do some guest lecturing on it following her graduation from University College London. She even said that initially she found family law 'messy' and too complicated. But it was precisely the messiness of family law, a messiness arising from its deep connection to the inherent complexity of human relationships, that made it perfect for Helen's uncompromising and forensic intellect. If anyone could ask the difficult questions about such a 'messy' and fundamentally human area of law, it was Helen.
We first met seven years ago. I had just started studying law and was given Helen's name as someone who was interested in the intersection between the law and politics. I met her for lunch at LSE. She was funny and extremely personable, but even during that initial meeting I noticed a trait of hers that would dominate our friendship: she questioned almost everything I said. I had read up on Helen's work before we met, so I thought my carefully crafted points about the nature of particular pieces of legislation and the creeping regulation of family life would go down a storm. How wrong I was. Instead, my attempt to regurgitate her ideas was met, not with approval, but with a furrowed brow and her asking, in the nicest possible way, 'Do you really think that?'.
Over the years, I came to find her rigorous, ceaseless questioning invaluable. I was almost too scared to send her a copy of my first book, Why Rape Culture is a Dangerous Myth, for fear of her expressing her polite reservations. I always had to be prepared to have some aspect of my thinking, some point I had assumed or glossed over, probed by Helen's searching questions. She could spot intellectual laziness a mile off. What I came to appreciate was that Helen would apply the same forensic analysis of ideas she found broadly acceptable to those with which she disagreed robustly. She was an antidote to orthodoxy and groupthink.
Helen was known for taking on difficult causes. In 2010, she attracted opprobrium for arguing that a blanket ban on those convicted of sexual offences being allowed to adopt was disproportionate and wrong. In the last paper she wrote before she died, she argued that judges should be wary of considering sexual 'deviance' as a factor in family-law disputes when considering which parent a child should live with. Those who understood her work saw that this was far from contrarianism; every piece she wrote was shot through with a deep humanism, a desire to protect people's rights and to enable them to live their lives with as much independence as possible. This was why she was willing to mount thoughtful and profound defences of people's right to intimacy and privacy, even in the most difficult cases and circumstances, despite knowing that doing so might make her unpopular.
I got to know Helen better when I invited her to speak on a panel at the Battle of Ideas festival in 2010. The debate was titled 'Rape and the law: he said, she said?'. Again, Helen's concern was with people's ability to live their private and intimate lives without being unnecessarily fearful of others. She was sceptical of the idea that the public did not understand what rape was, pointing to the positive rates of jury convictions and the lack of evidence for any bias against rape complainants. She also questioned advocacy research that suggested women held other people 'responsible' for being raped. She argued that women in general have a complex idea of responsibility that allowed room for individual agency in sexual interactions. She was adept at identifying the nuance in excessively polarised debates.
In 2013, her contributions to that debate were developed into an academic paper, titled 'Rape myths: is elite opinion right and public opinion wrong?', which was published in the Oxford Journal of Legal Studies. Helen questioned whether 'rape myths' were preventing society from dealing with rape and sexual violence. She was concerned that society's response to rape was being distorted by a focus on people's 'attitudes', when there was scant evidence that public attitudes were the real problem. This involved challenging the methodology of researching rape myths. She claimed that one of the key scales used to measure rape myths failed to account for nuance in public opinion. And she questioned whether many ideas about rape, which are often described as 'myths', should be described as myths at all.
The paper caused an outcry. But the problem for those who sought to present the paper as bigoted or ignorant was that Helen's work resisted such caricatures. Even the paper's harshest critics conceded that it was meticulous in its research and consistent in its argument.
What makes this article so hard to write is that Helen had so much more to say. In 2013, I saw her speak at an LSE event called 'Is Rape Different?'. The auditorium was packed, and the debate combative. In the months afterwards, a petition was organised by a group of academics calling for the LSE to apologise for holding the debate. The LSE stood by Helen, recognising that her willingness to ask difficult questions was precisely why she was such a necessary voice in the academy. She was a thinker with a willingness to upset orthodoxy; and she had the independence of mind to commit to arguments that are unpopular but which she felt were right.
Her uncompromising approach to intellectual life will stay with us. That furrowed brow will be present to me with every line I write and every speech I make. And I will always be asking myself those same questions that Helen asked down the years: 'Do you really think that?'; 'How do you know?'. I know I am not alone in this regard. Because, alongside her laughter, support and kindness, she made everyone try harder. She inspired others with her commitment to intellectual rigour and her independent thinking. She is a lasting inspiration.
She is survived by her husband John and their two children, Hannah and Ben.
Luke Gittos is law editor at spiked and author of Why Rape Culture is a Dangerous Myth: From Steubenville to Ched Evans. (Buy this book from Amazon(UK).)
To enquire about republishing spiked's content, a right to reply or to request a correction, please contact the managing editor, Viv Regan.