The Donald and the turn against democracy
How elite disdain for the demos paved the way for Trump.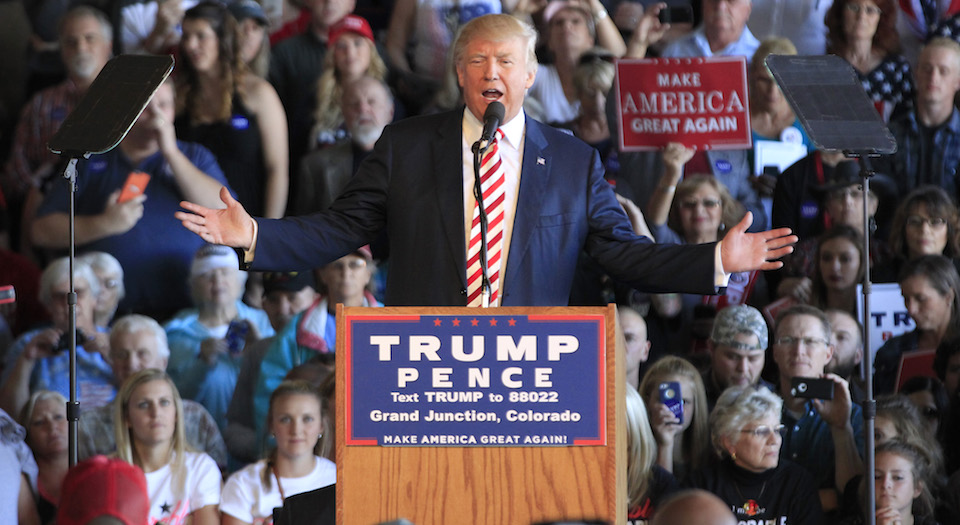 If you want an insight into what's driving the blustery, perma-tanned presidential campaign of Donald Trump, look no further than his carping about the 'rigged election'. He's got form for being a sore loser. 'Ted Cruz didn't win Iowa, he stole it', he thundered when he came second to Cruz at the Iowa caucus. 'The Emmys are all politics', he tweeted, after The Apprentice was snubbed for an eighth time. Yet his pre-emptive cries of foul play in the presidential race are about more than his blimp-sized ego. His various claims that Democratic Party machines are registering illegal immigrants, felons and dead people – and his insistence that the pro-Hillary media have poisoned voters against him – speak to the anti-political wave that Trump has surfed to within groping distance of the White House.
Allegations of voter fraud hang in the background of every US election, bred by political opportunism as well as the vast disparity in standards and bureaucratic competence from state to state, even county to county. While both Republicans and Democrats have been furrowing their brows at Trump's casual questioning of the US electoral system, both sides have been known to cry foul when the polls don't go their way. In 2008, Republican presidential candidate John McCain accused a community organisation of registering ineligible and non-existent voters in inner cities. And, as Andrew Gumbel notes, the re-election of George W Bush in 2004 prompted 'an explosion of unfounded conspiracy theories that Republicans were in cahoots with the manufacturers of electronic voting machines and would never lose an election again'.
Now, as many have pointed out since Trump's outburst at the final debate – where he refused to confirm that he'd accept the election result – he's gone much further than his predecessors. As one commentator put it, 'You fight as hard and as dirty as you want, but only until the final results come in'. While concerns about party machinations persist – not least in relation to alleged schemes to stop people voting in the name of tackling voter fraud – there were few former candidates willing to drop the r-bomb. And yet a significant proportion of the population seem to share Trump's cynicism. According to one poll, 43 per cent of voters think the election could be 'stolen' from Trump – perhaps unsurprisingly, that includes 73 per cent of Republican voters.
This cynicism lies of the heart of Trump's appeal. His brand of demagoguery seeks not to exploit voters' long-concealed prejudices – as many pearl-clutching pundits would have it – but rather their feeling of exhaustion with, and suspicion of, the political process. He is the embodiment, as spiked editor Brendan O'Neill has put it, of 'the turn against politics, the 21st-century trend for seeing everyone and everything connected with politics as suspect, and politics itself as futile'. While he has given voice to working-class concerns about free trade and immigration – long rejected by both party establishments as bywords for racism – his appeal is more about what he is against – that is, the 'crooked' establishment – than what he is for. This anti-political mood has rehabilitated, at least among his more vociferous supporters online and in sections of the media, a conspiratorial strain in US politics.
So why now? The mistake commentators make is to present Trump as a lone agent of chaos, an opportunist who has hoodwinked half a nation and singlehandedly sent public trust in politics plummeting. In truth, the new political cynicism is not the fault of Trump, or his blue-collar base; it's the fault of the political elite. The Republican establishment has courted white working-class voters only to ignore them, appealing to culture-war issues while brushing over economic, material concerns. And while the conservative elite is embarrassed by its base, liberals are disgusted by it. Trump's candidacy might have revealed some of the electorate's cynicism for democratic institutions, but it has more importantly revealed the liberal elite's disdain for the demos.
This is nothing new, of course. The claims that Trump plays off of the public's fears and prejudices sound awfully similar to the responses to the re-election of Bush in 2004. 'Thanks to the Bush campaign's unremitting fearmongering, millions of voters are reacting not with their linear and logical left brain but with their lizard brain', wrote Arianna Huffington, in a now-infamous Salon article. Now, the rise of Trump has prompted commentators to question not just the intelligence of voters but the very nature of democracy. Writing in New York magazine, Andrew Sullivan said he longed for the days when closed primaries, checks and balances and unaccountable elites kept the brutish American masses in their place. He calls them 'sturdy firewalls against democratic wildfires'.
The anti-political mood Trump has exploited, and the cynicism towards the system he has marshalled, is the product of the crisis of democracy itself. It's the product of an elite that pays lip service to democracy in principle, but recoils at what it means in practice. The elite's shock-horror reactions to Trump's claims of a 'rigged election', its pious defence of America's democratic institutions, is deeply disingenuous. It obscures a disgust for what those democratic institutions are meant to give voice to: the will of the demos. Trump is a product of the crisis of democratic politics, not the cause of it. But he's not the solution, either. His cynical campaign only shows that principle, conviction, vision – the components of a thriving democracy – are more needed than ever.
Tom Slater is deputy editor at spiked. Follow him on Twitter: @Tom_Slater_
Picture by: Getty Images.
To enquire about republishing spiked's content, a right to reply or to request a correction, please contact the managing editor, Viv Regan.