Remainers, please rein in your petulance
Will there be no end to their wailing and hollering?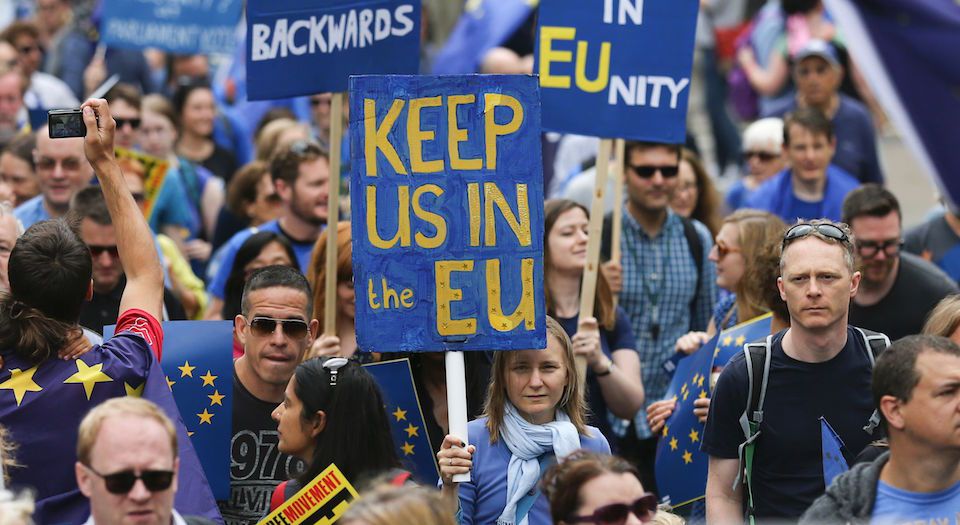 The petulance of some Remainers shows no sign of abating. Still they bellow and holler about Brexit. Still they prognosticate doom, with their forebodings of economic collapse, inflation and a tidal wave of racism. 'We British are on our way to making the biggest screw-up since Suez', wrote Matthew Parris in The Times on Saturday. 'So scream – because the people's anger will be terrible.' Marina Hyde of the Guardian says: 'In the world's news bulletin, we are becoming the absurd story the anchor signs off with, the tenor of his quizzically raised eyebrow effectively being, "How about these stupid pricks, then?".' One senior journalist at the Guardian has even accused me, personally, of having 'fucked up the economy'. Well, more power to my elbow, then.
Why do they continue to carry on like this? Why such unrelenting, hysterical, snotty rancour from 'hard' Remainers? The answer, I believe, may be found in the writings of the 1st century Roman philosopher, Seneca the Younger.
Seneca's stoical message was that life was about frustration, because humans by inclination fail to anticipate the unexpected. We assume that the next day will proceed normally, but in truth we never know what's going to happen in the future. 'You might get run over by a bus tomorrow', as he would say these days. Because of this tendency to project normality, we become angry and fearful when tomorrow doesn't turn out like today. Thus, said Seneca, to avoid being trapped by reactive and destructive emotions, we must accept that some things are beyond our control, 'learning not to aggravate the world's obstinacy through our own responses, through spasms of rage, self-pity, anxiety, bitterness, self-righteousness and paranoia' (1).
Seneca warned that the rich and privileged were particularly prone to this rage, bitterness and self-righteousness. 'Prosperity fosters bad tempers', he wrote. The rich become especially petulant when they don't get their own way. This was manifest after the shock referendum result in June, and personified by Bob Geldof. Yet the tantrums by the privileged have failed to die down, as big business and the liberal-left continue to warn of, even to wish for, apocalypse. Seneca would have recognised this masochistic desire for Britain to implode – this mad, childish glee among the aggrieved who, as Seneca said, 'call down death on their children, poverty on themselves, ruin on their home, denying that they are angry, just as the mad deny their insanity' (2).
Seneca greatly admired Socrates, and like the Greek he, too, was forced to commit suicide by the authorities, the emperor Nero believing him to be a conspirator. For his part, Socrates had been accused of corrupting the youth of Athens with his questioning behaviour. Socrates had argued that just because a belief is longstanding and widely held, that doesn't make it true. He paid the ultimate price for saying unpopular things. Socratic reasoning still holds today. It doesn't matter if Britain is a 'laughing stock', a favourite rejoinder from 'hard' Remainers. The judgement of everyone else is irrelevant. What matters is: are we doing the right thing? Do we want to face our 'biggest crisis since Suez', or do we want to stay in a union steering Europe towards its biggest crisis since 1939?
Of course Brexiteers have no 'grand plan'. We voted to leave a sinking ship and are now manning the lifeboats. There is no easy, magic solution. We face either a difficult future outside the EU or a terrible future within it. We must accept this predicament with stoicism and calm.
---
Dylan: lost in translation
In the wake of Bob Dylan being awarded the Nobel Prize for literature, the Milan newspaper Corriere della Sera printed on Friday some of his prize-winning lyrics translated into Italian (originally published in Bob Dylan: Lyrics 1962-2001 by Alessandro Carrera). Here's a flavour of the selection:
'Venite madri e padri
da tutto il Paese,
e non criticate
quello che capire non potete.'
That, of course, is 'The Times They are a-Changin' (or 'I tempi stanno per cambiare'). And here's 'Like a Rolling Stone' ('Come un sasso che rotola via'):
'Che effetto fa,
Che effetto fa,
cavartela da sola,
non poter tornare a casa,
che nessuno ti conosce,
come un sasso che rotola via?'
Apart from the obvious drawback, which faces all songs in translation, of not rhyming, Dylan in Italian doesn't sound very affecting. It sounds more like GCSE Latin ('Cornelia est puella Romana quae in Italia habitat', and so on). The last three lines of 'Come un sasso che rotola via', translated back into English, are literally: 'Not being able to return home, that no one knows you, like a stone that rolls away.' This is hardly Dante, or even Umberto Eco.
Conversely, fine literature can always be translated. Think of John Rutherford's award-winning English version of Don Quixote (2000), or Archibald Colquhoun's 1961 translation of The Leopard from the Italian, which is still the standard text in English. Both are magnificent works in their own right, as are Anthea Bell and Derek Hockridge's English versions of the Asterix books, which some in France consider even superior to the originals. Shakespeare in German is meant to be awesome.
This is one reason why Dylan should have not been given a prize for literature. He has never written literature. Great literature can be translated. Song lyrics only expose their own banality through translation. Just imagine The Police being given an award for their gibberish classic 'De Do Do Do, De Da Da Da'. Imagine that in translation.
---
The wonderful ambivalence of Hopper
The waiting room At Ramsgate station, taken by the author
Elsewhere in the Corriere della Sera, I read that there's an exhibition of Edward Hopper at the Complesso del Vittoriano in Rome.
There is something wonderfully ambivalent about Hopper's paintings. They conjure up feelings of cosiness and bleakness at the same time. His figures are physically together yet seem emotionally detached. His world is one of loneliness and banality yet of warmth and serenity, a world of lightness and dark. Who hasn't longed to be that lone man at the bar in Nighthawks (1942) while simultaneously pitying him?
I get the same eerie combination of angst and comfort when I'm in the waiting room at Ramsgate railway station on Friday evenings. Indeed, 'The Waiting Room at Ramsgate Station' will eventually be the title of my existentialist masterpiece, a book about life's frustrations, complications and baffling ambivalence. It will be a huge, rollercoaster of a work in 400 sizzling chapters, with some hot gypsies thrown in.
Patrick West is a spiked columnist. Follow him on Twitter: @patrickxwest
(1) The Consolations of Philosophy, by Alain de Botton, Hamish Hamilton, 2000, p81
(2) The Consolations of Philosophy, p82
Picture by: Getty Images.
To enquire about republishing spiked's content, a right to reply or to request a correction, please contact the managing editor, Viv Regan.