Treating teachers like robots
Let's reject the tick-box culture and shape the future of education.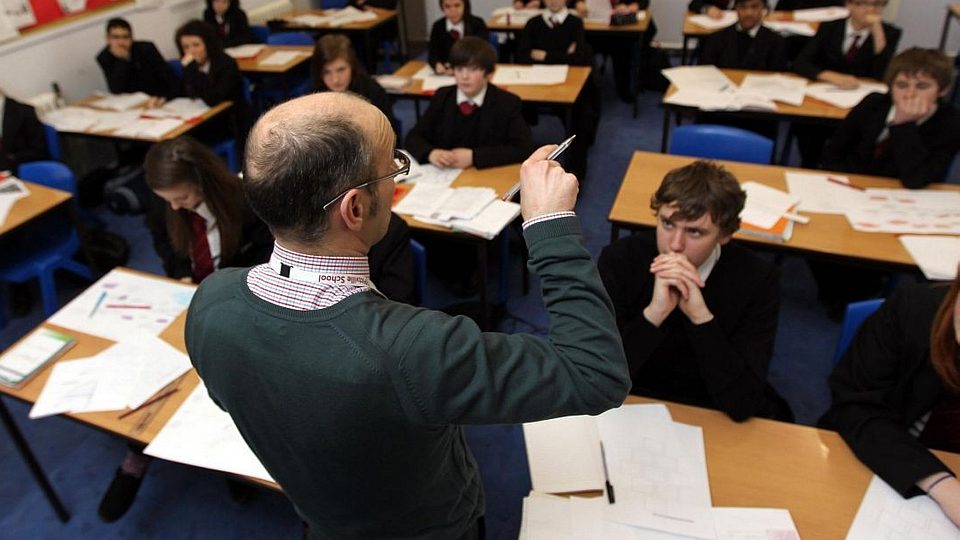 Teachers, are you failing to keep the children in your class under control? Just follow our behaviour-management procedure, and all will be calm. Are you struggling to make your lessons inspiring? Simply make them fit our good-learning template. Worried your students might underperform in the upcoming exams? Simply follow our revision guides. Worried that, no matter how much you follow the processes, you still don't seem to be a very good teacher? Fear not: there's a professional-development programme waiting for you.
For the past few years, this is the message UK teachers have been bombarded with by the educational establishment. They've been told, time and again, that the secret of success is just repeating processes, like an obedient robot. Don't waste valuable time thinking about how best to achieve your teaching goals, we're told; experts have already worked out the best practice for everything. And should you find yourself haunted by the uneasy feeling that the experts might be wrong, or that your own experience flies in the face of what procedure recommends – don't panic. Within a couple of years, all the scripts will have been changed, based on some new fad, anyway.
Many think that, since the 2010 General Election, the Conservative-led Department for Education has put a fresh emphasis on knowledge in the curriculum, and retreated from the old tick-box culture most associated with Ofsted. But official tick-box culture has only withered because the teaching profession has internalised it. This is the era of the inner-inspector. The task facing teachers today is not how best to transfer knowledge to the next generation, but how best to carry out various bureaucratic processes without going entirely mad.
This was the key lesson to take away from the publication last week of the Education Policy Institute's (EPI) findings on teacher workload. The report claimed that teachers in England are working longer hours, hindering their access to professional development and leading to higher risk of teacher 'burn out'. Most press reports held this up as proof, as the teaching unions have long said, that teachers work too hard. That's true – but it's old news. A more interesting take came from sociologist and spiked contributor Frank Furedi, who said the report reflected the 'triumph of the paper trail', and indicated that schools were 'overwhelmed by process'.
Writing in the Times Educational Supplement, Furedi said the report represented the 'McDonaldisation' of education, creating a situation in which 'rule-making acquires a life of its own': Work becomes standardised and its output is measured and assessed according to a pre-given performance indicator.' 'The managerial turn of English schooling', Furedi concludes, 'does not necessarily yield positive educational results… One of the inexorable consequences of process is more process.'
In his book Wasted: Why Education isn't Educating, Furedi offers an alternative to reductionist, evidence-based proceduralism. Individual teachers, he says, should be free to ditch the boilerplate and trust their own instincts, make their own decisions, and learn from their own mistakes. This is not about ignoring or rejecting the ideas of others, but engaging with different ideas and questioning received wisdom through argument and debate.
That's why I would recommend anyone interested in education come along to the Battle of Ideas festival at the Barbican in London this weekend. Organised by the Institute of Ideas, it is Europe's premier ideas festival, featuring high-level, thought-provoking public debate, with over 100 sessions and 400 speakers. The Battle for Education strand is a series of sizzling panel debates on some of the burning educational questions of our time, including: 'Schools and social mobility: a grammatical error?', 'Skool rules: made to be broken?' and 'Do we need a classical education for the 21st century?'.
We teachers are just as much to blame as the government for creating the exhausting tick-box culture described in the EPI report. The remedy is for those at the chalk-face to get stuck into serious, grown-up debate about the future of education – not simply moan about workload while keeping an eye on the rulebook. What better place to do that than at the Battle of Ideas.
Gareth Sturdy is a physics teacher in London and organiser of the Institute of Ideas Education Forum. He will be speaking at the session 'A brief history of gravitational waves' at the Battle of Ideas Festival in London on Saturday 22 October. Buy tickets here.
The Battle of Ideas festival takes place at the Barbican in London on 22 and 23 October. Get your tickets here. Special offers are available for school and HE students, and anyone under 30 working in STEM.
To enquire about republishing spiked's content, a right to reply or to request a correction, please contact the managing editor, Viv Regan.