Peacekeepers in Syria, warmongers in Yemen
The hypocrisy of Western interventionism is stomach-turning.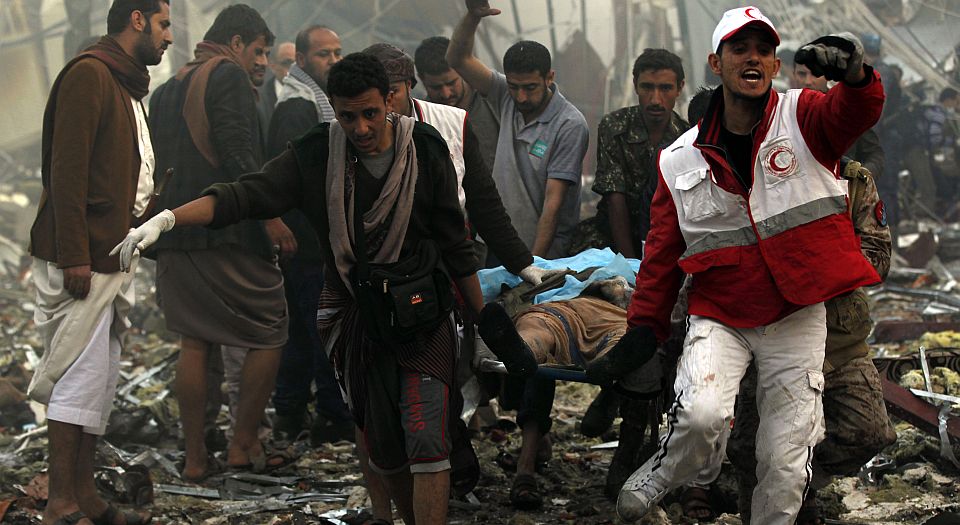 'We are witnessing events which match the behaviour of the Nazi regime in Guernica in Spain.' British MP Andrew Mitchell isn't holding back in his condemnation of the Russian and Syrian regimes ahead of this week's House of Commons debate on the conflict in Syria. But then no Western politician is holding back when it comes to Russia and Syria. Ever since the collapse of the latest absurd ceasefire agreement – absurd because only some combatants were party to it – the diplomatic air has been thick with moral hyperbole, as Western statesmen have eagerly stepped forward to express just how outraged they are at Russia and Assad for their role in the ongoing destruction of Syria.
US secretary of state John Kerry, focusing on the air attack on a UN aid convoy trying to help the inhabitants of the besieged Syrian city of Aleppo, said both the Russian and Syrian governments should face a war-crimes probe. Kerry's call was supported by Britain's ambassador to the UN, Matthew Rycroft, who accused Russia of 'killing off, literally, those who want a moderate, peaceful and pluralistic future'. Rycroft's US counterpart, Samantha Power, also vented some moral wind: 'What Russia is sponsoring and doing is not counter-terrorism. It is barbarism.'
Such grandstanding bluster is hardly a surprise. Ever since Russia openly stepped up its involvement in Syria over a year ago, shoring up the Assad regime against its assorted opponents, Islamist or otherwise, the tale of Syria's collapse told in Western circles has transformed Russia into the central protagonist: first propping up the politically bankrupt Assad government, before killing indiscriminately to secure Assad's future. That it was Western powers who first got stuck into Syria after the Arab Spring, stirring up and entrenching what then became a vicious factionalised civil war, whereas Russia merely reacted, with brutal pragmatism, to the chaos emerging on its territorial margins, is largely ignored. For many Western politicos, Russia is the bad guy in this simple-minded morality tale, and Putin the Bond-esque villain. It's therefore almost too easy for the likes of Mitchell, Kerry, Power and so on to make moral capital out of the Syrian conflict; almost too appealing for posture-seeking politicians to wring their hands at Russia/Assad's brutality; almost too good an opportunity to miss for the do-gooders of international relations to demonstrate their moral superiority over the barbarians in the East.
But it's a big 'almost', because Western powers, from the US to the UK, are not wise, disinterested arbiters of Middle Eastern affairs, commending and condemning as reason dictates. They are immersed in Middle Eastern affairs; they are complicit in the unravelling of an entire region; and they are therefore as morally compromised as Russia. Every moralistic posture, every self-righteous condemnation, reeks of hypocrisy.
Which brings us to Yemen, that largely ignored Middle Eastern nation 2,500 kilometres to the south of Syria. Like Syria, a deeply unpopular president is being desperately propped up by foreign powers, as assorted internal factions, from the ascendant Houthi rebels in the north to al-Qaeda in the south and east, take advantage of the power vacuum following the implosion of the Yemeni state in 2011. In fact, it's fair to say that Yemen's nominal president, Abd Rabbuh Mansur Hadi, commands even less domestic support than Assad. That's because Hadi owes his reign not to the activists who prompted the exit of his predecessor, President Saleh, but to the United Nations and the Saudi-dominated Gulf Cooperation Council, which effectively appointed him leader as part of the so-called Yemeni transition agreement in 2011. In the words of a researcher based in the Yemeni capital, Sanaa: '[Hadi] has no military power, no real political power, no support base on the ground, no tribal support base. In reality, what's he got? It's the international community.'
So in Yemen, it's not Russia propping up a panicked, illegitimate ruler through sheer military force; it's the 'international community', with Saudi Arabia, backed by the US and the UK, leading the charge. Indeed, so tenuous has Hadi's grip on power become that over the past 18 months the Saudis – with the US and the UK providing airborne refuelling, drone-fed intelligence and billions of dollars of weaponry – have been busy trying to bomb Yemen's restive population into submission. The UN itself estimates that, since 2015, Saudi airstrikes have killed over 4,000 civilians, and led to 2.8million people being displaced.
This weekend, the unfolding catastrophe in Yemen did pique the interest of the Western media when it emerged that Saudi forces had 'double-tapped' a Houthi funeral. This means that two bombs were dropped: the first to kill those in attendance, the second to kill those responding to help the casualties. In the end, 140 died, and 500 were wounded. But for anyone who has been following the conflict, this US-furnished, Saudi-executed attack on a civilian target was not an aberration; it was par for the course. Over the past 18 months, Saudi airstrikes have blown apart schools, destroyed hospitals, and razed markets and factories to the ground.
And what have those eager to denounce Russia in Syria had to say about their own nations' involvement in Yemen? Have they alluded to the bombing of Guernica? Have they condemned the US-armed Saudis' barbarism? Not exactly. In a speech earlier this summer, then foreign secretary Philip Hammond said 'the Yemen crisis [is] high on the agenda', but that allowing Hadi to fall 'is simply not an option'. Kerry himself travelled to the Royal Air Base in Riyadh in January this year, nearly a year into the Saudis' aerial bombardment of Yemen, to pledge America's ongoing support. 'We have made it clear that we stand with our friends in Saudi Arabia', he said warmly. And Power, the poster girl for Western 'humanitarianism'? She said that America's military support for Saudi Arabia might reduce casualties in the long run.
In fact, although no one in Westminster or on Capitol Hill is prepared to justify the bombing of a funeral, few are prepared to condemn Saudi Arabia and question its Western support with anything like the same burning zeal with which they lambast Russia and Assad. As a Downing Street spokeswoman said at the weekend, although the UK government is 'shocked' at the targeting of a funeral, there is no plan at the moment 'to review our relations with Saudi Arabia'.
The stench of hypocrisy is overpowering. It seems that those now keen to pose as peacekeepers in Syria are all too happy to continue warmongering in Yemen.
Tim Black is a spiked columnist and editor of the spiked review.
To enquire about republishing spiked's content, a right to reply or to request a correction, please contact the managing editor, Viv Regan.