Three cheers for the Polish abortion-rights strike
Polish women have landed a huge blow for freedom and autonomy.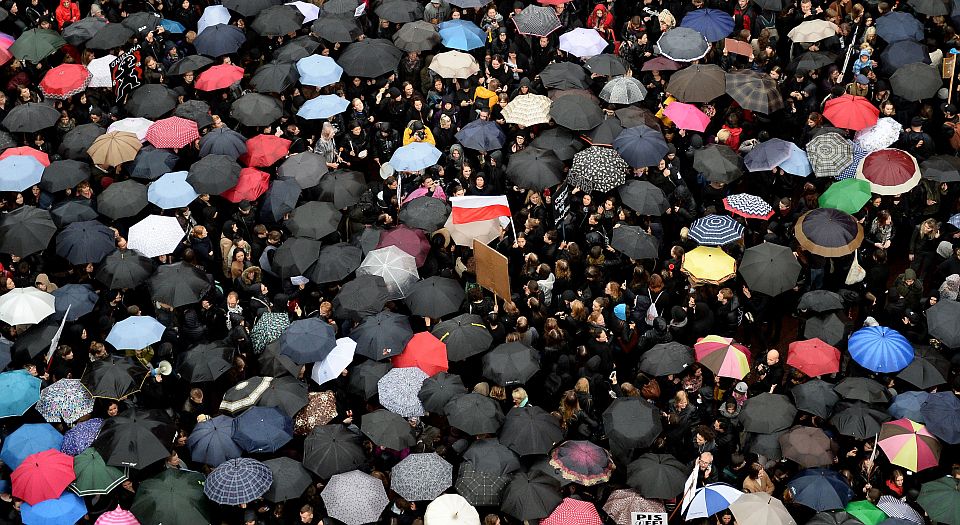 On Monday, 100,000 Polish women took to the streets to protest a petition, being debated by the Polish parliament, which would completely outlaw abortion, and make it a criminal offence carrying a sentence of up to five years in prison.
At present, only five countries – Ireland, Northern Ireland, San Marino, Liechtenstein and Andorra – have a more restrictive approach to abortion than Poland, which currently only allows women to terminate a pregnancy in cases of rape or incest, when the woman's life is in danger, or if the fetus is severely damaged. Under these new proposals, even a miscarriage would be grounds for a criminal investigation.
Polish women have refused to take this lying down. On Monday, there were strikes and demonstrations in cities across the country, with women wearing black to mourn the potential loss of what few reproductive rights they have. In a heartening demonstration of what protest can achieve, the Polish parliament buckled and today voted down the proposal 352-58.
However, the resurgence of the anti-choicers isn't just confined to Poland. Women across Eastern Europe, notably in Hungary, face further restrictions on their reproductive rights. People in Berlin, Brussels, Dusseldorf, Belfast, Paris and London also protested on Monday – not simply to show solidarity with Polish women, but to protest the anti-choice restrictions in their own countries. After all, in our own green and pleasant land, abortion is still a criminal matter, and women have to obtain the permission of two doctors in order to undergo the procedure.
But the perilous state of reproductive rights in Poland deserves particular attention. Not least because it neatly demonstrates the anachronistic sentiments that inform the anti-choice movement more broadly.
It was only after the Second World War that the relationship between the Catholic Church and the Polish government started to break. Before then, Catholic doctrine directly informed the government's draconian approach to contraception and abortion.
It seems some Polish lawmakers want to regress into that past. Under Poland's right-wing government, led by the Law and Justice Party, a new form of nationalism has emerged. So much so that the government now insists that Polish people didn't kill any Jews during the Second World War.
The Polish state has also launched a clampdown on civil liberties. Commenting on the government's decision to increase its control over state media, Jaroslaw Kurski, editor of opposition newspaper Gazeta Wyborcza, commented: 'The party wants to create a new sort of citizen – a nationalist-patriot type – who is ready to renounce his or her civil liberties.'
Similarly, by restricting abortion access, the Polish government is insisting that women should not be free to shape their own lives – that, essentially, they have the same moral and political status as an unborn fetus. As Kinga Jurga, a 32-year-old Polish woman who attended one of the protests, told CBC News, restricting abortion 'takes away the right of a woman to choose'. The same is true in any country where abortion is restricted in any way.
What's more, anti-choice campaigns like 'Stop Abortion' – which delivered the petition to the Polish parliament – seem to forget that any attempt to turn back the clock on abortion rights will not stop abortions taking place.
Each year, 1,000 legal abortions take place in Poland, alongside 150,000 illegal, self-administered abortions. Pro-choice organisations in Poland already encourage women to fly to England to terminate pregnancies, because the cost of the trip is cheaper than having an illegal abortion in Poland. In June last year, activists even delivered abortion pills to Poland via drones.
Fortunately, according to a recent poll, only 11 per cent of Poland's population approve of limiting abortion access further. However, there are still those in parliament who support it. And, in the fight for abortion rights more broadly, there is still a long way to go.
Nevertheless, there are two crucial things we can learn from Polish women's victory this week. First, that the anti-choice argument is always based on the archaic view that women are incapable of exercising full moral autonomy. And second, that real victories for freedom are possible if we come together and fight for them.
Jacob Furedi is a writer based in London.
To enquire about republishing spiked's content, a right to reply or to request a correction, please contact the managing editor, Viv Regan.