Birthplace of a revolutionary
Ceri Dingle takes her documentary about CLR James to Trinidad.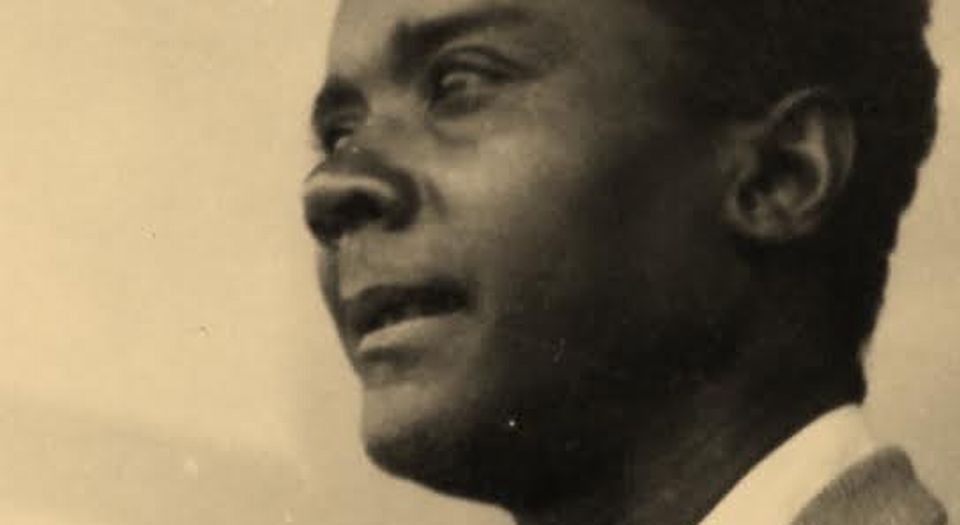 On my whirlwind tour of Trinidad, to screen WORLDwrite's documentary Every Cook Can Govern: The Life, Impact and Works of CLR James, I picked up a bit of Trini-English from the school students. James – the Trinidad-born revolutionary and author of Black Jacobins, Beyond a Boundary and many more works – would not have approved. He once berated a Trinidadian lad for his patois, when he referred to 'Shack-us-peer'; James had standards. As did the OTT five-star hotel (my first) that I was put up in – sadly, these standards included no smoking.
Film festivals are very cosmopolitan affairs, and the filmmakers are spoilt rotten. The Trinidad and Tobago Film Festival is major-league. It has a fantastic Caribbean and world strand, and we were treated like divas. It was a strange experience. Any Cook Can Govern is an uncompromisingly Marxist film about a man with unshakeable principles: CLR railed against Imperial Britain; put the historic lie that Wilberforce ended the British slave trade to bed; heckled Marcus Garvey; was imprisoned as a Trot; opposed the Second World War; championed the 'dead white European male'-dominated canon; and was persona non grata in his home country for two decades.
At a packed-out screening (many had to stand), the reception to the film was fabulous. We'd clearly done the man's political mission justice. Everyone does have 'their' CLR James, though. The Q&A afterwards, with top Trinidad-based James scholar Bridget Brereton, was telling. She hailed James as Trinidad's heroic Renaissance man – a man of letters with many interests. I begged to differ. He was indeed a man of letters, but he had a purpose. He gave up being a cricket correspondent for the Manchester Guardian and the comfortable life of a novelist to change the world. Marxists like James were not all weirdos, cut off from society and writing in unintelligible jargon. Serious 20th-century revolutionaries engaged in and wrote about all aspects of life. As our film shows, everything James wrote had a political purpose.
Brereton wasn't too happy with this English upstart, but Trinidadians I spoke to afterwards were thrilled. Even Brexit came up in the Q&A. It was a fine opportunity to make the point – as CLR did in his critiques of Toussaint L'Ouverture, Eric Williams and Kwame Nkrumah – that conducting politics behind closed doors will always end in disaster. The EU has to be the supreme example. There was applause from a few. Trinidadians seem to get the anti-democratic nature of the EU, and, I was told, hate it for destroying the Caribbean banana industry. The quips were telling, though: 'Great film. So are you off home to your monarchy now?'
Speeding around Trinidad is tricky. It's an island of 1.3million people and 500,000 cars. Many Trinidadians have at least two cars, and good for them. But if green thinking doesn't take over Trinidad, more of an urban spread might alleviate the jams. I managed to see a fair bit of the island. As Dr Roy McCree, one of my terrific hosts, put it, everything is called 'Queen's something' here. I visited some of the landmark places from James' life: Queen's Royal College, the school for children of the colonial elite, which he attended; Queen's Park Savannah, a mighty park where James would talk to the groundsmen; and Queen's Park Oval, the holy cricket ground complete with its Learie Constantine stand.
Despite being driven around like royalty, in cars with aircon turned to below zero, it was hard not to resemble a British drip. Trinidad is an inside-out world of freezing indoors and boiling outdoors.
Most of Trinidad's economy relies on gas and oil production, which has filled state coffers and fuelled a construction boom over the past 20 years. Plummeting oil prices are now beginning to hit hard. But unemployment remains at five per cent – the lowest level in its history. Only 10 per cent of the population are directly employed in energy production, and it was thrilling to meet some of them. The Oilfields Workers' Trade Union (OWTU) hosted the third screening of Every Cook Can Govern at the festival, thanks to its chief education officer Ozzi Warwick, who also stars in the film. Several rows of young workers, in their pale-blue oil-worker shirts, were joined by older Trinidadians and some big names, many of whom had known James. I felt unworthy, but the film was well-received.
The Q&A, while resembling a 1980s political gathering, was very exciting. It's great to get a grilling from those in the know. Why hadn't we covered James' electoral challenge to Eric Williams and the People's National Movement in the 1950s? Good question. We had wanted to, I explained, as it highlighted James' recognition that carping from the sidelines about Williams' compromise approach to Trinidadian independence (just change the flag, not the system) wouldn't do. But we had no visuals and no one we interviewed could relay the story in less than an hour. Another asked why we hadn't covered the 1945 Pan-African Congress in Manchester. Well, because James wasn't there – and George Padmore was the real driving force behind it.
But it was researcher and author Barrie Collins's comments about colonialism in the film that proved the most controversial. Collins said that the colonies didn't always bring in money, and, after the Second World War, Britain wanted out, as uppity colonial subjects were making their presence felt. This is why the British made dirty deals with pliant independence leaders like Nkrumah and Kenyatta. This was condemned by some members of the audience as heresy, and outrageous 'neoliberalism'. One strident Pan-Africanist asked if we'd 'dug this pink guy out of the imperial archive'.
Their rejection of Collins' comments chimed a lot, I said, with today's lefties, who remember colonialism purely as relentless economic rape and pillage. Unlike Collins, they fail to see that, after the war, Britain was attempting to position itself globally, jettisoning some colonies so as to not lose the lot. James himself made the point that Britain wrote to Eric Williams et al asking them to hurry up with their independence – a revelation that makes for one of the best bits in the film. I didn't win the argument, of course, but I was congratulated for a 'spirited defence' of the pink guy. But, overall, the film went down a treat. All the DVDs were grabbed and important people, with amazing titles like 'Political Leader' on their business cards, shook my hand.
Aside from the screenings, I was also invited to do a press conference with the actor and Trinidadian Don Warrington, of Rising Damp and Death in Paradise fame. He was a guest of the British Council owing to his amazing performance in King Lear in Manchester, which has now been committed to film to mark the 400th anniversary of Shakespeare's death. 'How important was it that it was an all-black production?', he was asked by reporters. 'It wasn't', he replied. 'That had nothing to do with it.' I was impressed, and I think CLR, a Shakespeare devotee and universalist, would have approved, too.
I was also invited to be a guest of honour at a reception at the British High Commission. It's a fabulous hillside residence, with a huge picture of James Bond adorning the entrance, opposite a much smaller portrait of Herself. The commissioner was demure, self-deprecating even, and didn't speak to the assembled crowd of the great and the concerned (UN representatives to the Caribbean, NGO spokespeople, and so on). At the reception, I pontificated about Britain's loss of any sense of itself, and mopped up the drips with a fluffy towel borrowed from a magnificent loo.
It was a five-day experience of a lifetime, with a few opportunities for a chill-out – or a 'lime', as they say in Trinidad, dating back to when sailors took time out to have a lime and ward off scurvy – with people who helped make Every Cook Can Govern happen. On my last morning, I was driven up the smooth mountain roads, apparently 'American cut' as Second World War lookouts. I visited Maracas Beach; tried the famous 'Bake and Shark' (truly delicious); met Trinidadians training homing pigeons; and swam at Las Cuevas. After being attacked by sand flies, I was itching the entire 11-hour flight home. You'd have thought I had scurvy.
It was all worth it, though. And before I left I stopped to pay my respects to CLR in Tunapuna Cemetery, where his grave is marked with a huge stone book. I felt a lump in my throat for someone I had never known, but, after five years of making a film about him, had become my friend. The oil workers chief even apologised to me about the state of the grave site, concerned I'd have a poor cemetery experience. He explained that they were trying to ensure the grave's upkeep, but, unlike Brits, Trinidadians don't visit cemeteries, manicure them or add fresh flowers.
They are right not to live in the past. We can learn much from history, and from James. But the past is not a manual or a cookbook to consult in order to make change today. As James did in his day, we need to understand for ourselves what is happening in the world around us, and create some new recipes for now. Thank you nonetheless, my friend, for your inspiring works. It was a privilege to visit this amazing island, your home.
Ceri Dingle is the director of the education charity WORLDwrite.
The next screening of Every Cook Can Govern: The Life, Impact and Works of CLR James will take place at the Battle of Ideas festival in London on Saturday 22 October. Get your tickets here. Buy the film on DVD here.
Watch the trailer:
To enquire about republishing spiked's content, a right to reply or to request a correction, please contact the managing editor, Viv Regan.