'Don't leave me here with Essex Man'
Five times Labour attacked the working class at conference this week.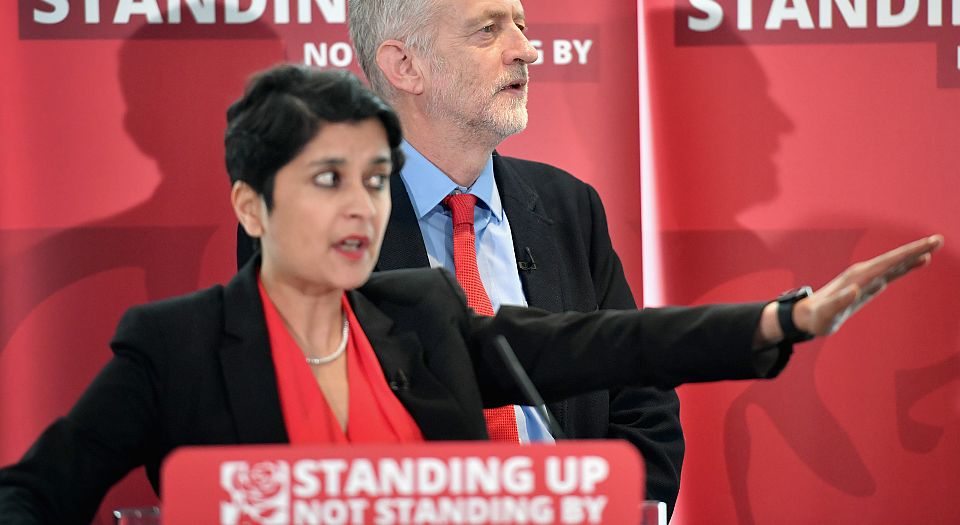 The Labour Party was founded to represent the working class. Those days are over. After a long-drawn move away from its core constituency, the Jeremy Corbyn-led party that gathered in Liverpool this week hasn't just ceased to represent working-class people — it now openly despises them. Here are five moments from this year's Labour conference in which the party's sniffy disdain for ordinary folk was on full display.
1) When Shami Chakrabarti had her 'white van' moment
At a rally in Liverpool on Monday, Labour peer Shami Chakrabarti, made this plea to Jewish Labour voters, who have voiced concerns about anti-Semitism in the far left of the party: 'Please don't go. Don't leave me here, don't leave me locked in a room with Essex Man… I don't want to be left alone with people who lack the vision and views that you and I bring to this party as members of minority groups.'
Essex Man is code for working class. And in Chakrabarti's world, to be working class means lacking 'vision and views'. It means you're narrow-minded and ignorant. This, from the newly appointed baroness of Kennington, was elitism at its most shameless.
2) When Diane Abbott said Leavers are stupid and racist
'The people who complain about freedom of movement will not be satisfied because what they want is to see less foreign-looking people on their street and that's not going to happen.'
These are the words of shadow health secretary Diane Abbott, speaking about Brexit at a fringe meeting this week. According to Abbott, if you have any misgivings about immigration, then you're a racist. And Brexit was fuelled not by a democratic agitation against the EU, but mindless bigotry. The message is clear: don't talk about immigration.
3) When Labour sneakily backed a second referendum
According to the Guardian, during the economy debate on Monday, a composite motion, proposed by the TSSA union, was passed unanimously. In one passage, it called for a second referendum, or a General Election, if the Brexit deal is unsatisfactory. 'Unless the final settlement proves to be acceptable', it read, 'then the option of retaining EU membership should be retained'.
This won't affect party policy, but nonetheless the message seems clear: conference attendees are willing to overturn the Brexit vote. If they had their way, the democratic will of working-class Brexiteers would be dismissed, and we'd be forced to vote again, in the hopes that, next time, we'd make the 'right' choice.
4) When an activist said Labour needs to talk to racists
At a fringe meeting on Monday, anti-racist activist John Page outlined his plan to win back voters who have defected to UKIP. 'If we want to win in these communities, and I'm thinking about places like Rotherham, like Dudley, like Merthyr Tydfil, like Thurrock, we need to start off with a discussion with people who hold racist views', he said.
There it is again – as plain as day. Apparently, a significant number of working-class voters haven't left Labour because it no longer represents their interests. Or because Labour is pro-EU, and they care about democracy. No, it's far simpler than that: they're a bunch of racists. John reckons it's time to accept that.
5) When Hillary Benn warned against wrestling chimney sweeps
Addressing members of centrist group Labour First, the former shadow foreign secretary warned against engaging with pro-Corbyn Momentum supporters. He said his grandfather, a viscount, advised him: 'You should never wrestle with a chimney sweep because you will also end up covered in soot. We should not stoop to that level.'
Sound advice there, straight out of the 1830s.
Sam White is a writer and photographer.
To enquire about republishing spiked's content, a right to reply or to request a correction, please contact the managing editor, Viv Regan.