Why the Tories are tearing themselves apart
It's not just Labour that's backstabbing itself to death.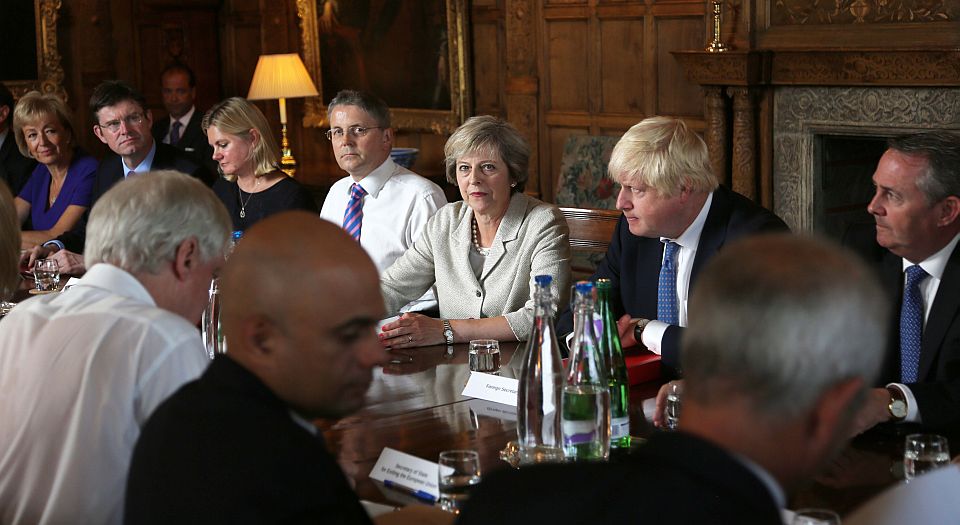 It's not just the Labour Party struggling to resist its own disintegration. The Conservative Party, the party currently and improbably in power, is also irresistibly crumbling away.
It's not as openly disordered as Labour. Theresa May, with her talk of grammar schools, her old-fashioned decorum and her whiff of Thatcher, is even presented as some sort of unifying figure, a homage to the Tories' good old days. But, as this weekend's book-fuelled revelations show, all is far from well within the government. Backs are still being stabbed; office politics, rather than the principled variety, lingers; and few are any more certain of what it is the Tory Party is for than they were under David Cameron's divisively 'modernising' leadership.
The sheer existence of both All Out War: The Full Story of How Brexit Sank Britain's Political Class, by The Sunday Times' political editor Tim Shipman, and Unleashing Demons: The Inside Story Of Brexit, by former Cameron aide Sir Craig Oliver, is indicative of a party struggling to keep itself together. After all, they are both quickly written and published strikes for Cameron and Co, landing blows against the current Tory leadership. And, as such, they don't just expose Tory infighting – they are products of Tory infighting.
May is a principal target. In All Out War, she, alongside her ally and then foreign secretary Philip Hammond, is said to have been described as 'lily-livered' by Cameron for refusing in 2015 to press ahead with demands for an 'emergency brake' on EU immigration, out of fear of what German chancellor Angela Merkel would say. And, in Unleashing Demons, it's revealed that Cameron and Co felt that May could be an 'enemy agent', such was her unwillingness to state her intentions in the run-up to the EU referendum campaign.
In classic he-said-she-said fashion, May has since refuted both claims, asserting that private letters she sent to Cameron in November 2014 and May 2015 clearly show she argued for an emergency brake on EU immigration. In other words, the current Tory leader is embroiled in a slanging match with her own predecessor, a leader under whom she worked and whom she seemingly supported for the past decade.
Foreign secretary Boris Johnson also comes under attack in Unleashing Demons, although it's hardly revelatory stuff. After all, exposing the woolliest politician in Britain as someone not terribly committed to anything in particular is a statement of the bleeding obvious rather than a veil-renting surprise. Still, in itself, it is shocking to learn, once again, that Johnson, one of the main faces of the official Leave campaign, was 'torn' on the issue of the EU, texting Cameron that he was thinking of supporting Brexit before texting later to say he was considering changing his mind. This dithering is not the mark of a deep thinker; it's the mark of a calculating thinker. As on so many issues, politics for Johnson is little more than a means to an end, the end being self-promotion.
The lack of loyalty on all sides is striking. Johnson and May, desperate to advance their political careers, appear unwilling to commit themselves either to anything for which they may later be held accountable, or to anything that may not play well publicly, even if that means undermining their own leader. And Cameron, with his posse of aides and on-side journos now airing cabinet laundry in public, appears desperate to preserve some sort of personal legacy, even if that means undermining the Tories' current leader. But this open infighting touches on something deeper than the absence of party loyalty; namely, the absence of anything – ideology, principle, conviction – to which to be loyal. It captures a party cohered not by content, but by form or, better still, brand. And, beyond that, beyond the continued formal existence of the Conservative Party as an electoral brand, there is nothing, aside from professional advancement and self-aggrandisement, to drive it on. Little wonder that its key protagonists find it so easy to betray one another when the one thing that motivates them – electoral self-preservation – appears under threat.
So the existential crisis dramatised by the Labour Party – if, that is, it's possible for a zombie to have an existential crisis – is not confined to Labour. It cuts across the political class as a whole. What we're seeing is the decomposition of party politics coming to a head. Its structures, sunk in the soil of the mass politics of the 20th century and sustained by the postwar consensus, now rest on very little, a fact brutally exposed by the Brexit vote, when the vast majority of voters – 17.4million – turned against the pro-EU political establishment. After the referendum, there is no escaping it: the parties no longer represent the majority of the people.
Neither the breaking apart of the dried-up husk of Labour, nor the deep disarray of the Tories, is an occasion for tears. Indeed, it comes as a result of the democratic striving writ large in Brexit. But that's also the problem. Because those very forces pushing for political articulation, those millions of people long shut out of the all-too-cosy conversation held among the political and media classes, are still being shut out, this time by the political class's discombobulation, its paralysis before the popular demand to do what the party-political establishment does not want to do: exit the EU. It doesn't want to because leaving the EU removes the political class's Brussels bolthole, its refuge from the domestic electorate. Indeed, Brexit would bring it face to face with those it no longer represents. And yet, despite this distance from and fear of the electorate, and the accompanying disarray and disintegration, the Conservative Party, as the party in power, is still bound to those it ought to represent. This means Brexit cannot be allowed to drift into the political never-after. The referendum result provided May's government with a mandate it must enact. And that, over and above the backbiting books and glorified office politics, is what matters now. The parties might be over, but democracy is not.
Tim Black is a spiked columnist and editor of the spiked review.
Picture by: Getty
To enquire about republishing spiked's content, a right to reply or to request a correction, please contact the managing editor, Viv Regan.