The pre-modern public shaming of Gazza
Making a spectacle of 'criminals' has no place in a democracy.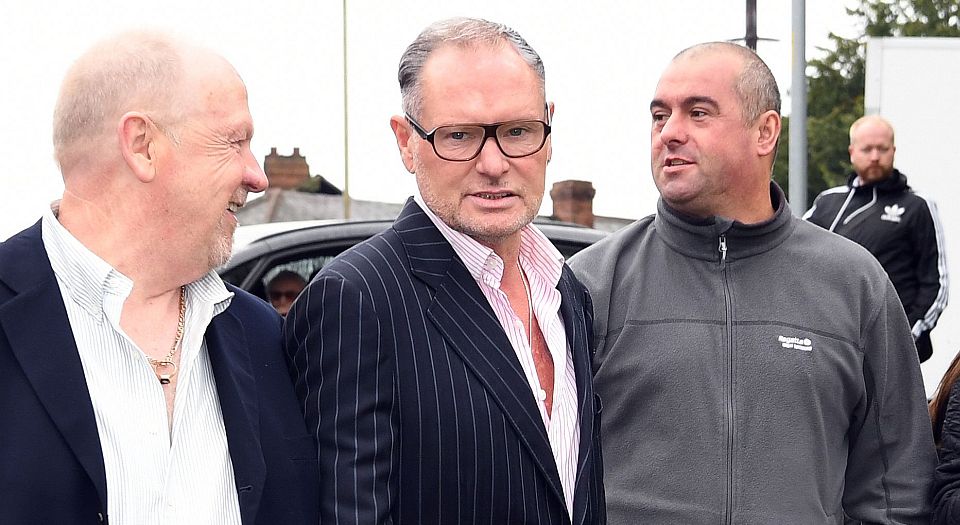 If anyone should be hauled before a judge to face prosecution for the content of their jokes, it should be the contestants on Mock the Week, Stewart Lee, Russell Howard, and the writers of Radio 4's The Now Show. I mean, how many more times must we be subjected to excremental jokes about the Tories, Nigel Farage, Donald Trump, Stephen Hawking's immobility/voice, and headlines in the Daily Mail? But no, there is no justice. This week, instead, it was poor old Paul Gascoigne in the dock.
Gazza's crime, in front of an audience in Wolverhampton last year, was to ask a black security guard to 'smile please, because I can't see you'. His £2,500 punishment for using such 'threatening or abusive words' was warranted, according to the judge, because 'a message needs to be sent that in the 21st century… such words will not be tolerated'.
A society that curtails free speech is not a healthy one. A society that punishes people for telling jokes is positively sick. Humour is traditionally the last refuge from censure and censorship, the last arena in which we are allowed to say the unsayable, to express those thoughts we know we shouldn't have. Humour is where we go to cleanse our subconscious. When the state starts deciding what is and isn't funny, we are in trouble.
The judge declared that 'as a society, it is important that we challenge racially aggravated behaviour in all its forms'. Was Gazza's joke funny? Not really. Was it 'racially aggravated behaviour'? I can't see that, either. His real crime is being morally unfashionable, being behind the times. As the judge said: 'We live in the 21st century — grow up with it or keep your mouth closed.'
This was nothing but a showtrial, a warning designed to teach us all a lesson: that you can now be prosecuted for having incorrect opinions. It's a throwback to pre-modern days when justice was wholly disproportionate because its main purpose was not to punish a wrongdoer and help him mend his ways, but to cow and deter others from doing likewise. Hanging for stealing a loaf of bread didn't reflect the severity of the crime, but it did send a short, sharp warning to the public. In the same vein, Gazza's public shaming will do nothing to help a chronic alcoholic with a history of psychological problems, whose sense of self-worth is no doubt already shattered. But it will do everything to make today's power-drunk guardians of morality feel better about themselves. This was cruel vengeance indeed.
Historical determinism is always the tool of tyrannies. It's a means of denying that people have free will. Morality becomes a hostage to chronology. 'This must happen', said the totalitarian states of the 20th century, 'because the course of history dictates it so'. It's an argument always used by states to extend their powers. Totalitarian states cannot and will not abide dissenters 'on the wrong side of history', those with incorrect opinions. They have public showtrials to make an example of wrongdoers. Those who say that something can or can't be said and done because 'it's the 21st century' employ the same absurd, sinister logic. This week, they have had their own showtrial.
Read those headlines again: a man with mental problems has been punished in public for telling a joke. In Britain. 'In the 21st century.'
---
A common tongue
It has been a dogma of linguistics for decades now that words have no intrinsic meanings, that their sound bears no inherent correlation to the things they represent. To English-speaking ears, a shaggy thing with four legs that goes 'woof' is called a dog. In German, it's a Hund, and in French, chien. Each appellation is as meaningless as the other because the relationship between word and thing is wholly arbitrary.
Many of you entering humanities courses at university this month will become aware of this Saussurean school of thought very soon. It's a favourite of postmodernists and multiculturalists, who infer from it the belief that no language and therefore no culture has preferential access to truth. We just all have a different way of seeing the world.
Yet, according to recent reports, a new linguistic study has revealed more than two-thirds of the world's languages use the same sounds for the same words. Research published in the Proceedings of the National Academy of Sciences shows that humans tend to use the same sounds for common objects and ideas, no matter what language they are speaking. Researchers found that, for instance, words for 'round' in unrelated tongues were extremely likely to contain the letter 'r'; that 'sand' was associated with the 's' sound; and that, in 1,400 different languages around the world, the word for 'nose' contains an 'n'.
Not everyone has always believed in the arbitrary relationship between words and their meanings. Scientists have since 1929 discussed what is called the 'bouba/kiki' effect: in unrelated languages across the world, words representing round shapes are likely to contain 'ooo' sounds, while spiky objects are likely to be represented by words that contain sharp, high-pitched 'ki-ki' sounds.
But your anthropology professors won't have you believe any of the above. For them, everything is culture. There is no such thing as common humanity.
---
Could The Producers be made today?
I only saw Mel Brooks' legendary film The Producers for the first time last weekend, what with Film 4 airing it in tribute to the late Gene Wilder. What a brilliant movie.
In recent years, people have praised the likes of Sacha Baron Cohen and Chris Morris for their 'shocking' and 'daring' comedy that 'challenges taboos'. But my word, I wonder how the cinematic audience of 1968 reacted to this, a film about a stage musical with high-kicking, tap-dancing Nazis, which depicted Hitler as a brain-dead Flower Power cool cat. I watched agape and aghast.
Brooks got away with this outrageous film because he is Jewish. Yet I still wonder if The Producers would be made as an original production today. For all the awful libertine shortcomings of the 1960s, it was an era in which people strove and dared to push boundaries. In our brittle, censorious, easily offended times, we continue to erect boundaries. Neither swastikas nor Jews are considered funny in any context these days.
The Producers was way ahead of its time. The tragedy is that, today, it feels as groundbreaking as ever.
Patrick West is a spiked columnist. Follow him on Twitter: @patrickxwest
To enquire about republishing spiked's content, a right to reply or to request a correction, please contact the managing editor, Viv Regan.