Brexit owes little to UKIP
The yearning for democracy goes well beyond Farage and Co.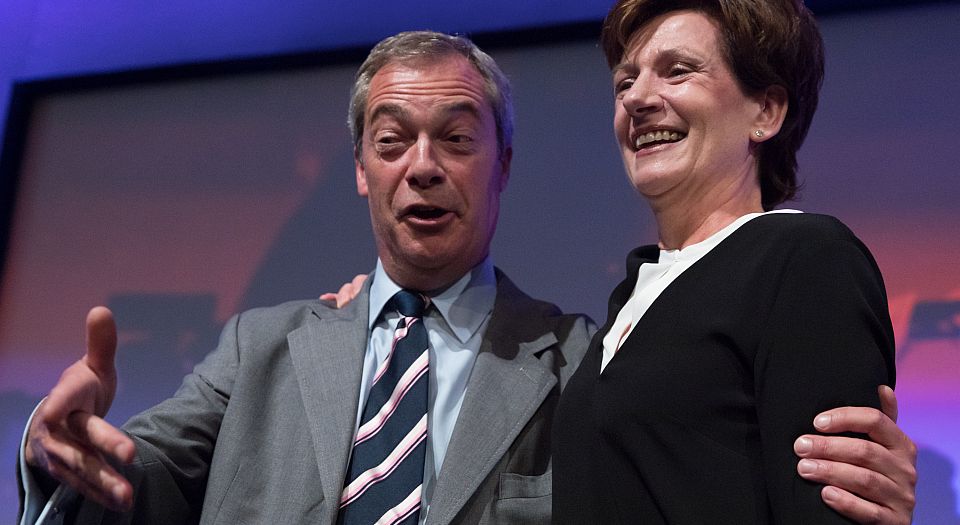 Back in June, the sight of a bleary-eyed Nigel Farage, then UKIP leader, basking in the EU referendum result and claiming that this day would 'go down in our history as our independence day', appeared to realise the dreams of Ukippers and the worst fears of right-thinking Remainers. Farage's time, it seemed, had well and truly come. UKIP, the butt of endless broadsheet sneering, dimwitted Nazi allusions and fathomless fearmongering, had won the referendum and was, effectively, taking over. 'Dare to dream', Farage continued, 'the dawn is breaking on an independent United Kingdom'.
This was the narrative peddled as much by those opposed to Brexit as Ukippers themselves: it was Nigel Farage and UKIP wot won it. They bleated on about immigration, deploying crude, disingenuous posters at crucial moments, and, in doing so, they planted a purple seed of nasty nativism in the minds of 17.4million voters. Little wonder The Economist said that, without Farage, 'Britain's vote for Brexit probably would not have happened'; a New Statesman columnist concurred, claiming that Farage and his 'posse… of angry-looking, whey-faced blokes' had taken 'their' country back; and one prominent film director concluded, after a period of deep reflection, that Brexit voters were 'a load of UKIP cunts'.
For opponents of Brexit, there is a certain logic to attributing it to UKIP. It allows them not only to caricature Brexit voters as whey-faced UKIP cunts, but to dismiss them, too. And it allows them to suggest that Farage is 'directly responsible' for what has happened, and to hold him to account, as if he's some quasi post-Brexit national leader.
Yet the assertion that UKIP somehow authored Brexit, that those millions upon millions of Leave voters were de facto UKIP voters, doesn't really stand up. After all, if that really were the case, then one would have expected UKIP to have been galvanised by the events of 23 June. As the supposed voice of 17.4million voters, one would have expected a certain organisational strut, a confidence, a conviction. But that has not been the case.
In fact, since the referendum, UKIP has been busy imploding. First Farage resigned. Then his successor-elect, migration and financial-affairs spokesman Steven Woolfe, was edged out of the leadership race on a dubious technicality. And then, as its eventual leader UKIP picked Diane James, an unremarkable middle manager. Inspiring she ain't.
All the back-biting and backstabbing that has characterised UKIP's internal politics over the past couple of years has actually intensified since the referendum result. Moreover, many UKIP members, including former head of media Alexandra Phillips, are reportedly leaving the party to join the Tories. This weekend's party conference in Bournemouth may have outwardly appeared as naffly jovial as ever, with stalls flogging everything from Trumptastic 'Make Britain Great Again' baseball caps to UKIP-branded condoms, but the inward disarray of UKIP has been as obvious as its Welsh Assembly leader Neil Hamilton's enduring unpopularity.
And no wonder. For far from being the coming force of British politics, and the driving force of Brexit, UKIP is the fading force. Its leading figures know that it is in the midst of a momentous shift in British political life, as it has been for the past couple of years, but they also know they are losing traction, not gaining it. Hence the disagreements over what exactly UKIP should be: a traditional political party, or a glorified pressure group. After all, if UKIP really was the commanding presence in post-Brexit political life, its chief figures wouldn't be trying to change a winning formula; they'd be capitalising on it.
UKIP still commands significant support, of course – it won nearly four million votes at the last General Election. But that also captures its weakness, too. For four million amounts to only a fraction of the 17.4million who voted for Brexit. You would expect if UKIP really had won the referendum, if Farage really was 'directly responsible' for Brexit, that its support would have risen considerably since the last General Election. But, as a recent YouGov poll shows, that is not the case: it is polling at 12 per cent, its lowest level for two years. Anecdotes bear out the figures. One Guardian columnist, taking the pre-referendum temperature in the provinces, even noted the widespread indifference towards the likes of Farage: 'Hardly anybody talks about the campaigns, and the most a mention of the respective figureheads of each camp tends to elicit is a dismissive tut.'
What we're seeing, then, is not the development of a post-Brexit political force, so much as the disintegration of a pre-Brexit force. UKIP certainly benefited from the political establishment's estrangement from vast swathes of the UK. But it didn't shape that antagonism. That's why the travails of UKIP are significant – not in themselves, but insofar as they capture something about the still-to-be articulated nature of the Brexit vote; this yearning for a form of democracy yet to emerge; this striving for a degree of self-determination yet to be realised; this need of a form of popular sovereignty far beyond the ambitions of UKIP. UKIP was never the future, because it was never the organisational expression of that which motivated the majority to vote Leave. Yes, for a while it was a comfortable passenger, but it was never the driver.
To enquire about republishing spiked's content, a right to reply or to request a correction, please contact the managing editor, Viv Regan.