Climate change is not a political issue
The environment has been hijacked by both left and right.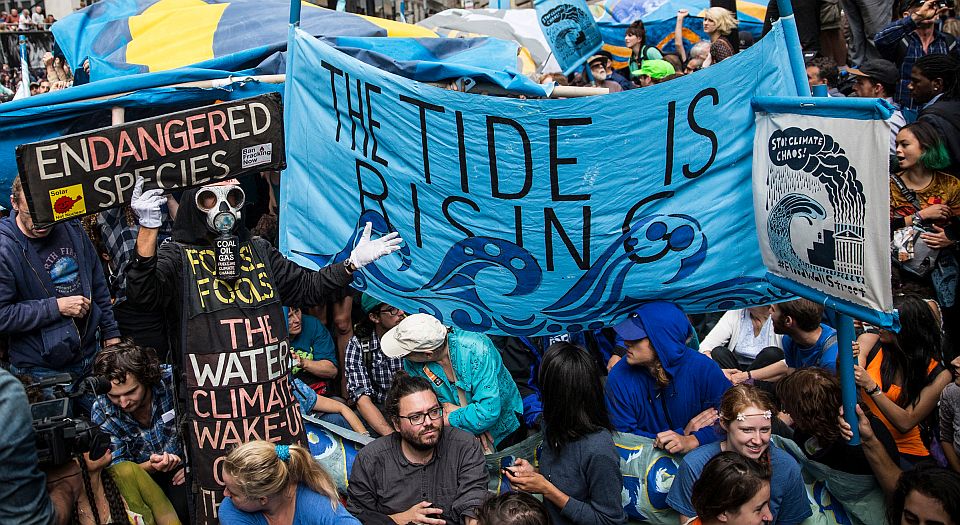 Like many people, my reaction to the all-white protest by Black Lives Matter UK at London City Airport was general disbelief. It wasn't just BLMUK's glaring diversity problem (what, no black faces?), but the curious collision of environmentalist and racial politics afoot – namely, the cry that 'climate crisis is a racist crisis'.
Many remarked that the incident seemed 'beyond parody'. I thought it actually was a parody. I suspected the whole thing to be a practical joke, a prank in the spirit of Chris Morris, Sacha Baron Cohen or Cyderdelic – the fictitious West Country direct-action group who urged us to 'overthrow capitalism and replace it with something nicer'.
It transpires that it wasn't a spoof. Perhaps we shouldn't be surprised. Identity politics has, for some time now, inhabited the realm of the surreal. Ever since the turn of the millennium, when racism stopped being something that happened – an empirical phenomenon that could be observed and accounted for – and became a mysterious and ethereal force that was 'institutional', 'unwitting' or 'unconscious', no area of life has been free from the irrefutable charge of racism. It's a magical word that makes you look important and virtuous. It's a voodoo allegation for which there is no reasonable answer.
The truly depressing thing about the matter was not the turn it represented in identity politics. The politics of race is now run by fatheads and grandstanding imbeciles. We accept this. The tragedy in question is how the serious scientific matter of climate change became hijacked by politics.
The issue of global warming, as it used to be called, was originally appropriated by leftist agitators of different hues in the 1980s. In it they spotted a means to further their anti-modern, anti-Western, anti-capitalist agendas. It became a convenient avenue in which they could call for greedy, carbon-emitting corporations to be punished. In the name of saving the Earth, they could further their anti-consumer ideology against us selfish, braindead slaves to capitalism who like cheap food from supermarkets. Anarchists and communists jumped on the climate-change bandwagon, what with its one-world possibilities of challenging the legitimacy of nation states. Vegetarians told us it was proof that we shouldn't eat burgers. After the fall of the Berlin Wall came disillusioned post-Marxist, post-humanist, anti-human Malthusians, for whom climate change was proof of human selfishness, wickedness and sin.
It's no wonder many on the right have come to regard the issue of climate change with suspicion, derision or even as a lefty conspiracy. In Britain, the Green Party has long presented itself as on the left, a kind of Labour Party for posh people. Only the other day, the Greens called for a 'progressive' alliance in British politics to keep the Tories at bay. It's a wretched, vicious circle. The more Conservatives dig in their heels in the face of the overwhelming evidence that climate change is happening, the more those on the environmentalist left become prone to exaggerate their claims. For this I don't blame the lefties, either. For scientists who observe the data, it must be like dealing with creationists or people who claim that dinosaurs didn't exist.
It's terrible that the issue of climate change has become twisted this way. It should never have been politicised. Members of the public now believe little they are told if they suspect there is a political motivation for what's being said. We all scorn that which is said by politicians, scientists or journalists. They all either contradict each other or talk over each other.
I find the only people to trust are meteorologists (such as Paul Simons of The Times). Their main job isn't to prove climate change is happening, but over the years they have happened to notice that it really is. Climate change isn't about politics or race. It is just happening.
---
Rescuing migrants won't help
The Italian coastguard saved thousands of migrants off the Libyan coast this month, and yet the death toll of those trying to cross the Mediterranean continues to rise. In 2016 so far, more than 3,000 have perished. It is set to be the deadliest year yet in the ongoing refugee crisis.
The conduct of the Italians is ostensibly laudable, but unfortunately it's an elementary example of how good intentions make matters worse. Refugees are now more inclined to make this perilous journey with the knowledge that the Italians will save them if they encounter trouble. People-traffickers are more inclined to abandon their human cargo in the knowledge that they will be rescued. The behaviour of the Italian coastguard is akin to people who pay hostage ransoms, give money to beggars, give alms to refugees at the Calais Jungle, or buy slaves in order to free them from slave-traders. 'Being good' makes matters worse. Doing the humane thing in the short-term perpetuates and increases human misery in the long-term.
Either we in Europe open all the borders, or we refuse to help anyone trying to get in illegally. This deathly half-way house pleases no one.
---
Women can't have it all
In last week's The Sunday Times – in which the leader of the Scottish National Party, Nicola Sturgeon, revealed she had previously had a miscarriage – its magazine featured a box containing the names and faces of 'childless politicians' – a list comprising Theresa May, Angela Merkel, Angela Eagle, Ruth Davidson, Natalie Bennett and Justine Greening. Not everyone was happy about this, especially on Twitter. The newspaper has consequently admitted it could have been 'more sensitive', to which Bennett retorted: 'I'd suggest it could get out of the 1950s.'
The Sunday Times was indeed being crass. It made the unspeakable implication that if you are a woman and want to rise to the top in politics, you might have to forgo having children. It brazenly challenged the idea that women can 'have it all'. It outrageously suggested that you can either be a great mother or be a great politician. I am especially offended by the insinuation that life is all about compromises, difficult decisions and that our time on this Earth is finite. All this I find disgusting.
Patrick West is a spiked columnist. Follow him on Twitter: @patrickxwest
To enquire about republishing spiked's content, a right to reply or to request a correction, please contact the managing editor, Viv Regan.