Standing up for Irish women's abortion rights
Inspiring new initiatives are helping Irish women get the services they need.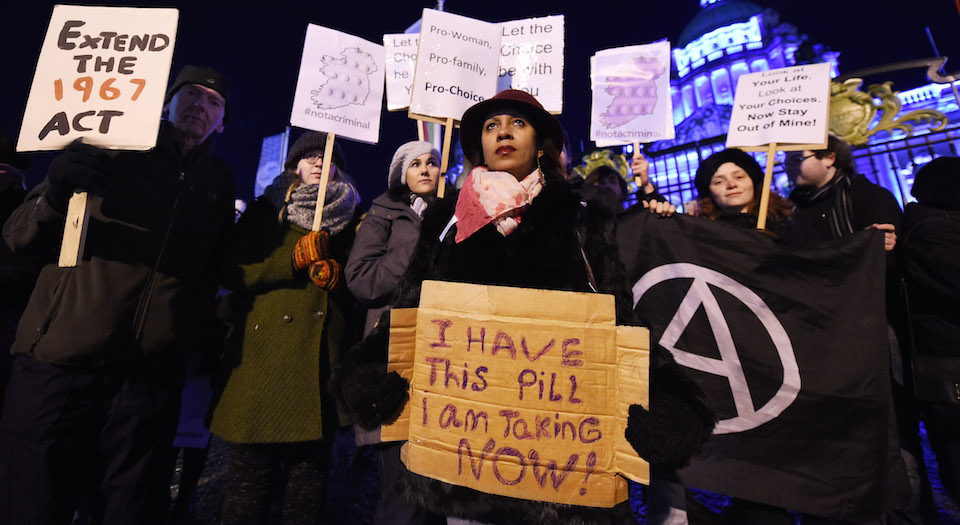 Getting an abortion in Ireland is near impossible. In the 21st century, the governments of both north and south have more control over women's wombs than women themselves do.
In Northern Ireland, abortion is still illegal under the 1861 Offences Against the Person Act, as the 1967 Abortion Act, which partially decriminalised abortion in England, Scotland and Wales, does not apply there. Women who are found guilty of having an abortion face a sentence of up to life in prison. In the Republic of Ireland, abortion is also illegal, under the much-protested Eighth Amendment to the Irish Constitution.
This leaves women living in Ireland who want to terminate their pregnancies with two options: risk jail by procuring an illegal abortion or travel to England to access private services. Over the past five years, almost 25,000 Irish women have made the journey to England to access abortion services. And, with many women unable to afford the journey and the cost of private abortion services, many more are left with no option but to procure illegal abortion medication.
In response to Ireland's refusal to recognise abortion rights, women have taken matters into their own hands. Women on Waves, an organisation that provides abortion care for women outside of the territorial waters of countries, has been running in Ireland for over 15 years. More recently, on 1 September, the British Pregnancy Advisory Service (bpas) launched a free telephone aftercare helpline for women who have bought abortion medication online in Ireland, Northern Ireland and the Isle of Man. Most women who are forced to buy abortion pills illegally fear being caught and prosecuted, and therefore tend not to seek consultation before or after taking the medication – even when there are complications.
The bpas helpline is just one way in which abortion-rights organisations are taking a stand against the illiberal climate in Ireland. Women on Web and Women Help Women are two non-profit services providing online support and abortion pills for women living outside of England, Scotland and Wales. Also, a coalition of abortion-rights organisations made the news recently by flying abortion pills to Ireland using drones, in what they called an 'act of defiance'. With mass protests calling for the repeal of the Eighth Amendment, and the decriminalisation of abortion in the north, the question remains: why are women still having to fight for reproductive freedom?
In many ways, women in the West have never had it so good. We can have any job we like, get divorced, go to school, wear miniskirts, have casual sex… the world is our oyster. But the most fundamental right an individual has, to have control over your own body, is still denied to women. A woman cannot go out, have sex, get pregnant and then change her mind. Even in England, Scotland and Wales, an abortion must be approved by two doctors. Ireland's strict abortion laws are just the more extreme end of the kind of limits that are still put on women's abortion rights across the West.
This is something that advocates of abortion rights are all too aware of. 'What [Irish] women really need is accessible, high-quality abortion services at home', writes Ann Furedi, chief executive of bpas. 'They shouldn't have to make the choice between travelling to England and breaking the law by purchasing pills online.' Too right. Stop to think about it for a second: the majority of women across the world do not legally have control over their own bodies.
An unwanted pregnancy is no longer a pregnancy – it's a problem. Early abortion medications are now so safe and easy that there is little need for women to take them in the presence of a doctor, let alone have two of them decide whether she should take them or not. We must celebrate the efforts of abortion-rights charities to help women access abortion services. No woman should have to whisper down a helpline or worry about packages of pills in the post in order to have an abortion.
We must call for an end to legal limits on women's bodily autonomy, and demand that abortion be removed from the criminal law. Furedi says bpas's new helpline 'will be here for these women 24 hours a day until they no longer need us'. It's up to all of us who believe in women's freedom to make sure it's not needed for much longer.
Ella Whelan is assistant editor at spiked. Follow her on Twitter: @Ella_M_Whelan
Picture by: Getty Images.
To enquire about republishing spiked's content, a right to reply or to request a correction, please contact the managing editor, Viv Regan.