White Guilt Matters
BLM has become a prop for white, Western self-loathing.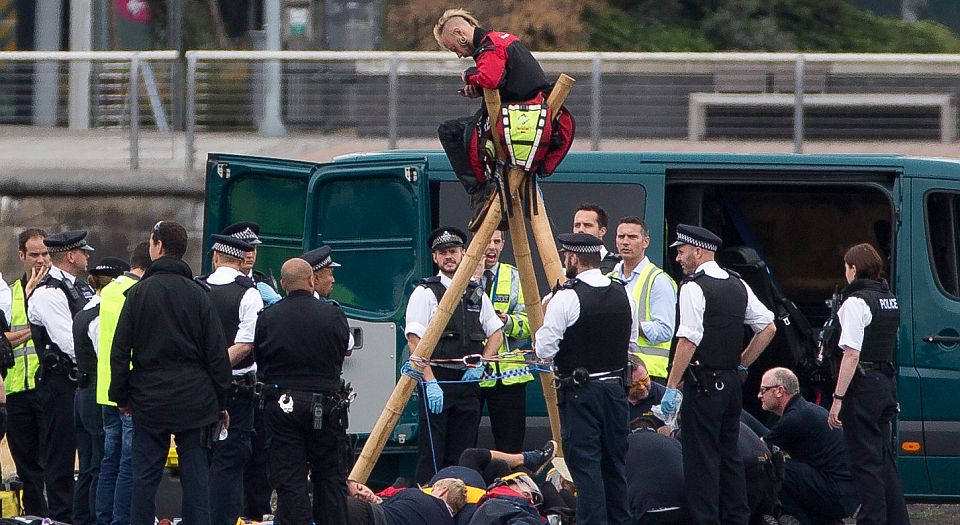 I'm starting to think Black Lives Matter UK is a Greenpeace front. Since this lame spin-off of the US anti-police-violence group arrived on the identity-politics scene, it seems to have focused almost exclusively on airports. In August, its activists blocked the M4 outside Heathrow, stopping ordinary people from going on their holidays under the banner of protesting against the 'crisis' of state racism. Today, it turned its ire on London City Airport, when nine BLMers chained themselves to the tarmac and sent the departure board into meltdown. And, this time round, they're not even pretending to be angry about the police. 'Climate crisis is a racist crisis', was the slogan of today.
That's right: this lot think proposed airport expansion at London City is some sort of racist conspiracy. Their reasoning, unfurled through a series of tweets throughout the day, is, to put it charitably, a bit all over the place. They say that, as black communities tend to live in urban areas, they're affected disproportionately by air pollution. They see climate change as a global embodiment of white privilege, as it has minimal effects on Britain, while sub-Saharan Africa bears the brunt. When all else failed, they brought up the refugee crisis: 'In 2016 alone, 3,176 migrants have died or gone missing in the Mediterranean… Black people are the first to die, not the first to fly.'
The protest didn't cut much mustard with the delayed holidaymakers, many of whom hailed from east London's black communities. Speaking to the Guardian, one man, trying to fly home to Nigeria, said, 'It's ridiculous. Life is life, black or whatever colour, I don't see any difference.' A couple, from Bow, were similarly exasperated: 'Many issues always affect the poorest in society… But [the protest] has stopped these two black lives from going on holiday.' BLM insisted the real target was the state, and called on its supporters to join a demonstration outside the Jamaican High Commission, in protest against a deportation flight to Jamaica last month. But, in the end, many who suffered because of its antics were the very people it claimed to be speaking for.
Its profound stupidity aside, there was something else striking about today's protest. All of the activists were white. As were most of the activists who took part in the blockades in August. Now, that's not to say white people should be excluded from anti-racist activism. Far from it. One of the ugliest things about anti-racist campaigns today is their identitarian racialism; so-called white allies are constantly told to repent for their privilege and refrain from 'stealing' the struggle. And BLM UK is no exception. Indeed, over the course of the day, its tweets became more and more defensive. 'UKBLM is and always has been black-led', read one. 'Today's #Shutdown isn't about nine white allies on the runway; it's about 200million climate refugees by 2050', read another.
That a group like BLM UK, full of dyed-in-the-wool identity politicos, would allow all the white fellas to steal the limelight is telling. Not only because it suggests it's not as grassroots as it likes to pretend, and that it springs more from middle-class victim politics than an agitation from below. It also speaks to the fact that anti-racist campaigns today are more about white guilt than black liberation. They play to well-to-do whites' own self-loathing, their sense of historical, global wrongdoing. They're the target audience. Black people become pet victims for them to coo over, or, in this case, a stage army against progress itself. That's why BLM UK marries anti-racism and environmentalism so seamlessly. Both are sources of modern Westerners' self-hatred, their insistence that Western society is malignant, destructive, bigoted.
White Guilt Matters would have made a better slogan.
Tom Slater is deputy editor at spiked. Follow him on Twitter: @Tom_Slater_
Picture by: Getty
To enquire about republishing spiked's content, a right to reply or to request a correction, please contact the managing editor, Viv Regan.