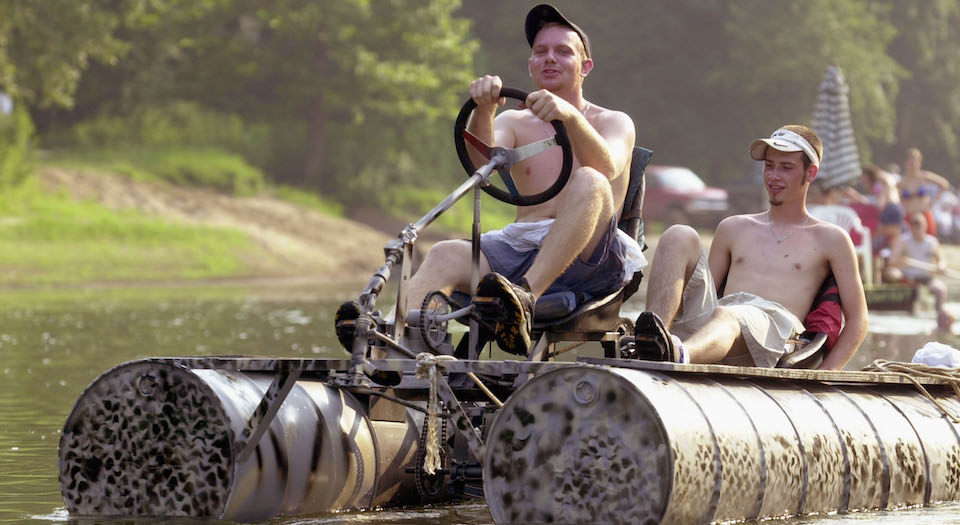 Long-read
On Hillbilly Elegy
JD Vance's Hillbilly Elegy is a remarkable portrait of a way of life in crisis.
'Americans call them "Hillbillies", "rednecks" or "white trash". I call them neighbours, friends and family.' – JD Vance
In the beginning it was easy to dismiss Donald Trump's supporters as racist, misinformed or just stupid white men enraged by the loss of their privilege. But, as his support has solidified, many commentators have begun to acknowledge the real and palpable sense of crisis and pessimism endemic among vast sections of the American working class. This is why JD Vance's Hillbilly Elegy: A Memoir of a Family and Culture in Crisis could not be more timely. He is not the first to write about the plight of the white working class – think of Charles Murray's Coming Apart: The State of White America, 1960-2010 or Robert Putnam's Our Kids: The American Dream in Crisis – but he is unusual because he writes about it from the inside out.
This is no small accomplishment. Writing about the American working class seems to fall into two categories. First, there are the sociological tracts, which, though often quite sympathetic, seem to gaze past their subjects at the not-for-profits and policymakers who are their real audience. Then there are the memoirs of misery, the prurient accounts of poverty and sometimes moral depravity disguised as uplifting stories of survival. Hillbilly Elegy is something else.
Vance grew up in the city of Middleton, a mill town in southern Ohio, the grandson of hillbillies (derogatory slang for the people of Appalachia) from Jackson, Kentucky. He enlisted in the Marine Corps as soon as he finished high school, served in Iraq and managed, against all odds, to graduate from Ohio State University and attend Yale Law School. The story of how he accomplished this feat, and why he nearly didn't, offers badly needed insights into the complex fabric of working-class life that is as relevant for the people caught up in it as it is for those on the outside looking in.
'I want people to understand what it feels like to give up on yourself and why you might do it', writes Vance. 'I want people to understand what happens in the lives of the poor and the psychological impact that spiritual and material poverty has on their children.'
Hillbilly Elegy tells the story of Vance's family, poor rural whites of Scotch-Irish descent from the Appalachian mountains of Eastern Kentucky. After the Second World War, they travelled up Route 23, or 'hillbilly highway' as it's otherwise known, in search of a better life in the industrial towns of the Midwest. It is a tale of culture, social mobility, loss and the importance of family. It is also about why stories like his are so rare, why poor people stay poor and what we can do to change that.
To do this, Vance does something writers seldom do today except in literature. He uses the particular as way of revealing the universal. That is, by focusing intensely on his own culture and his own story, he succeeds in touching on a few fundamental human truths. The fact that he succeeded in doing it through the clannish, volatile culture of hillbillies is a small miracle in our age of culture war.
Culture is tricky. Where it was once about the shared assumptions and experiences that unite us with other people, it has lately become a sort of branding exercise used to distinguish between who is okay and who is not — and hillbilly culture is about as far away from okay as it is possible to be. Guns? Yep. Violence? Yep. Smoking? Yep. Obesity? You got it. From the perspective of educated elites, any one of these things is very, very bad. Taken together, you've got the four hillbillies of the apocalypse, a lifestyle combination that is everything liberal elites loathe.
Take a recent Washington Post article looking at an unprecedented fall in the life expectancy of white working-class women, as seen through the eyes of a coroner in McCreary County, Kentucky. The piece focused almost entirely on the fact of the women's smoking and poor diets rather than their lack of healthcare, drug addiction or extreme poverty. For America's elites, it's almost as if the only thing that matters to them about the plight of the white working class is their politically incorrect lifestyle.
Vance doesn't pull any punches when it comes to the more backward aspects of hillbilly culture. But he doesn't reduce culture to lifestyle or pretend that it holds the answer to everything. Still, he shows that hillbilly culture can be the starting point for moving forward; by really engaging with culture, we can understand what it can and can't do.
In the end, two things made the most profound difference in Vance's life. The first was his gun-toting, chain-smoking 'mamaw' (grandma), who gave him a stable home, fierce love and a strong, if occasionally idiosyncratic, moral code. The second was the Marine Corps, which did for Vance what neither he nor his mamaw could: give him a sense of self-efficacy, and show him how and why his choices mattered. It's intriguing to consider this unintended but welcome consequence of military service.
It's hard not to come away from Hillbilly Elegy without feeling a special sympathy and affection for the people of Appalachia, but many readers will also recognise aspects of their own experience in its tale of class and social mobility in the US. Indeed, it is as valid for the sons and daughters of Italian immigrants in New York State as it is for African Americans who moved to northern cities during the great migration. Culture can destroy us or sustain us, unite us or divide us. The important thing is that we have a choice about which it will be.
Nancy McDermott is a writer based in New York.
Hillbilly Elegy: A Memoir of a Family and Culture in Crisis, by JD Vance, is published by Harper. (Order this book from Amazon UK.)
Picture by: Getty Images.
To enquire about republishing spiked's content, a right to reply or to request a correction, please contact the managing editor, Viv Regan.