Defending free speech Down Under
Brendan O'Neill gets vilified for opposing censorship.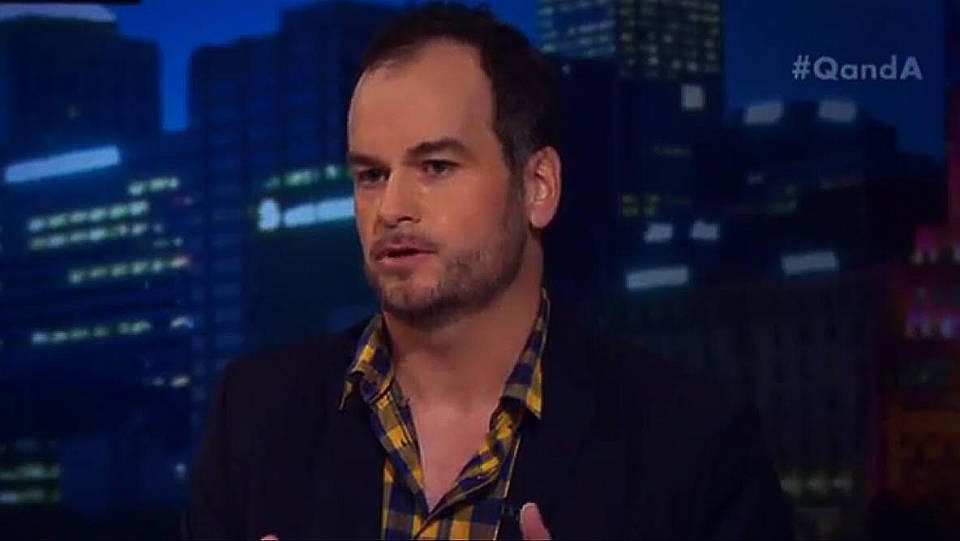 On Q&A, the Australian Broadcasting Corporation's flagship political panel show, spiked editor Brendan O'Neill once again prompted the right-thinking first to tweet their spleen, and then to fire off snarky op-eds. And the reason for the riling? Was it O'Neill's criticism of the Australian state's incarceration of migrants on the micro-island of Nauru, 'a kind of purgatory, a limbo where aspiring migrants are stuck between a place they don't want to be and a place they want to be', as he described it? Or was it perhaps his criticism of pro-refugee campaigners, whom, as The Australian reports, O'Neill accused of 'infantilising' migrants, treating them as weak, helpless, other?
Nope, none of the above. What got up the nose of the unthinkingly politically correct was O'Neill's attack on Section 18C of Australia's Racial Discrimination Act, which prohibits speech 'reasonably likely… to offend, insult, humiliate or intimidate another person or a group of people' because of their 'race, colour or national or ethnic origin'. Or, to put it another way: Brendan O'Neill defended free speech. And, it was this, this defence of one of the cornerstones of radical, liberal, enlightened thought, that outraged the nominally liberal and leftist.
Here's what O'Neill said: 'I love hearing hate speech because it reminds me I live in a free society.' Got that? O'Neill loves hearing hate speech, not in itself, not because he just loves vitriol, as some of his detractors really seem to believe. No, he loves hearing it because of what hearing it means: namely, that we live in a society that is confident enough in itself, in its liberal values, that it can tolerate dissenting and hateful views. O'Neill then went on to explain why freedom of speech is precisely the mechanism through which we can challenge racism: 'The real problem with Section 18C is it actually disempowers anti-racists by denying us the right to see racism, to know it, to understand it and to confront it in public. Instead it entrusts the authorities to hide it away on our behalf so we never have a reckoning with it.'
For anyone faintly familiar with a liberal and radical tradition of thought, from Voltaire to Frederick Douglass to Karl Marx, O'Neill's argument shouldn't be controversial: it is only through the airing of prejudice that it can be reckoned with. And it certainly shouldn't be difficult to understand. But sadly it seems that, for too many, it is. To these, the liberal-ish and the right-on, it is an anathema, thought from another planet.
First came the high-profile Twitterers, the attack dogs of elite sentiment. Celebrity chef Georgina Dent said: 'See, if hearing hate speech is the bit you love most about living in a "free country" you're doing it wrong.' Commentator Jane Caro quickly joined in: 'Brendan O'Neill may not be aware of how privileged he is to "like" hearing hate speech. I've seen it intimidate people into silence.' And in chimed the widely retweeted campaigner and columnist, Mariam Veiszadeh: 'Those who argue that S18C should be repealed have the privilege of never having to seek its protection.'
Then came the op-eds. A Sydney Morning Herald writer declared: 'The audience of Q&A has exercised its freedom of speech to call BS on a white man who courageously declared, among a panel of fellow white folk, that he loves hearing hate speech.' And 9News talked of 'a white male free-speech crusader' being 'mocked online after declaring on last night's Q&A programme that he "loves hearing hate speech"'.
What's immediately striking about the response to O'Neill's defence of free speech is the incredulity. 'An extraordinary statement', remarked one commentator, as if O'Neill had just proclaimed the Earth's flatness. Another said it was 'ridiculous'. All of which shows just how removed today's liberals and lefties are from their own liberal, left-wing traditions.
Then of course there is the substance, if you can call it that, of their criticism. That is, O'Neill, as a white man, is in no position to criticise the criminalisation of racist hate speech. Why? Because, as a white man, he has not experienced racial hate speech; he does not know how it feels to be subject to racial hate speech, and therefore he has no authority to comment on it. Where do you start with this steaming pile of emotivist, particularist proverbial? First, O'Neill is making a universalist case for free speech. Not for himself. Not for white people. And not for middle-class tweeters. He is making a case for free speech for everyone. Second, O'Neill's own background – a son of working-class Irish immigrants, as it happens, which is hardly a marker of privilege in Britain – is not important. What matters is the argument, not its propagator. If a 'person of colour', as O'Neill's critics have it, had made the same argument, would it suddenly have become more persuasive, more legitimate?
And third and finally, who exactly do they think is empowered by Section 18C? Is it indigenous Australians? Is it the wretched of the Earth? Or is it the Australian state, complete with its retinue of privileged white judges and civil servants who, thanks to this pernicious bit of legislation, are now authorised to adjudicate on what is illegal and what is legal speech? And here we come to the miserable irony of those who are mocking O'Neill for his defence of free speech: they would rather support the state, the most powerful and, yes, privileged force in the land than give people the freedom to say what they think. It seems there are none so dangerous as the unthinkingly self-righteous.
In his Crikey column, Guy Rundle captured well the irony of the anti-O'Neill, anti-white-privilege backlash, particularly as it came from O'Neill's fellow panellist, the comedian Corinne Grant: 'It's particularly counterproductive when people from a creative background — playwrights, comedians — take so easily to the task of censoriousness and state control of speech. It is an invitation to hand over freedom on the promise that the state will guarantee it for you – and reach the point where you positively welcome having judges "authorising" speech. Nothing much can be achieved while this attitude persists, unexamined, unreflected upon, among people who should be challenging elites, not forming new ones.'
And it's precisely the freedom to challenge elites and elite views that animates O'Neill's defence of free speech. As the man himself put it in that heated TV studio: 'It's very important when it comes to expressing opinion, even if it's ugly opinion, to protect people's right to do that. Otherwise you'll end up in a situation where the state has the right to decide what's a good opinion or a bad opinion. And least of all minority groups should support that. Every marginalised group in history has seen free speech as their greatest friend. It's the means through they can express themselves, can argue against their oppression, through which they can challenge the authorities. We have to defend the right for free speech for everyone, particularly for marginalised groups.'
Tim Black is a spiked columnist and editor of the spiked review.
To enquire about republishing spiked's content, a right to reply or to request a correction, please contact the managing editor, Viv Regan.