Anti-feminism: the new heresy
The witch-hunting of critics of feminism has got to stop.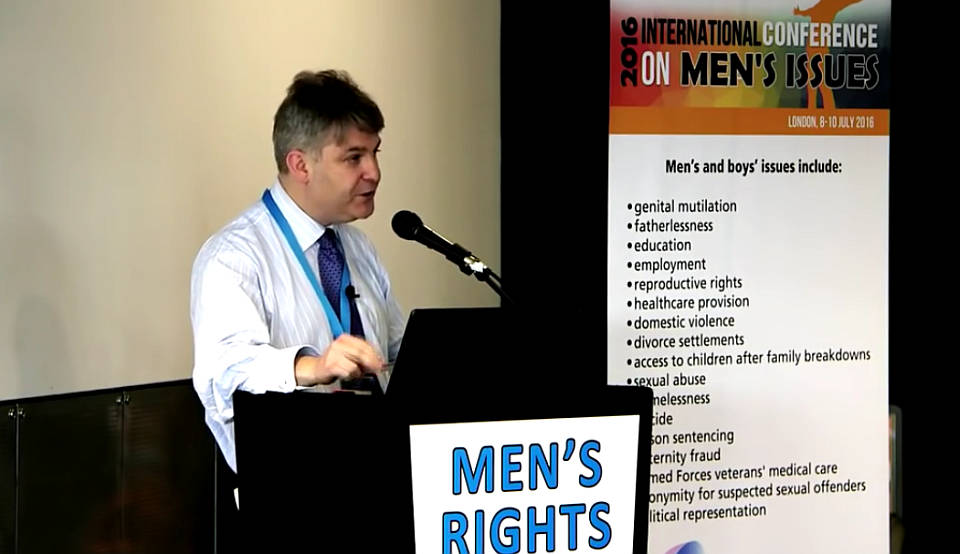 Tory MP Philip Davies is being threatened with suspension from his own party. No, he didn't fake his expenses or get caught in flagrante, wearing nothing but a replica Chelsea top. All Davies did was criticise feminism.
Davies chose to vent his anti-feminist spleen at a meeting organised by Justice for Men and Boys, a typically sad group of men's rights activists. 'In this day and age', Davies said, 'the feminist zealots really do want women to have their cake and eat it. They fight for their version of equality on all the things that suit women – but are very quick to point out that women need special protections and treatment on other things.' This prompted a deluge of annoyed tweets from feminists featuring cake-eating selfies. But others were not satisfied with just giving Davies a dressing down on social media – they decided Davies should lose his job.
An open letter from Angela Rayner, the shadow secretary of state for education, denounced Davies and called on new prime minister Theresa May to suspend his party membership, pending an investigation into his comments. Rayner warned: 'There is no place for these views in modern Britain.'
Many have praised Rayner for calling out Davies' putative sexism, most notably Labour leader Jeremy Corbyn. Tweeting his support for Rayner's call for a party suspension, Corbyn said Davies' comments 'show utter contempt for women'.
Yet is Davies really deserving of this scorn? For a start, as most women will no doubt be aware, men's rights activists meetings are pretty lame affairs. The comments made at such gatherings are scarcely interesting enough to be considered threatening. But Rayner seems to think differently. '[Davies] endorses and legitimises the inflammatory and toxic rhetoric of groups who are misogynistic to their core', she writes. Davies' speech, she is saying, actually poses a threat to women's safety and wellbeing.
This isn't the first time criticism of feminism has been treated like a criminal offence. For example, an EU statute 'for the promotion of tolerance' lists 'anti-feminism' as a viewpoint that ought to be eliminated. In a wonderful display of Orwellian doublespeak, the statute claims to 'promote tolerance within society' by 'condemn[ing] all manifestations of intolerance based on bias, bigotry and prejudice'. In other words, we must promote tolerance by not tolerating intolerance. And we must tolerate feminism, not as a political ideology, but as a protected human right, as a personal belief.
Feminism has become untouchable. Criticise feminism on the internet and you're branded a troll; speak out against the latest feminist campaign and you're labelled a misogynist; disagree with the idea that we live in a rape culture and you're called a rape apologist. The treatment of feminism's critics as heretics, to be sacked, silenced and excluded until they repent, shows how contemporary feminism is taking the shape of a new religion. We are treating feminism as if it is infallible.
This is a big problem, not only because so much of contemporary feminism deserves criticism, but also because it threatens freedom of speech. The freedom to criticise all ideas and scrutinise all beliefs in the public realm ought to be the foundation of any civilised, democratic society. No political ideology should be elevated above public discussion and debate, and presented as sacrosanct.
Philip Davies should not be suspended. And Kevin Roberts, the Saatchi and Saatchi boss who said that there was no gender inequality in the workplace, shouldn't have been effectively sacked. But, more importantly, no woman should accept the idea that we should censor in the name of protecting women. From the most abhorrent women-hating rants to the mildest of criticisms, there should be nothing that we cannot say about feminism.
The funny thing about Davies' outburst is that he has a point. Not about feminists plotting to thwart sad men's rights activists, but about contemporary feminism being contradictory. Feminists do fight for their version of equality in certain areas, but they are also quick to point out that women need special protections and treatment in other areas. This does women no favours. Fighting for women's equality by arguing for special treatment because we're vulnerable puts us in a position of weakness. By censoring debate about feminism, we paint women as too vulnerable to handle criticism.
All free-thinking women must stand up for freedom of speech. We must defend the right of men who rant about misandry and other mad theories to say their piece, not because we agree, but because to censor speech is to admit that we are not able to win the argument. The danger to freedom doesn't lie in isolated gatherings of small-minded men; rather, it lies in the paternalism of those who think we need to protect women by censoring opinion.
To enquire about republishing spiked's content, a right to reply or to request a correction, please contact the managing editor, Viv Regan.