Veganism isn't a diet – it's an ideology
Vegans are more interested in being pure than saving the planet.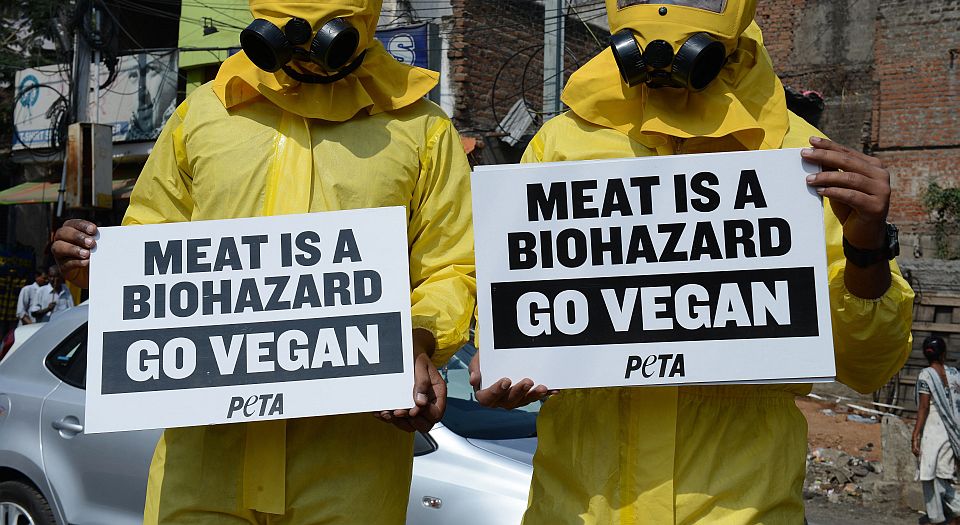 'I've converted to veganism to reduce my impact on the living world.' Thus spoke the popular ecologist George Monbiot, hitherto Britain's best-known champion of eating roadkill. Having repeated the well-known statistics about rearing livestock being more deleterious to the environment than using land to grow crops for consumption, Monbiot now explains how dairy consumption takes its toll on the planet, too. Although he hasn't gone full vegan, still sometimes taking milk with tea and dining on animals fatally struck by vehicles ('rat au van'?), Monbiot concludes that '97 per cent of my diet now consists of plants. I eat plenty of pulses, seeds and nuts and heaps of vegetables. That almost allows me to join the 500,000 people in Britain who are full vegans.'
It's a strange time to 'come out' as a vegan on the grounds of environmentalist virtue. According to reports last week, following the release of findings by the science magazine Elementa, while a diet light on meat-eating or total vegetarianism is more land-efficient and better for the environment, a vegan diet is actually less environmentally sustainable. There is land used for grazing animals that is simply unsuitable for growing crops. Veganism is the only diet that uses no perennial cropland – such as that used for cultivating grain for livestock consumption. 'When applied to an entire global population, the vegan diet wastes available land that could otherwise feed more people', concludes the website Quartz.
Then there come reports from Italy that parents who force a vegan diet on to their children could face prison under a new proposed law. An Italian MP warns that belief in the health benefits of vegan diets 'has been spreading in Italy'. This is fine for adults exercising their choice, he says, but not so for children who may have a vegan diet foisted upon them by ideological parents. He says that vegan diets leave children potentially lacking in iron, zinc and B12, which can lead to neurological problems and anaemia.
Monbiot appears to be a reasonable man, but I would tread carefully before going full vegan. The problem with veganism is that it too easily becomes an ideology, one underpinned by the ideals of purification, cleansing and asceticism. Like all ideologies, it is inevitably prone to extremism, intolerance and the appeals of dogma.
Whereas plain old plodding vegetarianism is based on down-to-earth expedience – an aversion to the idea of killing animals – veganism is invariably an absolutist stance. Much in the way that gays used to deride bisexuals for being cowardly or half-hearted, vegans have forever berated us vegetarians and pescetarians for our consumption of eggs and cheese. This is rarely on environmental grounds. The objection here is to 'taking' something that 'belongs' to another being. If meat is murder then eggs are rape and cheese is harassment.
Vegans view animals as akin to human children – as almost as deserving of rights as rational, human adults, but not quite. This is why extreme vegans even question the notion of 'pets', it denoting 'ownership' of other beings. Whereas vegetarianism is usually a mere lifestyle choice, veganism is often a way of life.
This is why vegans are drawn towards extremist positions that are either risible (see Gwyneth Paltrow's dietary fussiness), juvenile and bullying, as witnessed by the silly carry-on of PETA, or downright vile, as we have seen over the years among the ranks of the extreme animal 'rights' movement. Ideologies will inexorably drift to extremes as each member seeks to prove himself or herself more pure, sanctified and cleansed than the next. Veganism is about self-purification. This is why they speak of milk and cheese as slimy, mucky poisons from without; as Monbiot says, 'cheese is no more appealing to me now than a lump of lard'. I wish him well in his adoption of a vegan diet as part of his mission to save the planet. But he would be better advised to be a semi-vegetarian if he is serious about the Earth's future.
Alas, the planet, or that which is beyond the self, has never been of prime concern for your average vegan. It is a religion of the self, of self-abnegation, self-denial and self-righteousness. The number of vegans in Britain has risen by more than 360 per cent over the past decade. This is a statistic fitting to our times: one of puritanism (levels of alcohol-avoidance and sexual-abstinence among the young still continue to rise), narcissism, selfies, self-worship and virtue-signalling. George says he's 'converted' to veganism. What an appropriate choice of word.
If you are really serious about doing your bit to 'save the planet', meddling with your diet will make only so much difference. It will mostly make you look important and feel good. There is no easy solution. If you are sincere and committed, I suggest: don't drive a car, don't fly, don't eat meat, don't take holidays, don't have children. I tick all five of these categories. That's a fun life, eh?
---
A mental shift
In the 1990s, in the name of being tolerant and sensitive towards the mentally ill: 'We musn't stigmatise people with mental-health problems as being dangerous and a menace to society.'
In the 2010s, in the name of being tolerant and sensitive towards the Muslim community: 'We must brand those who are dangerous and a menace to society as having mental-health problems.'
---
New sporting inclusions for the 2020 Olympics
Rugby Fives
Rugby Ones
British Bulldog
Robot Wars
Storage Hunters
Quantitive easing
Virtue-signalling
Southern Rail commuting
Entryism
Boaty McBoatrace
Jihadi jiu-jitsu
Paedo-shoot
Mock the weak
Connect 4
Space Invaders
Just a Minute
Inappropriate comments
Soggy biscuit
Beach felching
Patrick West is a spiked columnist. Follow him on Twitter: @patrickxwest
To enquire about republishing spiked's content, a right to reply or to request a correction, please contact the managing editor, Viv Regan.