We left the EU – shouldn't we leave NATO too?
NATO also limits our ability to 'take control' over policy.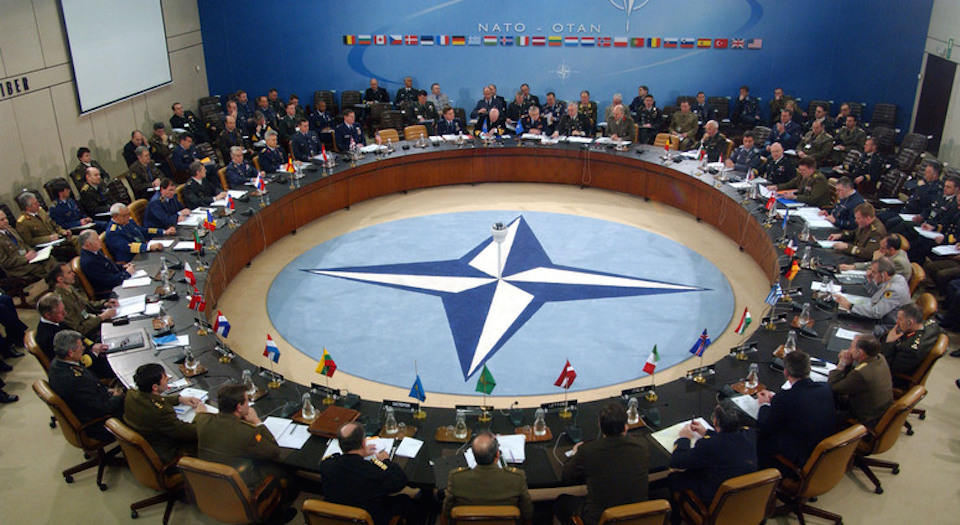 One of the main motives behind the Brexit vote was to 'take back control'. This is often cited as evidence of an anti-immigration sentiment in the Brexit camp, but in fact it refers to a much broader sense of disenfranchisement and loss of control. And it's a sentiment shared by many citizens across the developed world. As the political theorist Peter Mair has argued, a gap has opened up between citizens and the state. And the professional political class has responded by retreating into national and international institutions. The EU has proved to be the ultimate retreat for elites that are losing their legitimacy and their connection with citizens.
This 'hollowing out of Western democracy', in Mair's words, has led to the emergence of some new and sometimes incoherent movements: Occupy, Nuit Debout in France. Other new movements have solidified and established themselves as political parties: the Five Star Movement in Italy, Podemos in Spain, Syriza in Greeze. These movements attract lots of young people; they're anti-globalisation, anti-EU, anti-militarism and anti-establishment, and they, too, want to take back control. Right-wing populist parties such as Front National in France and Alternative for Germany express a similar sentiment, though in a different way.
However, alongside the EU there's another political and military institution that many European states, including Britain, belong to, and which also has a life of its own, far removed from the daily concerns of European citizens. And it's one that pledges states to go to war in the name of collective self-defence. Yes, it's NATO. And while the EU is troubleshooting Brexit, NATO is expanding. The many Europeans concerned about democracy and sovereignty should also subject NATO to greater public scrutiny.
NATO was established by America in 1948 as a military alliance against the Soviet Union. Lord Ismay, its first secretary general, famously said the purpose of NATO was to keep the Americans in, the Russians out and the Germans down. NATO is governed by Article 5, which commits members to the doctrine that an attack on one is an attack on all. The Cold War NATO alliance consisted of America, Belgium, Britain, Canada, Denmark, France, Holland, Iceland, Luxembourg, Norway and Portugal. Soon after, Greece, Turkey and West Germany joined. Spain signed up in 1982.
Following the end of the Cold War, there was a big expansion. Former Soviet and former Yugoslav states were brought in. In 1999 the Czech Republic, Hungary and Poland joined. In 2004, Bulgaria, Estonia, Latvia, Lithuania, Slovakia, Slovenia and Romania joined. Albania and Croatia joined in 2009. Montenegro looks set to join by the end of the year.
Montenegro has a population of 600,000 and a standing army of just 2,000. It was bombed by NATO in 1999 during NATO's war to support Kosovo's secession from Serbia. Montenegro has been run since 1991 by Milo Djukanovic, who switches between being president and being prime minister. Montenegro is well known to be a transit centre for arms, drugs and other illegal trades. Djukanovic is fabulously wealthy: his family owns one of the main banks, a number of tourist firms, property developers and investment firms. Last year, Djukanovic won the coveted 'Person of the Year in Organised Crime' award from the Organised Crime and Corruption Reporting Project. And this is the latest state Britain promises to protect if it is ever attacked.
Of course, it is highly unlikely Montenegro will be attacked. Moreover, Djukanovic has already sold off much of the coastline to Russian businesses, so Russia owns a lot of the country anyway. But it's difficult to see how Montenegrin membership of NATO might in any way increase European security. It is a basket case of a state. And the same question could be asked of Albanian membership, and others too. What is the security value to the NATO alliance of Croatia, Bulgaria, Romania? Do we want to go to war for Latvia, or Turkey next time Erdogan decides to shoot down a Russian plane?
The problem for NATO is that it has been searching for a role since the end of the Cold War. During the 1990s and 2000s it moved beyond its remit for military collective defence with forays into 'humanitarian intervention' in Bosnia, Kosovo, Afghanistan, Libya and elsewhere. NATO is so desperate to stay relevant that at its 2014 summit in Wales, following Russia's annexation of Crimea, you could practically hear the joyful thanks to President Putin for giving NATO some semblance of purpose.
However, the post-Cold War expansion of NATO has been a source of considerable tension between NATO and Russia. Russia says the expansion into former Soviet-bloc states violates agreements made after the end of the Cold War between Russia and NATO. Montenegro's likely membership (it must be ratified by each NATO state) has also been a source of tension. America has positioned four new rotating battalions in the Baltics and has engaged in huge war simulations in the eastern states.
Of course, the current wave of New Cold War propaganda would have it that Russia is poised to invade the Baltic states, or Poland, and that NATO's activities are all reasonable and defensive. But it is sheer fantasy to imagine that Russia in 2016 would invade an eastern state and militarily subdue millions of hostile people. Talking up the spectre of Russia hasn't helped NATO much, though. It has not united the alliance in a grand mission. On the contrary, there are serious and increasingly open differences within NATO itself.
Several member states have been very critical of the new battalions and of the Baltic and Polish obsession with Russia. Some Western states have made it very clear, against American wishes, that Ukraine cannot join NATO. German foreign minister Frank-Walter Steinmeier recently made an astonishing public criticism of NATO war games and warned against ratcheting up tensions with Russia. At the recent NATO Warsaw summit, Greek PM Alexis Tsipras eschewed the set speech and also made a public (and barely reported) criticism of NATO policy towards Russia. Meanwhile, relations between Turkey and America have worsened, and Turkey has just made an extraordinary public claim about America colluding in the recent coup attempt.
UK foreign secretary Boris Johnson has restated Britain's commitment to NATO. But why should NATO be an unquestioned part of British policy? NATO is an increasingly destabilising force in the world. It's a military alliance in search of a purpose that has engaged in highly destructive 'humanitarian intervention' and is now remilitarising Eastern Europe. Shouldn't British governments, under the direction of the electorate, decide on foreign policy? That has been difficult to do under NATO, especially during the 1990s and 2000s, with NATO's increasingly destabilising actions.
If we are to 'take back control' of our state, and make real decisions about policy, then our membership of an increasingly belligerent Cold War dinosaur also needs to be democratically debated and decided upon. Public opinion polls consistently show that the British public are reluctant to send armed forces into war. We need a real public discussion about exactly what NATO commits us to, and whether we think Britain should be in an alliance that commits itself to defend corrupt states like Montenegro.
Tara McCormack is a lecturer in international politics at the University of Leicester. She is author of Critique, Security and Power: The Political Limits to Critical and Emancipatory Approaches to Security, published by Routledge. (Buy this book from Amazon(UK).)
To enquire about republishing spiked's content, a right to reply or to request a correction, please contact the managing editor, Viv Regan.