Why we must stand up for democracy
Join our demonstration against a second Brexit referendum.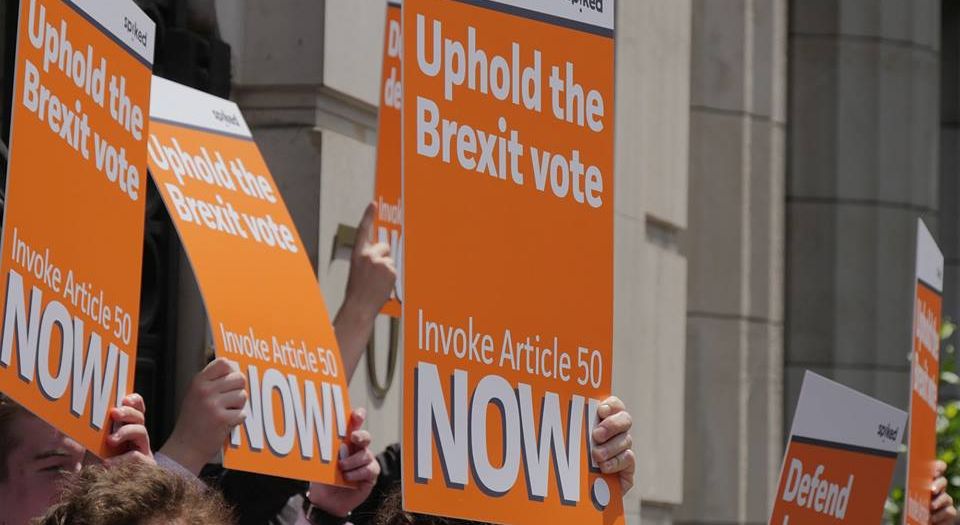 On 5 September, parliament will debate whether the UK should hold a second referendum on EU membership. At the time of writing, over 4.1million people have signed a petition calling on the government to 'implement a rule that if the Remain or Leave vote is less than 60 per cent on a turnout of less than 75 per cent there should be another referendum'. The petitioners sound like children, who, refusing to accept they've lost, quickly shout 'best out of three'.
Many public figures have also been trying to erase the referendum result. Most recently, Baroness Wheatcroft made headlines when she revealed that she and a group of peers were plotting to block Brexit in the House of Lords. 'The Commons may be cowed by the narrow majority of the referendum but, on this vital matter, I believe the Lords should urge caution', she wrote in the Guardian. In other words, parliament is being bullied by the public – it's time for the Lords to step in and put the meddlesome electorate in its place.
Britain's political elite seems determined to block the referendum result. Many politicians have argued that the vote was purely 'advisory', and therefore it's debatable whether Britain will actually leave the EU at all. Some are even claiming that Brexit voters regret their decision. A much-quoted, self-flagellating Leave voter wrote that she felt 'personally responsible for everything that goes wrong now. I should have voted with my natural, liberal, European-spirited tribe.'
But, aside from a few bizarre outbursts, it simply isn't true that Leavers regret their vote. A recent YouGov poll reported that 46 per cent of all voters – Leave and Remain – 'confirmed the desire to exit', while just 42 per cent 'did not think the outcome of the vote was correct'. An earlier YouGov poll also showed that 58 per cent of voters rejected the prospect of a second referendum, including 91 per cent of Leave voters.
Others say that the result must be overturned because 'Leave voters were sold a lie'. '[Leave campaigners] promised us a unicorn and now claim they merely hinted at the possibility of a Shetland pony', wrote one commentator, referring to Vote Leave's much-publicised claim that, in a post-Brexit UK, £350million-a-week more would be given to the NHS. According to our betters, us thickos who voted Leave were hoodwinked.
But the £350million-to-the-NHS claim is nothing compared to what has proved to be the biggest lie of the referendum campaign. It's right there in the official referendum leaflet, which cost the government millions of pounds to post to every British voter: 'The government will implement what you decide.' That, as it stands, is looking like the biggest fib of all.
Incredibly, some have tried to dress up a second referendum as an extension of democracy. The suggestion is that the British public should be asked to vote not on Brexit per se, but on a Brexit negotiation package. But history tells us that re-runs of referenda are little more than an opportunity for political and cultural elites to get the result they want. When the Irish voted No to both the Nice Treaty in 2001 and the Lisbon Treaty in 2008, they were forced to vote again, on strikingly similar terms, and they were blackmailed into voting Yes. The same thing happened in France and the Netherlands in 2005.
Make no mistake, a second referendum – no matter how it's dressed up – would mean the thwarting of Brexit. The response to the referendum result has revealed that the UK elite is unified in its fear of the Brexit vote – and its loathing of Brexit voters. Lawyers, academics, politicians, Lords, charities, big business and the media came together to campaign for Remain, and have come together following the result to stop Brexit from happening. As Brendan O'Neill wrote on spiked last week, the referendum proved that there is a stark difference between ordinary working people and the British elite. Calls for the electorate to be ignored and a second referendum to be held show that not only is the elite detached from ordinary voters, it despises them.
This is a crucial time, not just for those of us who voted to Leave, but for anyone who considers themselves a democrat. If you believe in democracy, the idea that everyone has the ability to shape the future of society, then you must reject the calls for a second referendum. That's exactly what spiked's Invoke Articke 50 Now! campaign will be doing on 5 September at our Demo for Democracy outside parliament. While MPs debate the possibility of a second referendum, we will be making the case for why the Brexit vote must be upheld. Come to the demonstration, and contact the team to find out how you can get involved.
To enquire about republishing spiked's content, a right to reply or to request a correction, please contact the managing editor, Viv Regan.