The burkini ban: another blow to liberté
French secularism has been a disaster for integration.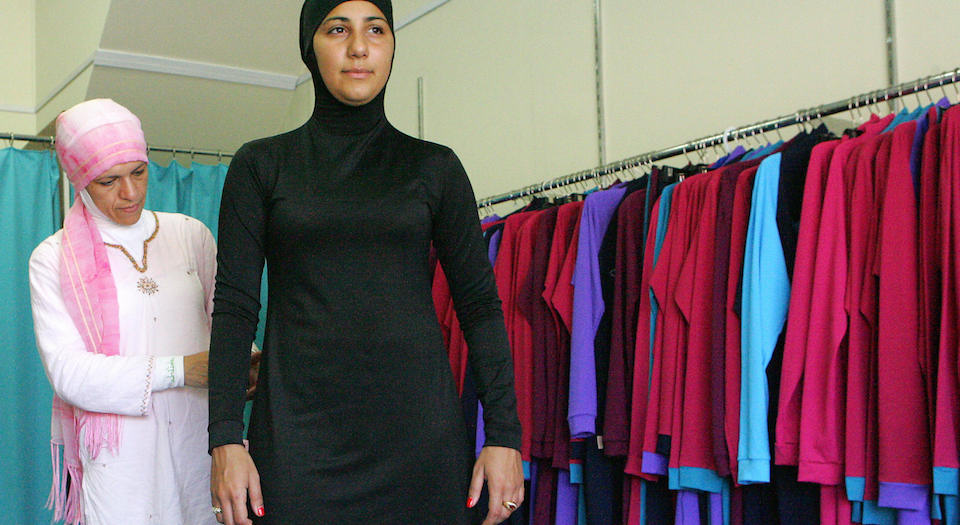 When I was about 12, that age when you start to become vaguely fashion-conscious, I had an embarrassing experience at a swimming pool in France. Instead of the grown-up surfer shorts I preferred to swim in, I was forced by pool staff to wear a pair of the more traditional, somewhat less flattering, speedos. Budgie smugglers, if you will. It turns out France's poolside regulations have come some way since then.
Burkinis, a relatively new form of swimwear designed to respect the Islamic requirement of modesty, are also banned in public baths. The ban was highlighted last week by community group Smile 13. The Marseille-based group made international headlines on Thursday when it emerged that it had booked a waterpark for a private, burkini-only event. Smile 13 was granted 'exceptional authorisation' for people to wear both burkinis and the swimming jilbab because it was a private event.
A promotional poster, released on the group's Facebook page, announced that the event was 'exclusively for women and children', with 'boys up to the age of 10 allowed' (my translation). The poster also stated: 'We expect you to respect the Awra [Islamic requirement of modest dress]. Chest to knees must be covered.' Attendees were also asked to refrain from wearing bikinis.
Predictably, members of the French far right didn't welcome this event. Robert Ménard, the mayor of Béziers, tweeted: 'It's time to explain to these people that France isn't a 10th-century Arab kingdom.' Valérie Boyer, a Les Républicains MP from Bouches-du-Rhône, also chipped in: 'To say nothing and to do nothing, is the same as being an accomplice.'
Not to be outdone, Michel Amiel (the mayor of Les Pennes-Mirabeau – where the event is to take place) declared that he was considering banning the event because it posed a 'risk of public disorder'. 'This is communitarianism, pure and simple. I've always been against [the burka]', he said. Apparently, banning Muslim women from swimming is a great way to encourage social integration.
These responses shouldn't surprise us. Back in 2011, France became the first country in Europe to ban the Islamic veil in public places – a woman wearing the veil risks being fined up to €150. This further restricted what young Muslim girls and women were allowed to wear in public after the 2004 ban on hijabs in state schools.
Following the announcement of the burkini party, Stéphane Ravier, a Front National district mayor in Marseille, said: 'This Islamist day demonstrates that a certain number of Muslims are deciding among themselves to break away from our republican model and put themselves outside our society.' But the opposite is true. Banning Muslims from wearing veils in public forces them out of mainstream society, creating the isolated Muslim communities of which the French far right are so wary.
It's also highly ironic that Ravier thinks the veil is a threat to the values of the French Republic. After all, its motto is 'Liberté, égalité, fraternité'. How can can French citizens be free if they are unable to wear what they want and openly practise their religion? How can France as a nation hope to attain a real sense of community if certain people are excluded because of their beliefs? Excluded, even, from swimming in a public pool.
Now, many who backed the 2011 burka ban did so in the name of liberating oppressed Muslim women. Nicolas Sarkozy, who backed the ban, decalred the veil 'not welcome' in France. Valérie Boyer echoed these sentiments last week: 'The battle of the "veil" is a visible sign of fundamentalists wanting to mark their territory and subjugate women… Burka, niqab, hijab, it doesn't matter what you call them, they are a gender prison, a negation of the individual, an obstacle to equality'.
These are all legitimate concerns. But tolerating the veil doesn't mean we have to like it. Banning the burka hasn't liberated devout Muslim women, or changed the attitudes of them and their families. In fact, it has restricted their freedom and autonomy and kept them in the home, away from the rest of the society. Not only does the French state have no right to tell Muslim women what they can and can't wear, but by shutting devout Muslim women out of public life, it is making it less likely that their views and attitudes will be challenged.
As silly as it sounds, burkini-gate has highlighted something very important; it has highlighted how aggressive French secularism is actually undermining the Republic's founding values, and sidelining Muslim women in the name of liberating them. It is impossible to reconcile strict adherence to Islam with the French secular state. And all this clash is achieving is the further isolation of certain communities.
With France still reeling from from the recent atrocities committed in Nice and Rouen, the last thing it needs is further segregation. The burka – and burkini – ban must be scrapped. I say let these women swim. A robust, tolerant civil society is what is needed to challenge and change the attitudes we dislike.
Alec Fullerton is a writer and a student at the University of Oxford.
Picture by: Getty Images.
To enquire about republishing spiked's content, a right to reply or to request a correction, please contact the managing editor, Viv Regan.