'Post-truth politics': a smear on the masses
Those denouncing Brexit voters as hoodwinked fools are starting to sound like a cult.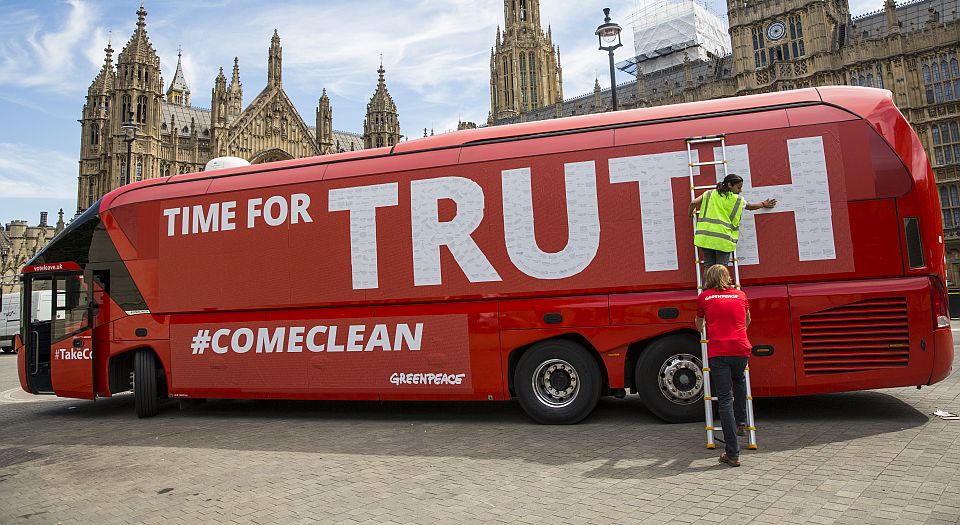 Of all the shallow, conceited and pernicious phrases to have emerged in political discourse in recent years, the term 'post-truth politics' takes some beating. Forget 'unwitting racism'. Bin 'glass ceiling'. Be gone 'check your privilege'. 'Post-truth politics' surpasses them all in the stakes for fraudulent and fatuous self-importance.
You may have seen the phrase used in Britain in the wake of the vote to leave the European Union, it being directed at credulous and insolent Brexit voters. In the US, it's routinely applied to Donald Trump supporters. In each case, it's employed by the liberal left to suggest that the masses, who live in a hyper-digital age, are now so overwhelmed by images and propaganda, so swayed by raw emotion and tribal populism, that they vote not according to facts and truths, but on the basis of emotions and even lies. Hence, this imperious catchphrase du jour.
The 'post-truth' hypothesis rests upon three assumptions. The first is that truth is being subjectively created and subjectively received. Nothing new here. 'Truth' has been contested for as long as human beings have been speaking. Ever since the first books rolled off the Gutenberg presses, the written word has been a medium in which truth has been debated and fought over. The only difference between the printing-press revolution and digital revolution is degree. In essence, they have done the same thing: made information more democratic. The second assumption is that people are being swayed and misled by politicians and demagogues. Again, nothing to see here. This goes back to antiquity and transcends left and right (Stalin was history's greatest political fabricator and today's greatest conspiracy theorists are left-wing anti-Zionists). The third is that people are being irrational and are now as much governed by emotion as reason. Well, well, who'd have thunk it?
So why is there this fanciful notion that we live in a uniquely post-truth era? It's because every generation likes to think that they are living in a critical epoch – either at the end of times or the beginning of something new. It's the way you think when you are in your late teens and early twenties. This is when you also want to sound more clever and more important than others, and deploy big words and grand narratives. It's the narcissism of every new generation.
My parents' generation thought Marshall McLuhan had said something very deep about the medium becoming the message. My generation was led to believe, after we had read Jean Baudrillard sufficiently, that the real and the represented were collapsing in front of our eyes. Yet, in the end, we didn't live through seismic epochs. Things seldom change. Sometimes truth and reality get mixed up. People will lie and people will be irrational, while emotion often trumps reason. There's nothing new under the sun.
The cry of 'post-truth politics' merely represents another eternal verity. Elites have always liked to sneer at hoi polloi, the sans-culottes, the great unwashed, on account of their ruffianism and supposedly bovine predilections. Today's smug liberal left consists of the same type of person who, among the higher ranks of the 15th-century Roman Catholic Church, feared Protestants printing their own forms of truth, not vetted by 'experts' who knew better.
This is the irony. Those who pronounce to know the 'real' truth in contradistinction to the hoodwinked odious multitude are little better than conspiracy theorists themselves. They are just as susceptible to groupthink, the desire to be part of a cabal with access to special, privileged knowledge. 'Pssst! Wanna read about this idea I heard called "post-truth politics"? I found this on the internet.' 'Post-truth' is itself an infectious meme, the idea spawning a viral, quasi-religious movement of its own. Its adherents alone believe there is some holy grail called 'truth', as if it exists 'out there' in the metaphysical ether.
But truth isn't handed down to us by a deity or carved in stone by experts. Human beings create truths and we fight over them with proof and evidence, claim and counterclaim, with reason. We don't resort to slander as a substitute. To accuse the masses of being 'brainwashed', of being ensnared by 'propaganda', of reading 'dangerous and misleading words' – these are not the arguments of rational beings. These are arguments made by cults.
---
Eurosceptic country goes Dutch
There has been a record number of tourists to Britain this summer from continental Europe. This has been attributed to two factors: people shunning France, the most popular tourist destination on the continent, because of fears over security; and secondly, the plummeting post-Brexit pound, which has made the UK a cheaper destination for people who live in the Eurozone.
I have certainly felt it here down on the east Kent coast, which is bustling with Germans and Dutch like no other summer I've known. But, then again, people from northern Europe have always liked coming to this part of England. It's the North Sea connection. While the Germans are fond of the pretty, ordered countryside and Olde England towns such as Sandwich and Ash, those from the Low Countries have long had close maritime and trading links with east Kent. The recent Deal Carnival featured many entries with sashes bearing the legends 'Miss Netherlands' and 'Miss Belgium'.
Yet east Kent has always been simultaneously fertile Eurosceptic country. Residents here voted Leave by 60 to 40 per cent in the referendum. According to the north-London consensus, everyone here is a xenophobic, post-truth halfwit prone to unpredictable racist convulsions. Obviously no one has told the Germans and the Dutch, who are attached to the place more than ever. We like them and they seem to like us. Willkommen and Welkom!
---
The left loves a rally
Further west along the south coast, in decidedly non-reactionary, progressive-minded Sussex, Jeremy Corbyn has been addressing his faithful in Brighton. The broadcaster Julia Hartley-Brewer didn't see the point of this leadership event, tweeting: 'I've never got the rally thing. Either you already agree with Corbyn or you don't. Why the need to go to a rally?'
Asking why the sclerotic left go on rallies is a bit like asking why Orangemen go on marches. It's an intrinsic part of who they are. Rallies and marches are performative actions for these people. Without marching, you cannot be an Orangeman. Without rallies and demos, placards and slogans, the populist left would also vanish.
Patrick West is a spiked columnist. Follow him on Twitter: @patrickxwest
To enquire about republishing spiked's content, a right to reply or to request a correction, please contact the managing editor, Viv Regan.