Bashing Green: the anti-capitalism of fools
Another 'unacceptable face' in the stocks won't address the economic crisis.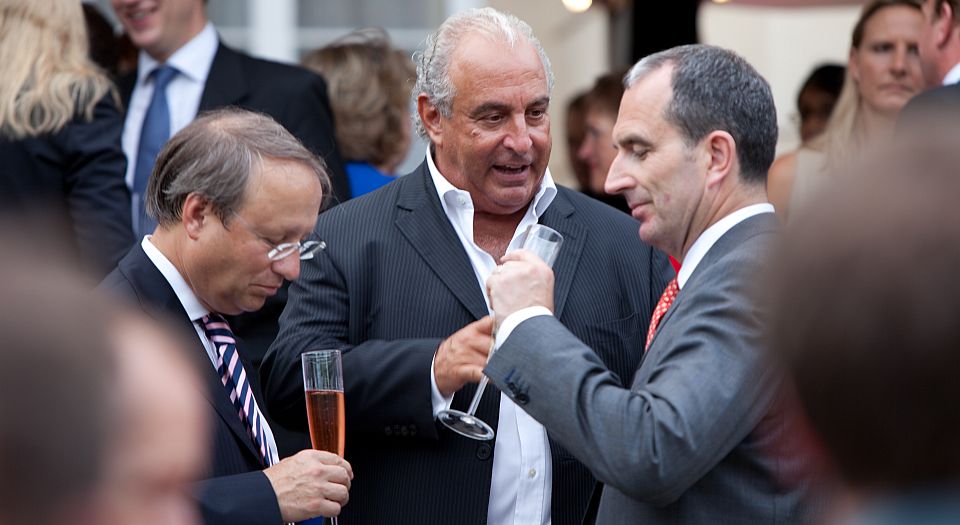 There is something massively overdetermined about the opprobrium that has come the way of perma-tanned yacht-chaser Sir Philip Green. Yes, his ownership of BHS, the failed department-store chain, was calamitous, given the near £600million pension-fund black hole he helped to create. But there's more to the tsunami of criticism currently engulfing Green than his poor stewardship of BHS. The animus is too intense, too grimly gleeful. You can sense it in the words of Labour MP Frank Field, who said Green needed to face up the 'evil' he has done. And you can feel it, too, informing a joint select committees' report on BHS's failure, where Green is accused of leaving 'a stain on the reputation of business'.
It is as if Green is not just being held responsible for what he did to BHS, but for the state of capitalism in general. He has become an all-purpose punchbag, a champers-quaffing supermodel magnet to be laid into by left and right alike, from those with an anti-capitalist pose to strike to those in search of an 'unacceptable face of capitalism' to affirm its acceptable reality. He's no longer simply an unscrupulous businessman; he's also a symbol of the sinful behaviour that is to blame for all that is wrong with the economy – behaviour which, if corrected, would apparently right the system.
This is not to defend Green. His role in the demise of BHS and the de facto emptying out of its pension fund deserves criticism. In 2000, when he bought BHS, it was a business with a £43million surplus in its pension scheme. But, as the high-street constricted under pressure from online retailers, rather than invest in and reorient BHS, Green decided that the best way to make the semblance of a profit was to cut costs, chiefly by jettisoning staff, and selling off assets. And all the while, in want of investment, the pension-fund deficit grew and grew to the point where the pensions regulator became involved. Green's response? To jump ship, and sell off BHS to an asset-stripping operation headed up by twice-bankrupt-never-shy Dominic Chappell. That was in March 2015. And in June this year it was announced that BHS was to close permanently, leaving behind a huge pension-fund deficit and 11,000 people without jobs.
It's a miserable tale. But it's hardly a surprising one: Green, billionaire businessman, is driven by a pursuit of profit at all costs, and screw everything else. Don't hold the front page. What Green did, lining his and his family's pockets as he ran BHS into the ground, is hardly admirable, but nor is it uniquely 'evil'. Other quasi-celebrity entrepreneurs, such as Virgin's Richard Branson, are equally as profit-hungry, and, it should be noted, have left failed businesses in their wake.
So why has Green been singled out? Partly it's his proximity to two politicians largely loathed by the liberal-ish and right-thinking. So, first there was Tony Blair, who, as prime minister, recommended Green for a knighthood in 2006, and second, there was David Cameron, who, upon becoming prime minister in 2010, asked Green to review government spending and procurement. So the chance to have a go at Green's failings is also a chance to implicate some spectral cabal of big business and politicians, an elite dedicated to enriching themselves at the expense of everyone else.
Then there's the bronzed, brash wide-boy figure of Green himself. He is not just wealthy; he revels in his wealth. He's the stuff of gossip columnists' dreams, staging lavish parties, with supermodels hanging off his arm and the rich and famous hanging on his words. His ostentation is limitless, his wealth-flaunting expansive. He's extremely rich, and don't we just know it.
And, today, that grates on many. Not just because of the economic crisis, and the hardship into which so many have been plunged, but because wealth, and the aspiration for more stuff, have themselves been stigmatised, turned into the source of both our much-discussed inequality and the always-imminent environmental catastrophe. Green's unabashed love of being rich appears deeply out of step. Unlike Branson, who frequently burnishes his semi-countercultural credentials and talks up Fairtrade and protecting the environment, Green is the capitalist it's easy for the right-thinking to hate.
But if those are the reasons why Green is particularly attractive for those seeking someone on whom they can foist the sins of capitalism, there is a deeper problem here — namely, the act of singling-out itself, of scapegoating, of projecting on to an individual a whole host of wrongs. This is testament to the poverty of left-wing critical thinking, its replacement of theoretical analysis with easy, moralistic denunciations of individuals.
In the past, the left would have seen the problems of the economy, of capitalism in terms of supra-individual systemic forces. No longer. Too many are now happy to blame individuals for economic problems, to turn the failings of global capitalism, and the struggles of the British economy, into the moral failings of individuals. We've seen it happen to Fred 'the Shred' Goodwin, we've seen it happen to a long line of big-name tax avoiders, and now we're seeing it happen to Green. So one prominent left-wing columnist waxed painfully about our 'broken economic system', dripping with 'machismo and arrogance', before concluding that 'if this system were to take human form, it would surely be Sir Philip Green'. And another excitedly claimed that BHS's collapse, and the ire directed towards its ruthlessly inept owners, had given prime minister Theresa May 'a mandate to clean up capitalism'.
All of which would be profoundly insightful if capitalism really were a moral problem, to be corrected through a 'cleaning up' of individuals' behaviour. Less arrogance, less machismo, and fewer of those 'unacceptable faces', and all would be well with world's economy. There is no economic problem so big, it seems, that a change to our behaviour can't fix. But capitalism is not a moral problem. Which is why this vilification of Green is so unhelpful. It distracts from what is needed. Because there are huge problems with the economy, from the low level of productivity, unprecedented in the postwar era, to the risk-averse, investment-dodging attitude among capitalists themselves (hence the explosion in luxury consumption). These are deep problems. But they are not problems that can be fixed with a moralistic condemnation of individual behaviour, as rotten as it may be. So instead of putting yet another 'unacceptable face' in the stocks, we need a serious, honest debate about the nature and organisation of our economic and social life.
Tim Black is a spiked columnist and editor of the spiked review.
Picture by: Wikimedia Commons
To enquire about republishing spiked's content, a right to reply or to request a correction, please contact the managing editor, Viv Regan.