Clinton and May: the hollow women of politics
The rise of these two female politicians is nothing to celebrate.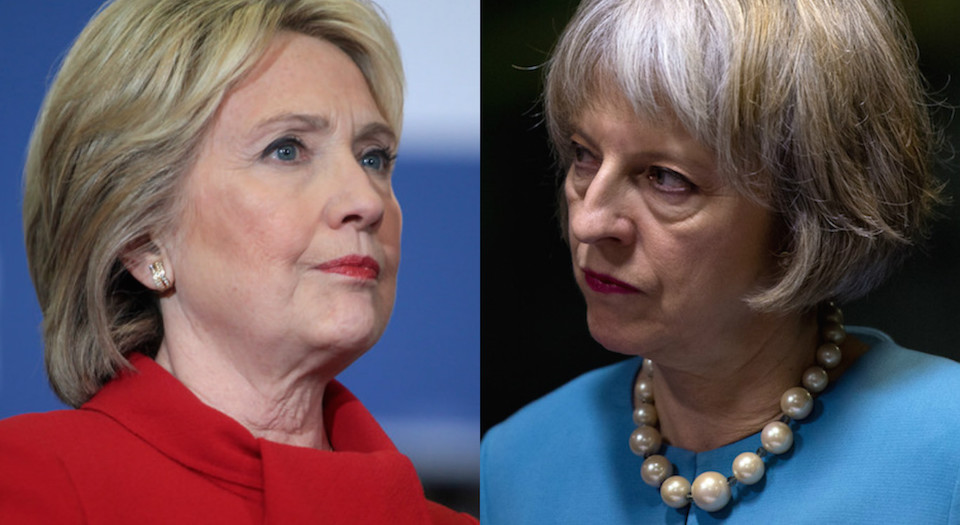 Now that Theresa May is prime minister, and if Hillary Clinton wins the US presidential contest in November, we will, for the first time in history, have two women leading two of the most powerful countries in the world.
Their rise to power is being painted as a symbolic victory for women everywhere. We are supposed to take some vague, vicarious pleasure in the fact that May and Clinton have risen to the top, despite their lack of Y chromosomes. Never mind the fact that neither of the two women espouses a strong and coherent political philosophy of any kind. Nobody knows their principles, passions, ideas… and yet we're expected to support them.
Despite what their cheerleaders and obsequious hangers-on would have you believe, this isn't a great moment in history. Neither May nor Clinton has challenged the status quo in any material way. Indeed, May's first speech as prime minister seemed to be a laundry list of trite political sentiments:
'David Cameron has led a one-nation government, and it is in that spirit that I also plan to lead… That means fighting against the burning injustice that, if you're born poor, you will die on average nine years earlier than others. If you're black, you're treated more harshly by the criminal justice system than if you're white. If you're a white, working-class boy, you're less likely than anybody else in Britain to go to university. If you're at a state school, you're less likely to reach the top professions than if you're educated privately. If you're a woman, you will earn less than a man. If you suffer from mental health problems, there's not enough help to hand. If you're young, you'll find it harder than ever before to own your own home.'
The speech lacked authenticity. It was as if a social-justice bot had trawled the internet for the most politically correct phrases it could find and then inserted them into a speech in random order. There was nothing original about it at all.
May might be a competent administrator. But what is her vision for the future of Britain? These questions need to be answered, especially in these times of political flux. She may have said that 'Brexit means Brexit', but what does that mean? We don't know what political future she is leading us into. It makes you wonder: does she even know?
Across the Atlantic, Hillary Clinton has not exactly set public discourse on fire with her decidedly lacklustre campaign. She too mouths all the familiar platitudes about jobs, unity and how 'we're all in this together'. Yet, as a presidential candidate, she offers nothing new to the American public other than her sex. The fixation on her gender during the campaign reflects the emptiness of our political culture, which has become obsessed with appearance at the cost of substance. The novelty of a female president will wear off pretty quickly – if it ever had any genuine appeal in the first place.
May and Clinton are simply the continuation of a long trend in modern Western politics, where power is held without principle and meaningful discourse has been hollowed out in favour of bland managerial speak. I am reminded of TS Eliot's 1925 poem The Hollow Men:
'We are the hollow men
We are the stuffed men
Leaning together
Headpiece filled with straw. Alas!
Our dried voices, when
We whisper together
Are quiet and meaningless…
Shape without form, shade without colour,
Paralysed force, gesture without motion.'
A 'gesture without motion' seems like a good description of what our politics has become – a kind of hybrid of identity politics and managerialism. We have witnessed the inglorious advance of the hollow men. Now, here come the hollow women.
Candice Holdsworth is the founder and editor of Imagine Athena.
To enquire about republishing spiked's content, a right to reply or to request a correction, please contact the managing editor, Viv Regan.