No, Merkel is not to blame for the 'week of horror'
But her refusal to have an open debate about immigration is a problem.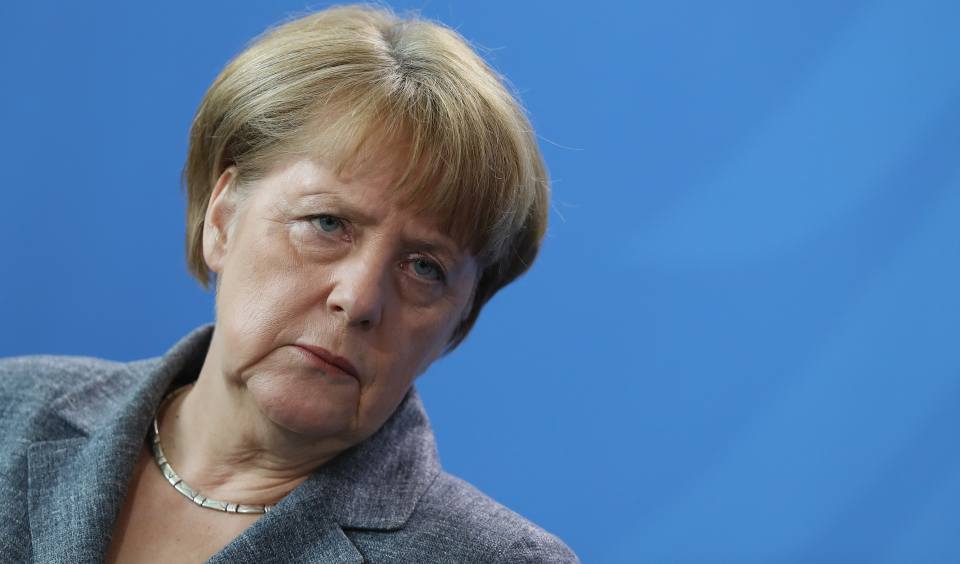 Following the recent spate of murderous attacks in southern Germany, chancellor Angela Merkel has come under severe pressure. She has been attacked for her immigration policy, and chastised for her conspicuous silence during what some dubbed Germany's 'week of horror'.
One of the few articles defending Merkel, published in the business newspaper Wirtschaftswoche, had the headline: 'True power lies in the ability to keep silent.' In a sense, it was the right argument. In the immediate aftermath of such a disturbing spree of attacks, 'cool governing', as the article put it, is far preferable to panic. But Merkel's 'cool' style of government, her seeming political detachment, which has traditionally been seen as her strength, is now presented as a weakness. And it is not just the far right that has been shouting 'Merkel must go'. Others, too, have decided that Merkel, too cool and too detached, is to blame for recent events. Sahra Wagenknecht of the Linkspartei (the Left Party) called Merkel reckless for having said last summer that the country could cope with immigration.
But there is a big problem with this new form of Merkel-bashing. Blaming Merkel for the attacks is not just misleading; it is also a potentially dangerous displacement activity.
After all, is it really possible to blame four senseless, horrible acts of aggression, all committed by mentally unstable people, on Merkel? The worst of the attacks, in terms of casualties, took place on 22 July, when a 17-year-old Bavarian student ran amok in Munich killing nine people and injuring 35. There were also the cases of a 17-year-old refugee from Pakistan, who injured three people on a train near Wurzburg on 18 July; a 21-year-old Syrian refugee who killed his girlfriend with a Kebab knife, before running around the small town of Reutlingen swinging his weapon before accidentally being run over by a car, on 24 July; and a 27-year-old refugee who carried out a suicide bomb attack in the city of Ansbach, injuring 12 (three severely), also on 24 July.
The immediate focus was on the the immigrant background of the perpetrators. But the most striking thing here is that all had undergone psychiatric treatment before their violent acts. The Munich shooter, though born of Iranian parents, was not an immigrant at all. He had been raised in Germany and spoke with a broad Bavarian accent. 'I am German', he is reported to have said to an eyewitness who tried to stop him during his killing spree.
And even if two of the attackers (in Wurzburg and Ansbach) did pledge allegiance to ISIS, it is a dangerous overreaction to use them as proof that we in Germany are in the grip of mass terrorism. It is even more dangerous to claim, as Bavarian justice minister Winfried Bausback did, that jihadism had now reached Germany. A more sensible approach would have been to treat the attacks as what they were: individual acts of (murderous) madness.
Admittedly, many details about the attacks are still to emerge. It also seems that there was a great deal of good fortune to the fact that the Ansbach attack did not kill anyone. The bomber had intended to set off his self-made explosive (in a rucksack filled with nails and sharp metal) at a concert attended by several thousand people. But because he was refused entry for not having a ticket, he ended up blowing up only himself outside the venue.
The Ansbach attack was not the act of a highly trained terrorist, it was amateurish and inept. So, rather than seeing Ansbach, and the other attacks, as proof that foreign forces have brought terrorism to Germany, we should see them for what they were. They were committed by depressed and isolated individuals who wished to give greater meaning to their nihilistic, stupid acts of destruction. Thus, the Ansbach bomber professed allegiance to ISIS, and the Munich killer claimed to have been inspired by the Norwegian mass murderer Anders Breivik. The attention-seeking, narcissistic nature of the Munich attack was highlighted by the fact that it was carried out on the fifth anniversary of Breivik's massacre in Utoya, Norway.
The perpetrators' immigrant status is irrelevant – what really characterised these attacks was the perpetrators' very modern desire for instant infamy and their shared history of mental illness. Both the Ansbach and Munich attackers, for example, had a history of suicide attempts. This time, however, they gave their desire for death a seemingly greater meaning, by opportunistically claiming allegiance to supposedly bigger causes. Overstating these 'causes', as too many commentators have done, is not just misleading; it also elevates these sad individuals, and gives their horrific acts a deeper meaning than they merit.
Equally wrongheaded are the many criticisms now being directed at Merkel. Chief among these is the accusation that her immigration policy is responsible for making Germany vulnerable to such attacks. Indeed, what has been most striking about Merkel's handling of the immigration crisis, since she stated Germany could handle the influx of Syrian refugees, has been her determination to curtail immigration at all costs. As a result, several new immigration laws have been passed, which enable quicker deportations. The Ansbach attacker was due to be deported to Bulgaria.
A more telling criticism can be made of Merkel's political style. A pragmatic and tactical operator, she has always avoided open and robust debate. But, on the issue of immigration, this approach has failed. By not making a serious attempt to debate with those worried about immigration, she has increased people's anger and sense of rejection.
Merkel's avoidance of any debate over immigration has created a dangerous vacuum, which is now being filled by right-leaning groups such as Alternative for Germany (AfD). Unchallenged, leading AfD figures have been able to use the recent attacks to make a direct link between terrorism and immigration. More disconcertingly, other mainstream politicians have started making the same argument.
Nobody wants an emotional chancellor who speaks before she thinks. That's why the Wirtschaftswoche is right to say that there is sometimes virtue in silence. But this time Merkel's 'professionalism' has led to more fear and confusion among the public. What was once seen as her greatest strength is increasingly seen as her greatest weakness. Avoiding the harsh, polarising debates which have followed the refugee crisis has been a mistake. It was also a mistake not to point out that some refugees could indeed be difficult to integrate and might have psychological problems.
But Merkel's refusal to debate immigration openly is shared among various pro-immigration groups in Germany. They also dismiss the public's concerns about immigration on the grounds that they don't want to play into the hands of the far right. But in doing so they failed to make a compelling counter-argument. After all, politics has always been about convincing the public, not coercing, duping or ignoring us.
Merkel has often tried to bypass the electorate. But no nation can cope with an influx of more than one million people in the space of a few months without a solid majority supporting the policy. After the recent attacks, the need to make the case for immigration to the public has become urgent.
It remains to be seen how the majority of Germans will react to the attacks. Most surveys and polls seem to suggest that many are calm and unwilling to succumb to panic. But Merkel and her government need to know that, rather than eschewing the public sphere, they need to debate and make their case. That is what politics is all about.
Sabine Beppler-Spahl is head of the board of the liberal thinktank Freiblickinstitut e.V., which has published the Freedom Manifesto. She is also the organiser of the Berlin Salon.
To enquire about republishing spiked's content, a right to reply or to request a correction, please contact the managing editor, Viv Regan.