'Barefaced audacity and childishness of a peculiar sort'
Has ISIS been reading Conrad's classic novel The Secret Agent?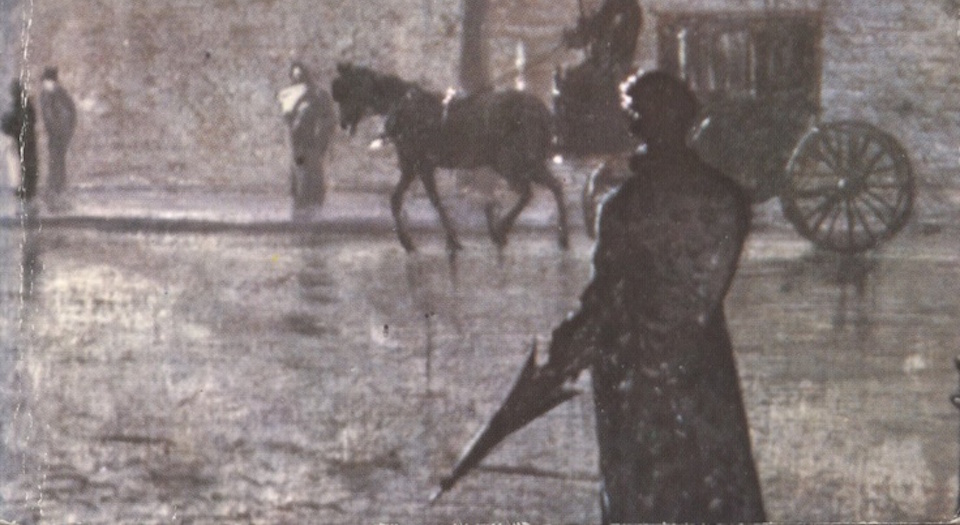 There has been much confused and confusing breast-beating about what's behind the series of bloody terror attacks in Europe this summer. After each outrage in France or Germany or wherever is next, the overnight Koranic scholars of the liberal media insist that it has nothing to do with the Islamic faith, while an opposing army of equally instant experts declare that is all about Islam. (Neither side is quite right of course, but that's for another spiked article.)
It might help a bit to step back from the immediate febrile debate, and see things in another context. It occurs to me, for example, that a 109-year-old work of fiction, currently being dramatised on British television, could tell us something different about the nihilism and adolescent self-righteousness of modern terrorism-for-terror's sake.
The Secret Agent, Joseph Conrad's classic 1907 novel and one of my favourite books, has been brought to timely life on BBC 1 (the last of three episodes airs next Sunday, the first two are available on iplayer). Set in Victorian London and loosely based on a true episode, it is a dark tale of espionage, terrorism, intrigue and betrayal, as a farcical but deadly bombing in Greenwich Park unravels the lives of all the characters.
At the heart of the novel's darkness is the secret agent himself, Adolf Verloc (whose first name the ever-sensitive BBC has changed to Anton), played in the series by the brilliant Toby Jones (all references here are from the book rather than the TV version). Mr Verloc is a key member of a useless revolutionary cell that meets in the back of the Soho sex shop where he lives with his peculiar family. In a world as foggy as the old London streets, where nobody and nothing is quite what they seem, Verloc is also an informant, paid by the Russian Embassy to spy on his supposed comrades.
The drama escalates when Verloc's new contact at the embassy, Mr Vladimir, insists that the secret agent must also become an agent provocateur, and organise a terror attack that might prompt a crackdown on Russian revolutionaries and other political emigres in London; railing against Britain's 'ludicrous…sentimental regard for individual liberty', Vladimir suggests that what the 'stupid' middle classes need is 'a jolly good scare' to get them baying for blood.
This depiction of high-level intrigue behind terrorism may appeal to those who are sufficiently one-eyed seriously to believe that ISIS is a creation of the CIA or Israeli intelligence. But even those of us who have no truck with such incredible conspiracy theories today might recognise the warped reasoning behind Mr Vladimir's plot in contemporary terrorism.
How would our civilised society react, Vladimir asks Verloc, if confronted with 'an act of destructive ferocity so absurd as to be incomprehensible, inexplicable, almost unthinkable; in fact, mad? Madness alone is truly terrifying, inasmuch as you cannot placate it either by threats, persuasion or bribes.' Thus to be effective, he insists, 'The attack must have the shocking senselessness of gratuitous blasphemy'.
Shooting concert-goers in Paris, driving a lorry into celebrating crowds in Nice, slitting the throat of an aged priest in a Normandy church: these attacks and others fit the bill of 'incomprehensible, almost unthinkable' acts of terror, terrorism designed to be 'truly terrifying' as an end in itself by invoking 'the shocking senselessness of gratuitous blasphemy'.
Unlike the followers of ISIS today, however, Mr Vladimir of the nineteenth-century Russian Embassy specifically rules out an attack on a church or a theatre. 'I am a civilised man', he tells Verloc. 'I would not dream of ordering you to organise a mere butchery, even if I expected the best results from it.' Instead he hopes to frighten the British middle classes and convince them that their enemies are incomprehensibly and implacably mad by making Verloc incite a bomb attack on science — 'the fetish of the day' — in the form of the Greenwich Observatory.
To pursue this project, the reluctant Mr Verloc turns first to his cell, a motley crew of misfits and bullshitters whose pretensions Conrad punctures in a way that, a century later, Chris Morris would emulate by ridiculing a homegrown Islamist terror cell in Four Lions. In The Secret Agent, the wannabe insurgents use the language of Anarchism and 'the revolutionary proletariat' rather than religion in their attempts to justify themselves, but the parallels remain inescapable.
When I interviewed Toby Jones about his role in The Secret Agent for The Times recently, he observed that, 'The prescience of the story is so interesting. This chaotic revolutionary cell, sitting round the fire in the back of a sex shop — big talk about revolution while the woman serves tea, like a club. Lack of analysis, lack of purpose, with a general desire to Do Something. Bomb-making equipment, a mad raging terrorist with sort-of expertise, but all done badly. It couldn't really be more relevant.'
The 'chaotic' members of the cell indulge in furious arguments about their various bogus theories of change. Yet all are united in their contempt for the masses they look down upon while claiming to act for the future good of society.
While young Comrade Ossipon, the failed medical student, insists that 'what the people know does not matter' because 'the only thing that matters to us is the emotional state of the masses', it is the 'old terrorist' Karl Yundt who spells out the underlying attitude. Yundt tells the cell that his dream has always been to see a ruthless band of 'destroyers' who would display 'no pity for anything on earth, including themselves, and death enlisted for good and all in the service of humanity'.
What surely rings down the century is this misanthropic notion of enlisting pitiless destruction and death 'for good' in the apparent service of some higher cause, be that proclaimed as 'humanity' or the Islamic State.
To pursue his nihilistic mission, Verloc has to turn to the terrifying figure of the Professor, 'the Perfect Anarchist', who walks the streets of London wearing a suicide bomb, his hand permanently holding the detonator in his pocket. The Professor embodies the modern version of terrorism as an end in itself. He names 'Madness and Despair' as his preferred 'lever' to 'move the world' and declares 'the weak' to be 'the source of all evil on this earth!' who should be 'taken in hand for utter extermination… Exterminate, exterminate!' (a speech which might leave some wondering if perhaps he was the inspiration for the Daleks as well as Daesh).
In a rare moment of relaxing over a beer with Comrade Ossipon, the Professor spells out with chilling clarity the difference between the modern terrorist and his opponents: 'They depend on life, which, in this connexion, is a historical fact surrounded by all sorts of restraints and considerations, a complex, organised fact open to attack at every point; whereas I depend on death, which knows no restraint and cannot be attacked. My superiority is evident.' That sounds like the voice of the contemporary zealot who truly depends on death and 'knows no restraint' in their self-fulfilling attacks.
When the self-righteously 'superior' terrorist provides Mr Verloc with a frankly inferior bomb, and the Greenwich explosion occurs with tragic consequences, the surprised authorities are left scrambling to cover their own backs in familiar fashion.
It is then that perhaps the most memorable exchange in the book occurs, between Sir Ethelred the home secretary and the assistant commissioner of the Metropolitan Police. The impatient politician demands that the police chief give a shorthand definition of what lay behind the bombing. To which the top cop instantly replies, 'Barefaced audacity amounting to childishness of a peculiar sort'. The home secretary concludes that, 'We can't put up with the innocence of nasty little children'.
Conrad's description of an act of terror as 'barefaced audacity amounting to childishness of a peculiar sort' may seem like a trite policeman's worldview. Yet perhaps it also contains a telling insight about contemporary terror attacks, to be seen less as political acts than as violent adolescent look-at-me-on-YouTube tantrums, with devastating consequences for the grown-up world. As adults in a civilised society, we too should not indulge 'the innocence of nasty little children' by giving any credence to their self-justifying whines.
The Secret Agent ends with the Professor, shambling though the streets of London, drawing his idea of strength from the knowledge that society is afraid of him. 'He had no future. He disdained it. He was a force. His thought caressed the images of ruin and destruction. He walked frail and insignificant, shabby, miserable – and terrible in the simplicity of his idea calling madness and despair to the regeneration of the world. Nobody looked at him. He passed on unsuspected and deadly, like a pest in the street full of men.'
I don't know if ISIS have been reading Conrad, but those searching for another handle on recent outrages could do worse.
Mick Hume is spiked's editor-at-large. The concise and abridged edition of his book, Trigger Warning: Is the Fear of Being Offensive Killing Free Speech?, is published by Williams Collins. (Buy this book from Amazon(UK).)
To enquire about republishing spiked's content, a right to reply or to request a correction, please contact the managing editor, Viv Regan.