Labour's woman problem
A party that treats women as weak is unlikely to get a female leader.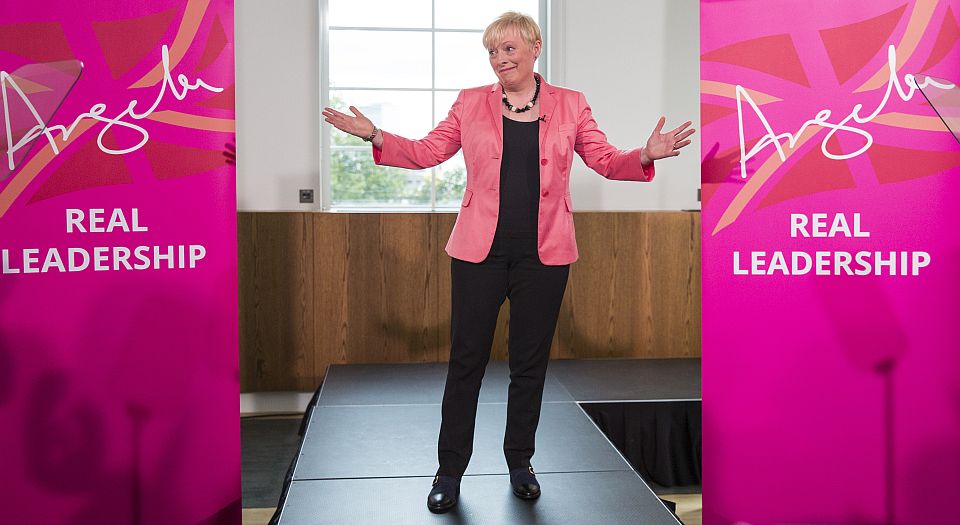 'In my years here in this House I have long heard the Labour Party asking what the Conservative Party does for women. It just keeps making us prime minister.' At her first Prime Minister's Questions in parliament this week, Theresa May pulled few punches. Claiming the Tory party is a bastion of sexual equality might seem a bit far-fetched given that May is only its second ever female leader, but, as former PM David Cameron pointed out before handing over the reins, in terms of women leaders Labour are 2-0 down.
Days before May took to the dispatch box, Labour's Angela Eagle announced she was withdrawing her challenge to incumbent Labour leader Jeremy Corbyn. Eagle's leadership launch event looked like a cross between an Avon party and an erotic-literature convention. The party that thought a pink bus was the best way to entice women voters has clearly not yet grown out of the glossy pink and squiggly font phase most girls leave behind aged eight. During her short period in the spotlight, Eagle struggled to articulate one significant political difference between herself and Corbyn. Instead of ideas, Eagle presented voters with herself, a northern, gay woman. In other words, what best qualified Eagle for leadership of the Labour Party was, in her eyes, simply that she was not Corbyn.
The departure of the patronisingly pink and ideas-lite Eagle is no loss to politics. But the bigger question – where are the Labour women? – is worth asking. We know that on Monday one-time leadership contender Yvette Cooper was at a 'Reclaim the Internet' conference to argue that, for women, social media is scary, misogynistic and threatening. She demanded 'stronger action from the police and prosecutors', and 'action from social-media platforms and publishers that goes beyond the code they have recently signed with the EU Commission'. Cooper sees women as fragile creatures who are unable to cope with free speech online and need the internet to be turned into a Safe Space. Successful women working in science or politics are not celebrated by this censorious brand of feminism. Instead, they are told that they are 'bombarded with misogynist abuse or threats', and in need of help 'to ensure they are not subject to a baying mob'.
Cooper's mission to clean up cyberspace began several months ago. Today it is impossible to consider her words without thinking of Jo Cox, the Labour MP horrifically murdered outside her constituency office in the final week of the EU referendum campaign. The tragedy of this terrible attack on an MP, wife and mother, as she went about her job, engaging with the electorate and working for her constituents, is impossible to overstate. Yet, within just hours, her murder was being linked to the heated political atmosphere of the time and the rhetoric of the Vote Leave side in particular. We will never know for sure why Cox was killed. But attempts at connecting her murder to a poster, a slogan or even a political cause absolve her murderer of responsibility.
In the days following Cox's death, formal campaigning was suspended and some Labour politicians argued that MPs needed greater protection from their constituents. But the idea that elected representatives are at risk from the public betrays a contempt for ordinary people that Cox herself did not appear to share. MPs are not routinely at risk of being murdered, and pretending they are is a disingenuous attempt at making political capital. It's to suggest that free speech and democracy are dangerous in the hands of the wrong people, that the public is all too easily whipped into an irrational frenzy to be allowed to take part in debate. Today, members of the Labour Party, rather than representing the working class, fear it.
This disdain for the public, this sense that people need to be corralled, controlled and supervised at all times, manifests itself most visibly in attacks on free speech. It was acted out in Nottingham last week, with the local police force announcing that it would expand the category of hate crime to include 'misogynistic incidents'. This would make men's 'uninvited verbal engagement' of women a hate crime equivalent to racial abuse. It is true that whenever anyone, man or woman, leaves their home they run the risk of 'uninvited verbal engagement'. But this is a risk many people welcome. Every friendship, every relationship, every human interaction begins with uninvited verbal engagement. Indeed, you cannot know if talking to someone is welcome or not unless you begin uninvited. Again, we see the promotion of the degrading idea that grown women cannot cope with public life, either online or offline, without special protection from the police. Where was the feminist outrage at this insult? Where were the Labour MPs arguing that Nottingham women are made of far sterner stuff and are perfectly capable of sending lecherous idiots packing without any help?
They were nowhere. Instead, we had Laura Bates, founder of the Everyday Sexism project, gushing with praise: 'Thanks to one police force listening to local women's organisations, women and girls in Nottingham will receive the message that this kind of behaviour isn't normal or acceptable, that support is available, and that the problem will be taken seriously. If only we could get the rest of the country to follow that lead.' Bates follows the lead of many other feminists in grouping together 'women and girls' as one homogenous group. There are many instances in which adults might want to protect girls. But to claim that women need the same protections as children serves only to infantilise women.
The announcement from Nottingham came the day after Theresa May was inaugurated as prime minister. A woman may lead one of the most powerful countries in the world, but women, it seems, are still considered so fragile that they need police officers to protect them from everyday interactions. Rather than celebrating having a woman in the top job – the symbol feminists have insisted is so important – feminists are busy telling women they are victims of harassment online and 'uninvited verbal exchanges' in the street.
Theresa May would not have been my choice for prime minister. When she was home secretary I disagreed with almost every policy she enacted. But at a time when many other political leaders couldn't resign quickly enough she at least had the guts to put herself forward for the top job and see her leadership bid through to conclusion. The more Labour women come to see themselves as too fragile to handle the rough and tumble of political life, and unable to cope with the general public, the less likely it is we'll get a female Labour leader.
This is a shame because the Labour Party has at least two fantastic women: Eurosceptic MPs Kate Hoey and Gisela Stuart. Stuart has stated that neither Corbyn nor his most recent challenger Owen Smith represent the views of the people they claim to stand for. If members of the Labour Party had any sense they would be pressing for these women to be promoted. Instead, for all the desire to root out 'bullying', Hoey was treated appallingly by her Labour colleagues when she returned to parliament after the referendum. Hoey and Stuart have balls. Presumably this makes them the wrong kind of women for the feminists in the Labour Party.
Joanna Williams is education editor at spiked. Her new book, Academic Freedom in an Age of Conformity: Confronting the Fear of Knowledge, is published by Palgrave Macmillan UK. (Order this book from Amazon (USA).
To enquire about republishing spiked's content, a right to reply or to request a correction, please contact the managing editor, Viv Regan.