The EU: a disaster waiting to happen
From its inception, the European Union has been destined for ruin.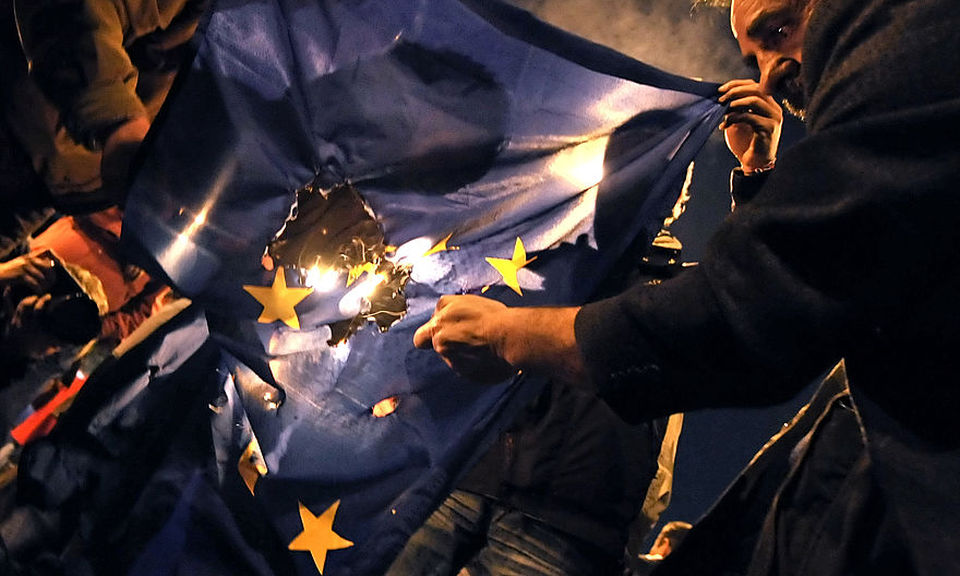 Before last month's referendum on the UK's European Union membership, those in favour of remaining warned of the dire consequences if we did leave: economic disaster, political chaos and even war. Since the result on 23 June, the negative rhetoric has not relented: we've been told that Britain is in turmoil, a state of anarchy; that the stock markets are tanking; that the UK is on the brink of disintegration.
The strange thing is, if you didn't read the newspapers, watch TV news bulletins or follow events on the internet, you wouldn't notice any of this. In the past three weeks, I've walked around London, Canterbury, Folkestone, Dover, Ramsgate and Deal, and the mood has been the same everywhere: calm and normal, unchanged since before 23 June. There is no air of panic. Maybe there are tough times ahead, maybe there aren't. But, either way, there has been no mood of alarm.
If you are old enough to remember the events of 11 September 2001, and the weeks and months that followed, you will recall, by contrast, that tangible air of fear and foreboding. We have lived through far scarier times than today. Remember the atmosphere after the London bombings on 7 July 2005. The mood in the capital got spiky, too, during the IRA's heyday in the 1980s. Or recall the atmosphere in Britain in 1973 and 1974: the OPEC crisis, terrorism, inflation, industrial unrest and power cuts. Many feared then that the country was going to collapse into revolution or war.
Why aren't we scared now? This is, after all, the most tumultuous political event in Britain since 1945. I suspect it's because most of us are fed up with doomsayers. There have been voices on the left predicting global economic collapse on a daily basis since last August. And we all know why they do it. They don't like capitalism and would prefer to see it fail in order to be vindicated. They would rather they are right and you are poor. After 23 June, the same people want the UK to fail for the same reason. They want to be in a position to admonish us from on high, and say 'I told you so'.
I voted Leave for two reasons – the same reasons millions of other people did. Firstly, the EU isn't democratic. If you want to live in peace and prosperity but without freedom, move to China or a Gulf state. Secondly, ever since the Maastricht Treaty in 1992 and the introduction of the Euro, the EU has been on a path to implosion, and it is imperative that we leave before this happens.
The single currency has been an economic catastrophe for southern Europe. And the erosion of borders and the forced move towards political unity among different nations who still hold to their sense of nationhood – what else was the Euro 2016 tournament a celebration of? – has given rise to populist parties and political instability. The EU could avoid the forthcoming crisis if it weren't beholden to free-market fundamentalists. Italy wants to rescue its banks, but those in Brussels won't allow such 'state interference'. Yet the current Italian banking crisis is only the beginning. Southern Europe's debt is simply unsustainable.
Political, economic collapse is indeed ahead, and it's been in gestation in the EU ever since the pan-European ideologues took control in 1992. And when it does come, the EU-philes will of course blame Britain. This week a friend telephoned from Italy, indignant at Britain for seemingly setting in motion a destructive chain of events. He was blaming us already for the EU's collapse. 'No', I replied. Many of us voted to leave the EU because, to us, it is painfully obvious what lies ahead. We wanted to dodge a massive bullet. We didn't vote to leave because we thought a future outside the EU would be flowery meadows and rainbow skies, and rivers made of chocolate. We voted to leave in order to endure tough times this year rather than be involved in terrible times to come.
This won't stop the blame eventually being laid at Britain's feet. That's the problem with ideologues. Their politics assumes religious dimensions. They can never admit they are wrong.
---
Teaching yourself languages the hard way
After three and a half years half-heartedly trying to teach myself German, I have this year started to learn it properly. This is partly because of my forthcoming book on Friedrich Nietzsche, and my ambition to be able to read him in the original. But my full embrace of learning the language is also down to at last finding a decent course book: the fourth edition of Living German, originally published in 1957.
The problem with so many modern 'teach yourself a language' courses is that they offer false promises. They are called 'Easy German', 'Quick Italian' and 'French in three months'. This is all lies. Learning a language is hard work. It's a neverending process. You never stop learning your own language in your own life, let alone a second one in three months. Courses that promise ease and quickness will inevitably lead to frustration, failure and surrender.
Before they became 'easy', teach-yourself courses were demanding, asking of the reader application, learning-by-rote and drills. German is a difficult language, and you do need to understand when definite and indefinite articles accord to the right gender in the nominative, accusative, genitive or dative. Chapter after chapter, page after page, Living German teaches you in old-fashioned grammatical language how to tell your der from your die or your das.
Only through accepting struggle and being willing to face challenges will you succeed. These days I am reading simple German freely at last. It is a wonderful feeling. But it's taken toil to reach this stage. As Nietzsche put it, 'you have the choice: either as little displeasure as possible… or as much displeasure as possible as the price for the growth of an abundance of subtle pleasures and joys' (1).
---
Corbyn's band aid
The legendary reggae band UB40 have come out in defence of Jeremy Corbyn. 'Congratulations on the result', they wished the beleaguered Labour leader after Labour's National Executive Committee declared he would be allowed to appear on the leadership ballot. I'm sure Corbyn will be heartened to have support from a group that's been beset by squabbling and rancour for years, and which was named after an unemployment form.
Patrick West is a spiked columnist. Follow him on Twitter: @patrickxwest
(1) Section 12 of Die Fröhliche Wissenschaft, by Friedrich Nietzsche, 1882; for the English version, see The Gay Science, by Friedrich Nietzsche, translated by Walter Kaufmann, Random House, 1974
To enquire about republishing spiked's content, a right to reply or to request a correction, please contact the managing editor, Viv Regan.