'The moral compass of the Jewish people'
In praise of Elie Wiesel.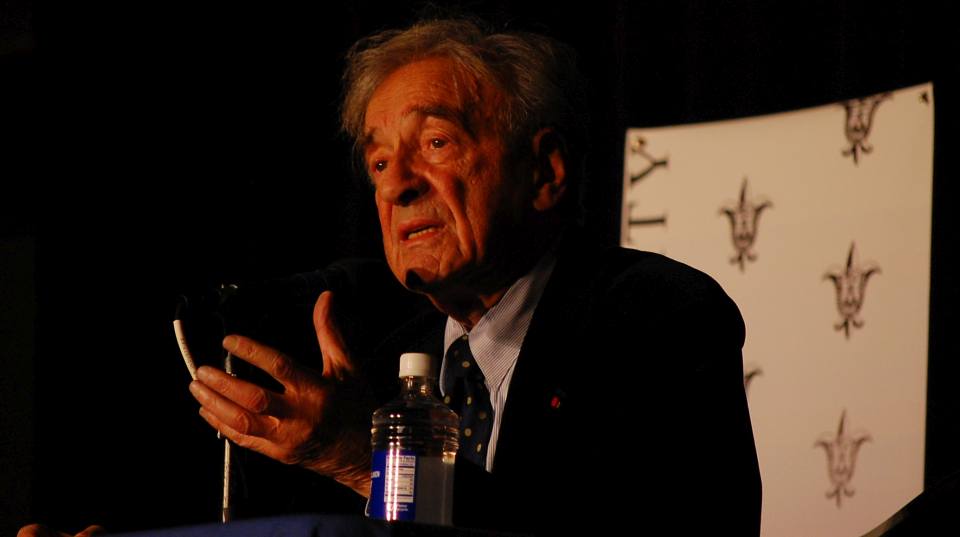 'I pinched myself: Was I still alive? Was I awake? How was it possible that men, women and children were being burned and that the world kept silent? No. All this could not be real. A nightmare perhaps…' (Night, Elie Wiesel)
Elie Wiesel was 15 years old when he, along with the Jewish community of Sighet, Transylvania, arrived in Birkenau concentration camp and witnessed firsthand the evil of which mankind is capable. It was the last time he saw his mother and younger sister Tzipora, who were murdered on arrival. His two older sisters survived.
Wiesel died on Saturday, aged 87, after a lifetime spent telling his story to the world and speaking out wherever he saw further injustices against man.
In his seminal work and first book, Night, quoted above, he described his imprisonment in Auschwitz and with it the extinguishing of his childhood idealism and the beginning of his questioning of his faith in God. He recounted the terror of SS selections – when Nazi officers chose who would live and who would die – the horror of watching a child hanged, and of seeing his father viciously beaten before he finally succumbed to dysentery. Wiesel was unable to comfort his father on his deathbed for fear of being beaten himself.
It is a stark and vivid account of the Holocaust and would go on to sell in its millions. Yet when it was published in 1960 not many people wanted to know. It sold just 1,046 copies in the first 18 months of publication. Fifteen publishers had rejected the manuscript before it was finally accepted. More than a decade had passed since the end of the Second World War, but much of the world remained firmly in denial of the mass murder that had occurred.
With support from friends, Wiesel, then working as a journalist, persevered and today his memoir has been translated into more than 30 languages. It frequently appears on school reading lists in the United States, and in 2006 Oprah Winfrey selected it for her bookclub. Wiesel later accompanied Winfrey on a trip to Auschwitz.
While today we are privileged to have access to the accounts of numerous survivors, Wiesel is widely considered to be the one who paved the way, bringing Holocaust testimony into the public realm.
After the war, Wiesel was sent to France, along with other orphans, and went on to study at the Sorbonne, Paris. He began working as a journalist while in France and later moved to the US. He wrote 60 books.
Many described him as having a magnetic personality; he made people listen. President Jimmy Carter appointed Wiesel chairman of the President's Commission on the Holocaust in 1978, which gave rise to the creation of the United States Holocaust Memorial Museum in Washington.
In the preface to the new 2006 translation of Night, Wiesel admitted he could no longer recall what he had hoped to achieve by writing it, but he acknowledged the purpose that the book imbued his life with:
'That of a witness who believes he has a moral obligation to try to prevent the enemy from enjoying one last victory by allowing his crimes to be erased from human memory… To forget would be not only dangerous but offensive; to forget the dead would be akin to killing them a second time.'
Wiesel was dedicated to what he considered to be a moral responsibility, and he travelled the world speaking publically about his experiences. On receiving the Nobel Peace Prize in 1986, he answered a question his younger self posed in Night:
'Who would allow such crimes to be committed? How could the world remain silent? And then I explain to him how naive we were, that the world did know and remained silent. And that is why I swore never to be silent whenever and wherever human beings endure suffering and humiliation. We must take sides. Neutrality helps the oppressor, never the victim.'
Wiesel refused to be a silent bystander, to be what he considered an accomplice to oppression. Marked by a visit to the Soviet Union in 1965, as a journalist for the Israeli newspaper Haaretz, Wiesel campaigned vociferously against the persecution of Jews under Soviet rule. His resulting book, The Jews of Silence, called on Jews around the world to speak out where others could not. Natan Sharansky, a former political prisoner in the Soviet Union and chairman of the Jewish Agency for Israel, called Wiesel 'the moral compass of the Jewish people'.
While Wiesel remained dedicated to the survival of the Jewish people, he fought against injustices wherever he saw them. He set up the Elie Wiesel Foundation for Humanity with his wife Marion, who survives him along with their son Shlomo Elisha. Among the causes they defended were those of Nicaragua's Miskito Indians, Argentina's Desaparecidos ('the disappeared'), victims of famine and genocide in Africa, of Apartheid in South Africa, and victims of war in the Former Yugoslavia.
In a passage from Night, Wiesel described the passing of Rosh Hashana, the Jewish New Year, in Auschwitz and how he found himself unable to pray. 'My eyes had opened and I was alone, terribly alone in a world without God, without man. Without love or mercy. I was nothing but ashes now…' Like so many victims of the Nazis, Wiesel found himself questioning his formerly strong beliefs, and yet he never lost his faith and remained a proud Jew until the day he died.
When you meet Holocaust survivors, as I have had the privilege of doing, it is clear how keenly they feel the same responsibility as Wiesel: that obligation to tell their story, to testify. But what is more remarkable is their outlook on life. Those who have lived through the worst are hopeful. They share their stories because they believe humanity can be better. Survivor testimony wields extraordinary power. Wiesel's haunting description of his first night in Auschwitz remains with you long after you have finished reading it:
'Never shall I forget that night, the first night in camp, that turned my life into one long night seven times sealed. Never shall I forget that smoke. Never shall I forget the small faces of the children, whose bodies I saw transformed into smoke under a silent sky. Never shall I forget those flames that consumed my faith forever. Never shall I forget the nocturnal silence that deprived me for all eternity of the desire to live. Never shall I forget those moments that murdered my God and my soul and turned my dreams to ashes. Never shall I forget those things, even were I condemned to live as long as God himself. Never.'
Naomi Firsht is a writer and co-author of The Parisians' Guide to Cafés, Bars and Restaurants.
To enquire about republishing spiked's content, a right to reply or to request a correction, please contact the managing editor, Viv Regan.