Michael Gove: last man of principle in British politics?
The Tory contender stands accused of betrayal – for being true to Brexit.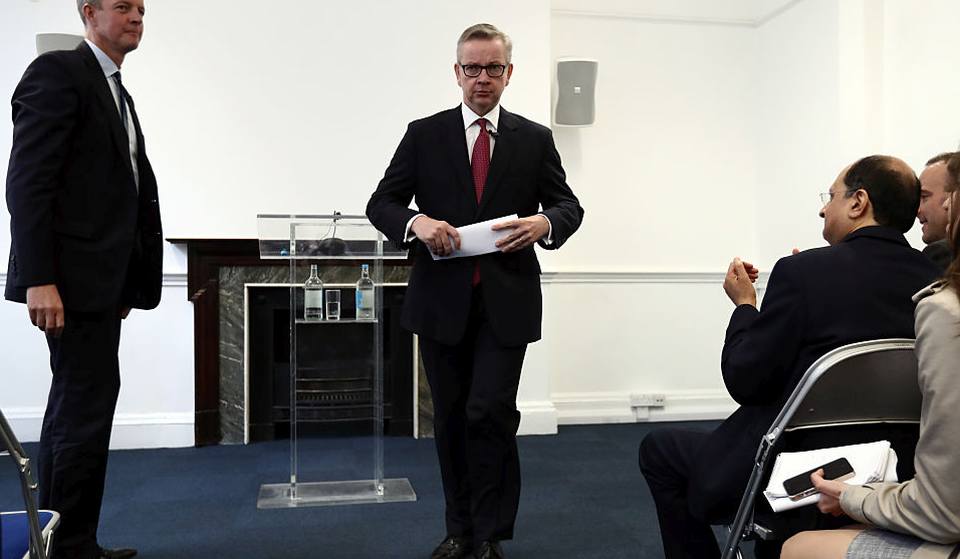 The extraordinary referendum vote for Brexit wasn't the only rare event in British politics recently. After 17.5million voters decided to defy the political class, one Tory politician also tore up the script and decided to take a principled stand on a major issue.
When justice secretary Michael Gove abandoned his erstwhile Leave ally Boris Johnson and announced he would stand in the contest for Conservative Party leader, the general reaction in the media and politics was to scream 'Betrayal!'. Gove's last-minute move to sink Boris was widely decried as another act of unprincipled backstabbing for personal gain, of the sort that has become commonplace in top-level politics since Gordon Brown spent a decade trying to assassinate Tony Blair.
Yet this time it seems reasonable to draw the opposite conclusion: that unlike most leaders of all parties today, Gove acted reluctantly in pursuit of a political principle – Brexit – in which he believes profoundly. No doubt Gove's switch did reveal a ruthless streak (not normally considered a bad thing in a political leader). But didn't it also confirm the presence of a rare streak of principle running down his backbone?
Gove, after all, is the one leading MP to have been entirely consistent in his pursuit of a vote to Leave in a Euro referendum (outgoing UKIP leader Nigel Farage can claim to have done the same, albeit from outside parliament).
It was Gove who rejected Tory prime minister David Cameron's proposals for EU reform at a Cabinet meeting in February, and then drafted the Leave manifesto. It was Gove who persuaded Boris Johnson – a long-term supporter of the EU – to join and front the campaign for a Leave vote. And it was Gove who concluded last week that Johnson, having backed Leave for reasons of personal ambition more than political belief, could not be trusted as Cameron's replacement to pursue the Brexit for which millions voted.
Perhaps it is little wonder that many misinterpreted Gove's motives. After all, no other leading politician can claim to have acted out of principle on the EU referendum. Home secretary Theresa May, favourite to become the next Tory leader and prime minister, had claimed to be a Eurosceptic. Yet in the referendum campaign she became a 'reluctant Remainer', effectively keeping a foot in both camps. That is no position from which to take a firm line in Brexit talks now.
The other leading contender for Conservative leader, business minister Andrea Leadsom, is now depicted as a staunch supporter of Leave. Yet just three years ago she was warning that leaving the EU would be 'a disaster', suggesting that she, too, has been repositioning her politics to gain maximum personal advantage.
Perhaps the starkest illustration of the absence of principles in modern British politics comes from the other side of parliament, in Jeremy Corbyn's Labour Party. The left-wing veteran was elected leader last year and hailed as a man of principle who had stuck to his state-socialist guns, for better and often worse, for 40 years. At the weekend one trade union leader even declared that Corbyn would not give in to Labour MPs clamouring for him to resign because he is a 'man of steel'.
Yet when the first major issue of his leadership came along, in the form of the referendum, Corbyn the supposed man of principle abandoned his lifelong opposition to the EU overnight. The 'man of steel' melted before the demands of the elites, and joined the conformist campaign for Remain.
Against this background Gove stands out as a politician who has taken a difficult decision and risked his reputation and popularity in pursuit of an important principle. For that alone he deserves better than the opprobrium heaped on his head over the past few days.
spiked writers do not normally get involved in the internal affairs of the Tory Party. However, I do think it will be a loss if, as now seems possible, revenge-seeking MPs deny him a place in the final ballot to be the next party leader and prime minister.
For those of us who backed Leave on democratic grounds, Gove is surely best-placed to pursue Brexit on a principled basis, although he would need to forget about his proposed delay in triggering Article 50 and starting the process of withdrawal for which we voted.
Of course, many people view Gove as some sort of strange, dark figure in political life. My old left-wing friends, especially those working in education, recoil in horror at the very mention of the former education secretary who tried to shake up the schools system before being sacked by his supposed friend and ally Cameron (an act of disloyalty many now seem to have forgotten).
I certainly disagree with Gove about many things, though he is a far more liberal figure than somebody like May, who as home secretary has sought to crush free speech beneath the kitten heels of her campaign to eradicate 'extremism'. (Gove on the other hand has a longstanding belief in freedom of expression, to the point where 18 years ago, as the comment editor on The Times, he hired a certain editor of Living Marxism magazine – one Mick Hume – as a columnist on that most establishment of newspapers.)
But on the most pressing issue in post-referendum politics, Gove stands as the figure of principle. Alongside the key question of Brexit, he has also announced himself as 'the change candidate'. And if there is one thing the moribund, detached world of UK politics needs now more than ever, it is surely change. The empty shells of the old parties are falling apart, with nothing emerging yet to replace them. In these circumstances specific policies proposed by any candidate seem less important than a commitment to change and shaking things up in line with the new realities reflected in the referendum – if necessary via another General Election.
Instead it is a sorry sign of the times that one politician trying to swim against the stream of those who want to ignore the referendum result should be accused of betrayal for being true to his principles.
Mick Hume is spiked's editor-at-large. The concise and abridged edition of his book, Trigger Warning: Is the Fear of Being Offensive Killing Free Speech?, is published by Williams Collins. (Buy this book from Amazon(UK).)
To enquire about republishing spiked's content, a right to reply or to request a correction, please contact the managing editor, Viv Regan.