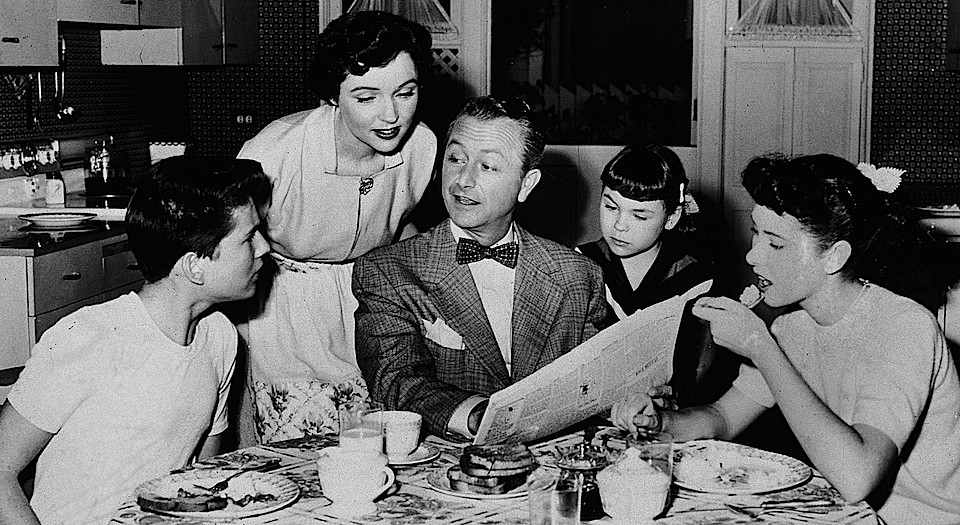 Long-read
Dreams of a family
Stephanie Coontz's re-issued challenge to 1950s nostalgia, The Way We Never Were, continues to provoke.
'I was living a lie!' Such was my brother's mock horror at a DNA test that revealed he is only 10 per cent Irish. To understand how awkward this is, you need to know that he has spent the better part of the past 30 years revelling in his Irish heritage: visiting Ireland, drinking Guinness and cursing Oliver Cromwell. It turns out that he is English. Not only that. He is genetically more English than the average person living in England today! We laughed for days.
This got me to thinking about the similarities between family histories and the history of the family. Genealogy, once the pursuit of bored retired people, is making a comeback here in the US. Almost anyone can generate a family tree extending back several generations just by plugging a few names into ancestry.com. And there are popular television shows such as PBS's Finding Your Roots and the BBC's Who Do You Think You Are?, in which professional researchers delve into celebrities' family backgrounds.
As the names of the shows imply, much of this interest is fuelled by our current obsession with personal identity. Family histories are a way of crafting a pleasing personal narrative. We pick up on some aspects of our familial past that reinforce what we believe about ourselves, and reject those that don't. Have a flair for cooking? Well, guess what? Your great grandfather was a chef. Can't settle down? It must come from your pioneering ancestors.
The problem is history doesn't always turn out to be what we bargained for, as the actor Ben Affleck discovered when he learned that he is descended from slave owners. He was so mortified and fearful of the repercussions that he pressured the producers of Finding Your Roots into focusing on more politically acceptable ancestors. When the news got out, as bad news about celebrities inevitably does, it caused a mild scandal and spurred other researchers to uncover even more slave-owning ancestors in Affleck's background. He was humiliated and the series was suspended for a season.
There are parallels here with the study of the history of the family. Like the study of family histories, it, too, creates a narrative – and that's no bad thing. As long as we are faithful to the facts, the historian's interpretation helps to render otherwise random events and circumstances meaningful. At its best, history boosts us up as on a hilltop, from where we can see all at once where we have been, how we got here and, potentially, where we might go next.
This is more difficult than it sounds. Even with the facts in our possession, it is easy, sometimes perilously so, to leave assumptions unexamined and to interpret new phenomena in line with them. Just as our knowledge of our own past is apt to be distorted by the pressure of living memory, so the study of the American family has taken place in the long shadow of the male bread-winner or nuclear family of the 1950s. For better or worse, the 1950s archetype has served as a point of comparison for every family form that has followed it. But what if the 1950s family wasn't really the way we remember it?
This was the problem Stephanie Coontz set out to address in the early 1990s with The Way We Never Were: American Families and the Nostalgia Trap. As someone engaged in the study of the history of American families and private life, she could see that family forms, households and the very notion of privacy have been constantly changing almost from the moment that Europeans set foot in North America. The 1950s family was just one of these forms, and a fleeting, atypical one at that. In what was, in retrospect, an era of astonishing transformation, there was an understandable longing for past certainties that meant the complexity of history and experience tended to become buried under the weight of an idealised image. It was only, Coontz understood, through a clear-eyed assessment of the past, that it would be possible to make sense of changes to the family in the present.
It is difficult to overstate the impact The Way We Never Were made when it was published in 1992. It resonated with scholars and the public alike by subtly reposing the discussion of the family, from panic about its supposed collapse to an assessment of its historical reality. It also catapulted Coontz to her present position as the voice of reason on all things family related, and galvanised family scholars, most notably through the Council on Contemporary Families, an organisation formed to counter the polarisation and oversimplification of family issues by informing public debate with high-quality research. Twenty-five years on, it is worth pausing to think more deeply about the conditions Coontz was responding to, and what has changed about the narrative of the family since.
Family structure first become a subject of political concern in the postwar period when Daniel Patrick Moynahan wrote his 1965 landmark report linking the structure of the negro family with a lack of social and economic progress. In retrospect, this not only confused the cause of economic instability with its effects (a less stable family), but helped to associate changes in family structure with economic decline. As the postwar boom came to an end, and families began to adapt to new circumstances, the family of the 1950s was held up as the ideal towards which Americans should aspire. Politicians called for a return to 'family values', but Americans more broadly seemed less certain about their place and role within their own families.
The 1970s in particular was a time of radical change. It became almost impossible for families to survive on a man's salary, and women were compelled, not always enthusiastically, to join the permanent workforce. The percentage of married women employed full-time rose from less than half in the mid 1970s to two thirds just 10 years later.
They went to work at a disadvantage because workplaces then (and to this day) were organised with the expectation that the job itself would and could be each worker's primary responsibility. Women found themselves having to prove their competence to the sceptics at work, while simultaneously pulling what Arlie Hochschild deemed 'the second shift' of caring for family members and organising domestic life. (Today we call this 'having it all'.)
Parents worried about what would happen to their children, not just the young ones, but also the adolescents inhabiting the sprawling suburbs, without the steady presence of authoritative adults. There was a boom in books offering child-rearing advice, and the term 'parenting' entered the language for the first time. Indeed the focus on parents and children was a tacit recognition of the need to continue to raise children should families break up.
The 'children's rights' movement, in which Hillary Clinton was a key player, further codified the the status of the family, from that of a private set of relationships into an institution charged with balancing the rights of family members against one another with the state as guarantor.
Americans also worried about divorce. If women felt ambivalent about returning to work, their newfound financial and social independence often opened new vistas. This sense of liberation from a destiny in the home, in combination with more liberal divorce laws, resulted in a wave of marriage breakdowns. The divorce rate doubled between 1960 and 1980 and a whopping 50 per cent of marriages that took place in 1970 ended in divorce. Some of these undoubtedly represented a correction to the exceptionally high marriage rates in prior decades, but others reflected a sense that family was a poor vehicle for the fulfillment of personal aspirations. Indeed, Coontz cites a poll conducted in the 1980s in which 25 per cent of people said that, for $10million dollars, they would abandon their families entirely.
This shake up of social mores was disorienting, especially for the cohort of people who came of age during the 1970s and 1980s. This mood was brilliantly captured in Richard Linklater's iconic 1993 film, Dazed and Confused, in which teens grapple with moral questions about hazing and drug-use against a backdrop of faltering adult authority. A generation stood poised to embark on life's journey at a time when the path to adulthood they had been led to expect – education, job, marriage, house, children – was no longer so clear-cut. Without a framework of external commitments and support, young people were left to achieve maturity through the cultivation of the self: self-help, self-fulfillment, self-esteem. Relationships were good if they 'worked' for you, but not good if they required too much self-sacrifice. For the first time, people asked themselves if they or their partners were really 'ready to commit', as if commitment were an endpoint in a process of self-discovery, rather than a starting point for adult life. Perhaps as a way of dodging the awkward question, people adopted a strategy of separating sex from intimacy altogether.
Sexuality took on greater importance than ever before, as an aspect of one's personal and political identity, and did so remarkably quickly. Just how quickly attitudes to sex can change can be seen in a Gallup survey, conducted in April 1973. At the time, more than half of those polled thought nudes in magazines like Playboy and premarital sex were acceptable. In the same survey conducted only four years earlier, a large majority described both as 'offensive' and 'wrong'. Another Gallup survey in 1982 showed that people in their twenties saw no connection between sex and morality at all.
From the gay bathhouse culture of San Francisco to the swingers in the hot tubs of Florida, sex became a leisure activity and a spectator sport. Middle-class families added The Joy of Sex to their bookshelves, Donna Summer faked an orgasm in 'I Love to Love You Baby' and Marlon Brando brought sodomy to the silver screen, a place where married couples were portrayed as sleeping in twin beds only 20 years prior.
In the middle of these upheavals, it is perhaps not surprising that many Americans tended to look back on the family of the postwar boom years with nostalgia, forgetting the intense political and social conformity, and racial injustice, of the period. Many supported politicians like Ronald Reagan who sought to re-establish the social and economic conditions of the past. But such wishful thinking, and the policies it inspired, did not re-establish the 1950s family or offer much to families grappling with the real and persistent problems thrown up by new conditions.
This is why The Way We Never Were was such a great achievement and an important step forward. It provided a much-needed corrective to the romanticised view of the 1950s family, and began to defuse some of the more hysterical and fatalistic discussions about teen pregnancy and the underclass. It made the case for understanding changes in the family within the context of other socio-economic changes, especially the erosion of solid networks and commitments beyond the family. Most of all, The Way We Never Were seemed informed by a genuine regard and sympathy for those that seemed to value social bonds and commitments, not as tools of policy, but as something important for us as human beings.
The new, updated and revised edition includes an introduction that takes into account some of the momentous changes that have taken place in recent decades, including the legalisation of gay marriage, and assesses how well its original insights have stood the test of time. A new epilogue takes a stab at addressing some of today's mistaken assumptions about the family. It all makes for a work that continues to provide plenty of food for thought.
There is one surprising omission, however. And that is a re-assessment of whether nostalgia for the family of the 1950s still exists today. Family histories aside, I don't think it does. But this doesn't mean we aren't still living in the shadow of the 1950s family. We are. It is just that the pall it casts is a far more pessimistic one, possibly rooted in the experience of what came after. From Mad Men to Revolutionary Road, traditional families of the past are now represented as dysfunctional at best – cheerful masks for lives lived in quiet desperation.
Many, maybe most, would like to combine love, marriage, intimacy and family, but the possibility of doing so successfully seems more remote than ever. This is not just because it is financially impossible for many. It's also because we aren't willing to enter into formal commitments on just any terms. Married couples want an egalitarian division of labour within the family, and they feel frustrated when the other partner doesn't pull his or her weight. Unmarried people, especially young women with children, are wary of making themselves dependent on the wrong person, or worse still, worry that a spouse might become just another mouth to feed. This choosing not to choose ultimately undermines people's ability to control their circumstances.
Some have given up on families altogether. They are choosing to live singly, not because they don't want connections with other people, but because intimacy, at least an idealised intimacy with a partner, no longer seems realistic. This might be an entirely reasonable choice for the individuals in question, but when it is happening in large numbers, it creates a problem for a society that, after all, needs its members to be willing to take the leap of faith required to reproduce it.
I believe that families are necessary to human relationships. They are the commitments we can trace back in family trees, the unions that literally bind us to history and make us its living agents. They bring together individuals, generations and serve as one of the most important foundations of society. If we care about their future, we need to overcome both the fatalism of nostalgia and the jaundiced eye in order to see them as they really are. Reading The Way We Never Were is a good place to start.
Nancy McDermott is a writer based in New York.
The Way We Never Were: American Families and the Nostalgia Trap, by Stephanie Coontz, is published by the Basic Civitas Books. (Buy this book from Amazon(UK).)
To enquire about republishing spiked's content, a right to reply or to request a correction, please contact the managing editor, Viv Regan.