Britain has not become racist overnight
The post-Brexit 'hate-crime spike' is not all that it seems.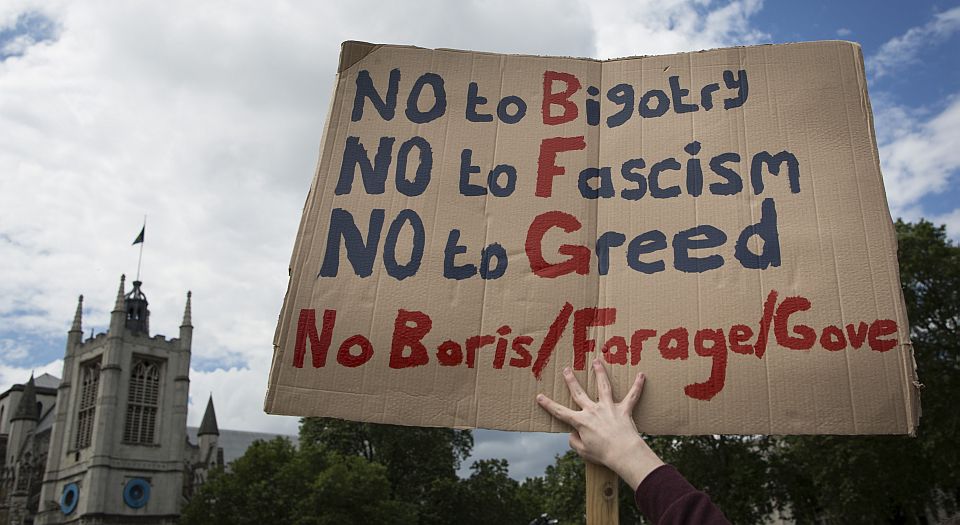 Following the Brexit vote there has been a panic about an apparent 'spike' in hate crime. An increase of 57 per cent was widely reported, and, on Twitter, a new hashtag, #PostRefRacism, started trending, with tweeters listing incidents from around Britain. It seems many people, both online and offline, have had personal experience of post-Brexit, racist Britain.
Any incident of racism or xenophobia is abhorrent and should be challenged. But the speed with which Remainers have exploited this apparent surge – in what is, at this point, largely anecdotal reports – has been shameful. Acting like the propaganda wing of the EU establishment, they have rushed to confirm the prejudices of the elites by arguing that these vague statistics and endless tweet allegations show just how racist the working-class, Leave-voting public is.
The media have been all over it. One BBC reporter asked if the vote had opened a 'tidal wave of hatred'. Numerous articles in the Guardian have claimed that Brexit has 'unleashed' racist sentiment across the country. One commentator seriously claimed that 'every Leave voter' had encouraged racism – which was ironic, given that the same commentator voted to remain in an institution responsible for the deaths of thousands of non-European migrants in the Mediterranean every year. The onset of panic has revealed how the very publications and commentators who once claimed to stand up for the working class in fact view working-class people as a violent, racist horde.
This is unjustifiable. While many of the accounts of hate crime that have emerged online and in the media have been disturbing, others are not what they seem. Take the widely circulated image of a group of protesters from Newcastle carrying a sign that reads 'Stop immigration, start repatriation'. Many Remainers jumped on the photo as an example of the racism unleashed by Brexit. However, the photographer took to Twitter to distance herself from the backlash, pointing out that the far-right had a longstanding minority presence in Newcastle (an area that narrowly voted to Remain) and that the demo was not a direct response to the referendum. Northumbria Police, who cover the Newcastle area, have indicated that there has been 'no spike' in racist incidents reported to them over the weekend.
Another much-retweeted picture, from an EDL rally in Sheldon, Birmingham, showed around 30 EDL protesters chanting at passers-by. Again, the protest was held up as an example of 'post-Brexit Britain'. But reports made clear that the event – involving 30 saddos – had been planned for months, and passed, according to the police, 'without incident'. Not only was the demonstration a damp squib (which is hardly surprising considering the EDL has haemorrhaged support in recent years); it would also have taken place even if Remain had won the referendum. In other words, two of the most prominent examples of post-referendum racism have nothing to do with the referendum at all.
The broad definition of what constitutes a hate crime also makes it difficult to judge whether there has indeed been an increase in racism. Hate crimes can include anything from an off-colour remark to a racist assault. The 57 per cent increase amounted to 85 reports between Thursday and Sunday last week, which were submitted to a police-funded website that had been established to report hate crime. This was up from 54 reports during the same four-day period four weeks ago. The policeman who reported the statistic made clear that it did not 'represent an increase in tensions' and that similar spikes had occurred in response to other events. In any case, we don't even know the content of what has been alleged.
We should investigate each incident and prosecute where necessary. We should offer genuine solidarity with victims of any racist incident that occurs – and feel bold enough to intervene when they happen, rather than just tweet about them afterwards. But we must also approach these hate-crime claims critically, given that there are plenty of Remainers who are willing to exploit any perceived spike. Talking up a rise in hate crime is dangerous – it can give deluded, isolated individuals the impression that the country agrees with them. Worse, this fearmongering about post-Brexit Britain, fuelled by snobby prejudices, could do real damage to solidarity between communities by sowing distrust, resentment and fear.
Britain has not become a racist country overnight. Remainers who suggest otherwise reveal their own prejudices.
Luke Gittos is law editor at spiked, a solicitor practising criminal law and convenor of the London Legal Salon. He is the author of Why Rape Culture is a Dangerous Myth: From Steubenville to Ched Evans. (Buy this book from Amazon(UK).)
To enquire about republishing spiked's content, a right to reply or to request a correction, please contact the managing editor, Viv Regan.