New Tate Modern: politics at the price of beauty
The politicised, unsubtle curation makes for a wearying experience.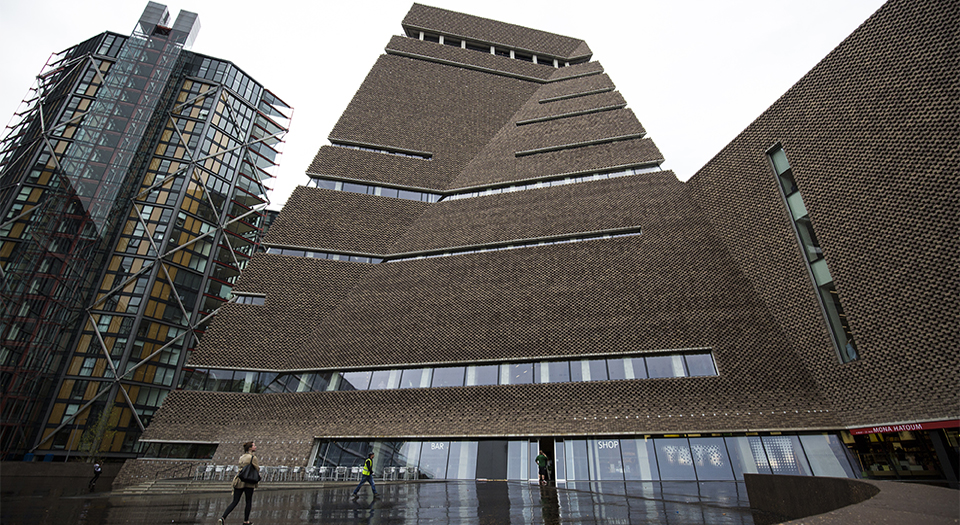 The revamped Tate Modern, complete with a brand-new, 10-floor extension called the Switch House, 'will redefine the museum for the 21st century'. That, at least, is the claim made on its website.
And it's true that Tate Modern's focus has shifted. It has self-consciously turned to art produced by women and ethnic minorities, and drawn exhibits from Africa, Asia, Latin America and 'the margins of Europe'; it has embraced the political over the aesthetic, featuring exhibits that challenge power relations and 'question the function of the museum'; and its new galleries in the Switch House concentrate on post-1960s art, including conceptual art, performance and participative art, film, video and photography. As one critic notes: 'The pleasures encouraged here are bewilderment and awe, rather than age-old museum values of enlightenment and learning.'
This self-consciously political attempt to reconfigure the museum is not really a surprise. Both the Tate director, Nicholas Serota, and the director of Tate Modern, Frances Morris, are old New Lefties, and former students at Cambridge during the 1960s and 1970s, when artists and art students played a leading role in political activism. They are committed to carrying this political project forward through art and art curation.
Morris herself has spoken enthusiastically of the changes in art, and the challenges to the canon, during the 1960s. 'Before [the 1960s]', she tells Jackie Wullschlager in the Financial Times, 'the template was still paintings on walls and sculptures on plinths. After it, there was a general rejection of representation, and artists started doing and showing things that audiences could walk around, pick up, play with, throw away – or think about in a different way, for example, politically.' In the case of the Tate Modern, she continues, 'we are asking people to take a position – that's very empowering'.
But does this curatorial emphasis on the political come at the cost of art's aesthetic value? The author Howard Jacobson once wrote that if an artist's work is political, it only works as art if it transcends politics. It is doubtful many of the works in the Switch House pass this test. The curatorial choices seem to have been driven by political perspective rather than artistic merit. Or, as art critic Matthew Collings writes, Tate Modern's overriding message now appears to be 'Meaning must always entail moralising'.
So what of the exhibits themselves? In one section, entitled 'Performer and Participant', we're told that we, as participants, will be 'directed by an artist and political activism'. Quite what this means is unclear. One label tries to explain, stating that participatory art 'addresses the role of the institution that collects and displays art… and critically proposes an alternative system of value in which the live act prompts us to consider how we might embody a shared heritage in new ways'. Illuminating stuff.
Actual exhibits in this section include work by Meschac Gaba, a Benin artist; Ana Lupas, a Romanian artist; and Santiago Sierra, a Spanish artist. Given the opaqueness of their work, full explanatory labels are on hand to clarify matters. So the label for Gaba's work, 'The Museum of Contemporary African Art', informs us that while 'visiting European museums in the late 1990s, [he] couldn't imagine how the art he wanted to create could be integrated into them', so he created his own portable installation. We are told it 'creates new spaces for sociability, study and play, in which the boundaries between everyday life and art, observation and participation, are blurred'. The installation is certainly playful, but it is hard to know what to make of it. The label states that 'this work acknowledges the importance of African art in the development of the Western canon, but also affirms the right of artists, irrespective of their origin, to draw inspiration from anywhere'. That's reassuring. After trying unsuccessfully to tally the label's explanation of the work with the work itself, I moved on.
Next up, was the 'The Solemn Process 1964-2008′, a large installation by Lupas. This work represents Morris's commitment to exhibiting women artists and participatory art. Created and modified over several decades in conjunction with some Romanian peasants, who used traditional techniques and patterns of folk decorations, the result was a set of huge straw sculptures. I can't work out if it's political or not. Made initially under a repressive Soviet-era regime, it may be. But I find the odd steel containers, which enclose the gradually disintegrating straw and clay structures, clumsy and inert.
Sierra's work, exhibited nearby, illustrates contemporary art's narrow moralising tendencies. Of course, someone like William Hogarth, the great 18th-century painter, was moralising, too. But, in their humour and humanity, Hogarth's depictions of society's corrupt underbelly transcend their political message. No such capacity exists in Sierra's work, '160cm line tattooed on four people', which is exhibited here. This involved paying four heroin-addicted prostitutes to let a tattooist draw a line across each of their backs. We're told that 'the women's economic situation and drug addiction prompted them to participate, raising a range of ethical questions'. 'By turning the process of exploitation into a spectacle', the label goes on, 'Sierra makes art institutions that show his work collaborate in the troubling power relations he stages'. It seems an entirely cynical work, making us somehow complicit in the exploitation of the women depicted.
Tate Modern curators and artists may delight in the fact that critics are frightened of criticising this politicised approach to art. As Jonathan Jones puts it, critics have become 'paralysed' by the fear of 'looking "conservative" and stuck in the mud' before such supposedly radical work. Collings adds that 'Tate Modern's lesson' for critics is that art must undermine norms, 'not for the sake of adding to art's own richness but for the advancement of society'.
Judging whether any of it is good anymore has become very difficult. Wullschlager quotes a glum art dealer complaining that 'anyone can argue a case for anything', and asks, 'what matters, what is any good, who decides?'. Morris claims that the critics' loss is the newly empowered audience's gain. But actually it's not. We may find it diverting after a dull or stressful week at work to wander around the exhibits trying to make sense of them all. But, ultimately, I found it disempowering to the point of exasperation. I found the politics trite, the idea of collective art-making and performance art largely uninteresting, and the general slightness and messiness of many of the works irritating. The overall lack of nuance, subtlety and, yes, beauty was wearisome and tedious.
In the end, the only sensible option is to go and have a drink in one of the flash new Tate Modern bars. Call me oldfashioned, but give me the great historic art collections housed in other parts of the Tate any day.
Wendy Earle is convenor of the Institute of Ideas Arts and Society Forum.
To enquire about republishing spiked's content, a right to reply or to request a correction, please contact the managing editor, Viv Regan.