The Greatest
Muhammad Ali made history. Long may he inspire others to do the same.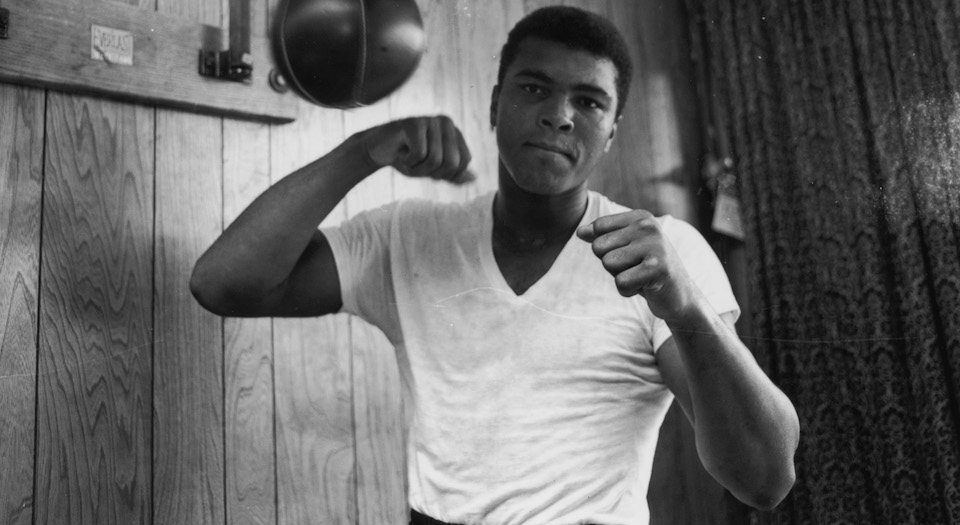 The death of Muhammad Ali on Friday, at the age of 74, deprives us of one of the greatest personalities of recent decades – someone for whom the overused title 'legend' is, for once, truly fitting. For all the hagiography in the past couple of days, the flawed reality seems, if anything, all the more remarkable. Ali was not a saint, but he was most certainly an inspiration, a talented, courageous, funny and charismatic man who will be greatly missed by millions.
In his pomp in the 1960s, he was a staggering boxer, demolishing all before him with lightning-fast hands and dancing feet. Having won Olympic light-heavyweight gold in 1960 in Rome, he turned professional. In 1964, he became the youngest man to become the undisputed heavyweight champion by beating a reigning champion, the terrifying 'ogre' Sonny Liston, before defending the title nine times. Yet he gave that all up by refusing to be drafted to fight in Vietnam, a decision that cost him three-and-a-half years of his sporting prime.
On his return, he lost – to Joe Frazier and Ken Norton. But with many assuming he was washed up, he defeated another terrifying fighter, George Foreman, in Zaire in 1974 to reclaim the title and defended it against Joe Frazier in Manila in 1975. He even managed to reclaim the title again, avenging a shock defeat to Leon Spinks in 1978. But he fought on too long, losing his titles to Larry Holmes, then losing again to future champion Trevor Berbick in 1981.
While Ali was an astonishing natural talent, this was allied with an exceptional dedication and an unrelenting drive to be the best. His first coach, Joe Martin, who invited him to train at his gym at the tender age of 12, called him the hardest-working boxer he had ever come across. He was brave, too. At a time of enormous racial tension in the US, Ali was a loud-mouthed 'uppity nigger' who refused to back down.
He outraged white America by winning the title and then quickly announcing that he had converted to Islam, dropping his 'slave name' Cassius Clay to become Muhammad Ali. He then outraged white America again by refusing to be drafted into the army during the Vietnam War, famously saying: 'My conscience won't let me go shoot my brother, or some darker people, or some poor hungry people in the mud for big powerful America. And shoot them for what? They never called me nigger, they never lynched me, they didn't put no dogs on me, they didn't rob me of my nationality, rape and kill my mother and father.'
That courage wasn't just empty words – it was reflected in the ring, too. When he fought Norton in 1973, he finished the fight despite suffering a broken jaw. He collapsed after his third and final fight against Frazier, the 'Thrilla in Manila' in 1975, but not before Frazier had been pulled out by his own corner after the 14th round. The fight was the 'closest thing to death', in Ali's words.
What he lacked in academic smarts, he made up for with intelligence inside the ropes. Having tried to out-box George Foreman in the first round of the 'Rumble in the Jungle', he switched tactics, leaning back against the ropes and letting his opponent punch himself out in the heat and humidity of Zaire. But the 'rope-a-dope' was not mere crab-like passivity – he punctuated Foreman's attacks with dispiriting flurries of his own, all the time taunting Foreman: 'Is that all you've got, George?' Eventually, the exhausted and disheartened Foreman collapsed, as much done in by the physical effort as by Ali's punches.
But Ali was a hero, not a saint. In his early days in the Nation of Islam, he parrotted the worst ideas of Elijah Muhammad about white people in general and Jews in particular. Like many religious believers, he denounced homosexuality, too. Tyson Fury is today pilloried for his views, but it's notable that Ali got a pass on his, though he changed his mind later on. And for a supposedly religious man, Ali was a sinner – he married four times and had numerous affairs along the way. His treatment of his greatest opponent, Joe Frazier, was at times appalling: he called him an 'Uncle Tom' before their first fight. And his boxing prowess was sharpened by a vicious streak, notably in his 15-round beating of Ernie Terrell in 1967, who had had the temerity to refer to Ali by his original name, Cassius Clay, beforehand.
In later years, Ali was put on a pedestal, his struggles with Parkinson's disease allowing him to be treated as a brave victim rather than the outrageous, sometimes divisive figure he had been in his prime. Yet he was a worthy winner of the BBC's 'Sports Personality of the Century'.
At a time when many sports stars are dull robots, avoiding any expression of individuality on the advice of public-relations and brand consultants, Ali was a big, bad and boisterous figure who refused to play the role of the humble black man.
He was an inspiration far beyond the world of boxing. Here was a man who did not bow down, who would not just accept his lot, who wanted to change the world. Long may his legend inspire others to do the same.
Rob Lyons is a spiked columnist. Follow him on Twitter: @robspiked
Picture by: Harry Benson / Getty Images.
To enquire about republishing spiked's content, a right to reply or to request a correction, please contact the managing editor, Viv Regan.