Football fans for free speech
Let's scrap the Offensive Behaviour at Football Act once and for all.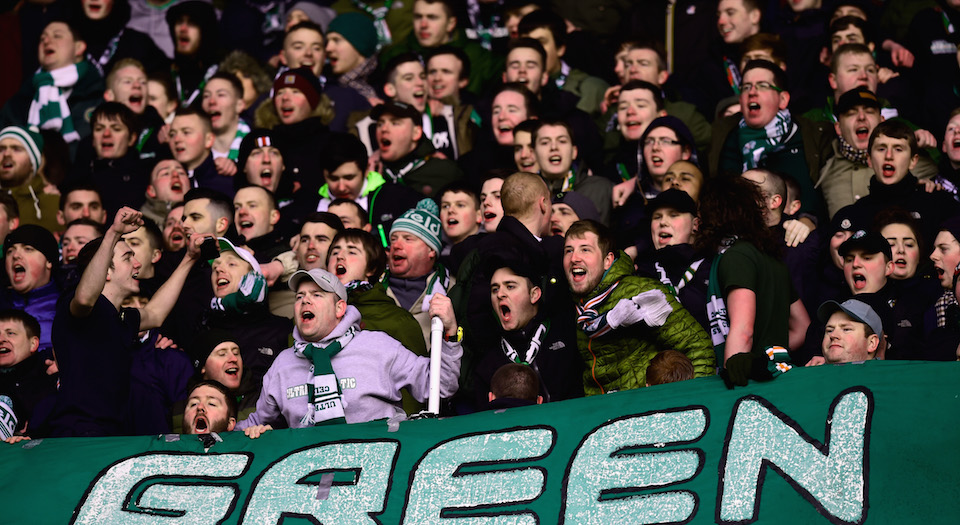 On Sunday, I stood singing with thousands of my fellow Celtic supporters in Celtic Park. It wasn't just because our team were being presented with the League Championship trophy (our fifth title in a row) or even because the sun was actually shining in Glasgow. No, many of us were bouncing because it now looks likely that the Offensive Behaviour at Football Act (OBFA), which has criminalised hundreds of football fans for singing 'offensive' songs, is set to become the first major battle of the new Scottish parliament.
Put another way, it looks like the OBFA is going to be scrapped. The Conservatives, Labour, the Greens and the Lib Dems all oppose the legislation, meaning that the Scottish National Party (SNP) – which introduced the legislation in 2012 – is outnumbered in the Scottish parliament by 65 to 63 seats. The failure of the SNP to secure an overall majority in the Scottish elections means that the legislation is now extremely vulnerable.
After the election, Scottish Conservative leader Ruth Davidson signalled her intention to repeal this legislation, but Labour MSP James Kelly got in first, announcing plans to table a member's bill against the OBFA. And the four opposition parties are clearly willing to work together to scrap it. We shouldn't be under any illusions. When it comes to civil liberties, these parties can be every bit as illiberal as the SNP. Nonetheless, the removal of this toxic legislation from the statute books would be huge victory for those of us who have fought long and hard against the OBFA.
Under the OBFA, you can be sent to prison for five years for singing a song that a police officer deems offensive, either at a match, on the way to or from a match, or even in a video posted online. There is no objective definition of what constitutes an offensive comment or song – it is an entirely subjective law. Instead, the police are left to decide what is and isn't offensive. As a result, Dundee United supporters have appeared in court for calling Aberdeen fans 'sheep-shaggers' online; Celtic fans have ended up in police cells overnight for singing Irish republican songs; and Rangers fans have been sent to prison simply for writing and singing naughty things about Celtic supporters and Irish Catholics.
The overwhelming majority of people dragged before the courts under the OBFA have been working-class young men. This means that hundreds of young men have ended up with criminal records, have lost their jobs and, as a result, are unable to apply for all sorts of jobs in the future. Van-loads of police in riot gear have carried out dawn raids and arrests on those accused of breaching the act. The police have deliberately visited fans at their place of work in order to intimidate them. Some fans have even been stopped and questioned at airports when travelling overseas – as if singing a rude song makes you akin to a terror suspect.
The good news is that many fans refused to lie down before this anti-working-class law. Their dogged resistance to the OBFA is what has, in part, motivated the opposition parties to get behind the campaign to scrap it. Over the weekend, it was heartening to see many of the Scottish newspapers call for the OBFA's abolition, if somewhat belatedly. If and when it is scrapped, particular praise should be given to Fans Against Criminalisation, which has campaigned nonstop against the law and has engaged in years of protests, debates and petitions. Its refusal to accept the criminalisation of football fans is heart-warming.
No doubt, the opposition political parties are, in part, motivated by opportunism. And yes, Scotland will still be one of the most authoritarian countries in Europe after the OBFA is scrapped. But it's not often that, in these illiberal times, a victory is won for freedom – especially a victory for football fans. In this respect, if the OBFA is repealed, I think those of us who have fought the good fight against this authoritarian law can at least allow ourselves to savour our moment of victory. Then we must move on to fighting the next battle, because there are many more to be fought for those of us who take civil liberties seriously.
But let's not get ahead of ourselves. The OBFA is not gone yet, so let's keep our eye on the ball.
Kevin Rooney is a teacher, writer and a member of the Institute of Ideas Education Forum.
Listen to Kevin discuss the murky history of the OBFA.
Picture by: Stu Forster / Getty Images.
To enquire about republishing spiked's content, a right to reply or to request a correction, please contact the managing editor, Viv Regan.