A hand grenade to help fight the free-speech wars
The new concise edition of Mick Hume's Trigger Warning is a call to arms.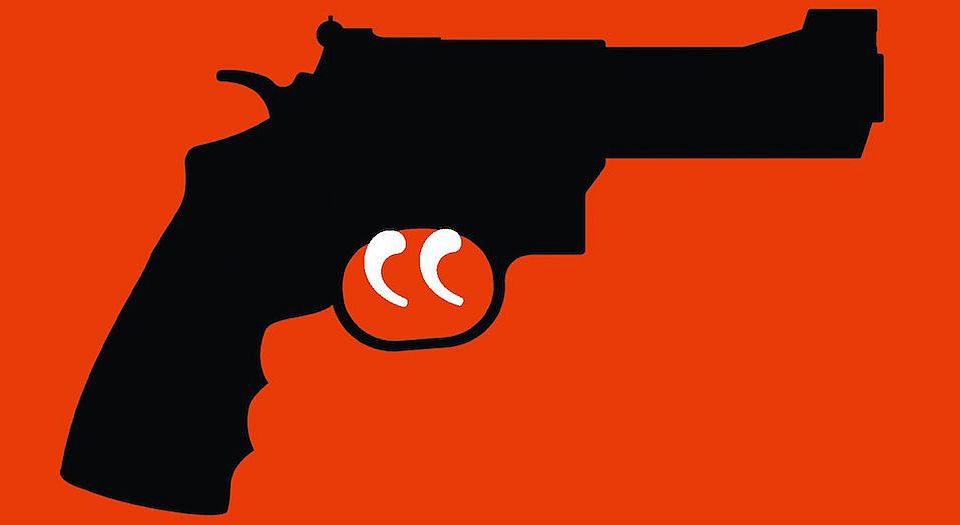 The main motive for writing my book Trigger Warning last year was the fear that we were in danger, not just of losing the new free-speech wars in the West, but of surrendering our most precious liberty without a fight. Almost a year later there have been heartening signs of resistance, with important voices speaking up for free speech. Yet the attacks on freedom of expression just keep on coming, on an almost-daily basis. It is hoped that the new cut-down concise edition of Trigger Warning – what we might call the 'hand-grenade edition' – will provide some fresh ammunition for the next round of fighting.
Trigger Warning began by identifying two phenomena of the modern age. One is the free-speech fraud, whereby every politician and public figure makes ritualistic displays of support for free speech 'in principle', before adding the 'buts' that allow them to attack and undermine that priceless freedom in practice. These double standards were on graphic display across the Western world after the Charlie Hebdo massacre in January 2015.
The other is what the book calls 'the silent war on free speech'. It is silent not because its proponents are quiet – they are anything but. This is a silent war because few people (outside the online IS supporters' club) will openly admit that they are against free speech. Instead, the silent war is posed not as an attack on freedom of speech at all, but as a worthy assault on the evils of hate speech and incitement. It is presented not as a blow against liberty, but as a defence of rights. For example, the right of students to feel comfortable in a campus Safe Space. And, most importantly, everywhere from the internet to the universities, the right to be protected from offensive words and images.
In the 11 months since the book was published, it appears that more people in the Anglo-American world have begun to recognise the dangers of these trends and to voice their concerns about attacks on free speech. Politicians, celebrities and comedians from President Barack Obama downwards have criticised the fashion for politically correct censorship and debate-neutering Safe Spaces. Meanwhile, spiked's campaign against campus censorship has begun to win the support of a new generation of liberty-loving students in the UK and the US.
Yet despite these welcome developments, the silent war on free speech continues to rage. The new threat to freedom of expression in the West today comes not from jackbooted political censorship or blasphemy laws. The more insidious threat comes from a powerful culture of conformism, which crusades to silence any ideas or opinions deemed offensive behind banners inscribed with the motto of our age: 'You Can't Say That!' It has become the fashion for these crusaders not only to declare themselves offended by what somebody else says, but to use the offence card to demand that they be prevented from saying it.
This is the cultural current that runs through all of the diverse controversies involving free-speech issues today. It is what is behind everything from the banning of Labour politicians for making allegedly anti-Semitic remarks to the apology from Greater Manchester Police for daring to shout 'Allahu Akbar' during an anti-terror exercise to the revelations about Facebook editing out 'wrong' conservative-minded stories from its meta news site.
All of these issues and many more tend to attract criticism in their own terms. What we need to do now is to highlight the common themes of the crusade for conformism, and take a resolute stand for free speech across the board as an indivisible liberty that we defend for all or none at all.
We are up against three main enemies in the silent war on free speech. There are the new breed of offence-seeking official censors, such as the Glasgow Police who last month threatened to arrest anybody whose tweets were not just illegal, but also 'hurtful' or 'unnecessary' (get ready to round up all those people posting pet videos on social media).
At least equally important are the unofficial censors, the ban-happy No Platforming student activists and online twitch-hunters whom the book calls the 'reverse-Voltaires', with their cri de coeur: 'I know I will be offended by what you say, and I'll fight to the end of free speech for my right to stop you saying it.' And then there is the internal menace of self-censorship, the widespread fear of giving offence among many who are no longer sure what opinions they are permitted to express, or even which words it is considered all right to use.
The concise edition of Trigger Warning, out this week, is intended as a call to arms, a pocket-sized reminder of what real free speech means and why it is the lifeblood of our civilisation. It hopes to be a hand grenade to lob into the Safe Space bunkers of the reverse-Voltaires on the big issues of the age, from identity politics and incitement to Holocaust denial and hate speech (and, of course, trigger warnings). It concludes that free speech is never the problem; the fear of free speech is.
When arguing about the contemporary threats to free speech, we are always drawing on the battles of the past and standing on the shoulders of giants. Our intention should be to invoke and update the spirit of the heroes and heretics who fought through history for the right to be offensive. None more so than Spinoza, the great Dutchman of the Enlightenment, who almost 350 years ago set a standard for a modern, civilised society that we are still struggling to meet in the 21st century.
Spinoza wrote that 'In a free state, every man [to which we can add every woman or person of indeterminate gender] may think what he likes and say what he thinks'. If he were somehow to return today, he would surely be met by an online mob tweeting, 'Think what you like and say what you think? WTF? You Can't Say That!'
Mick Hume is spiked's editor-at-large. The 'concise and abridged' edition of his book, Trigger Warning: Is the Fear of Being Offensive Killing Free Speech?, is published this week by William Collins, £6.99. Buy it here.
To enquire about republishing spiked's content, a right to reply or to request a correction, please contact the managing editor, Viv Regan.