Eurovision: Russia wasn't robbed
Too many are reading too much into Ukraine's Eurovision victory.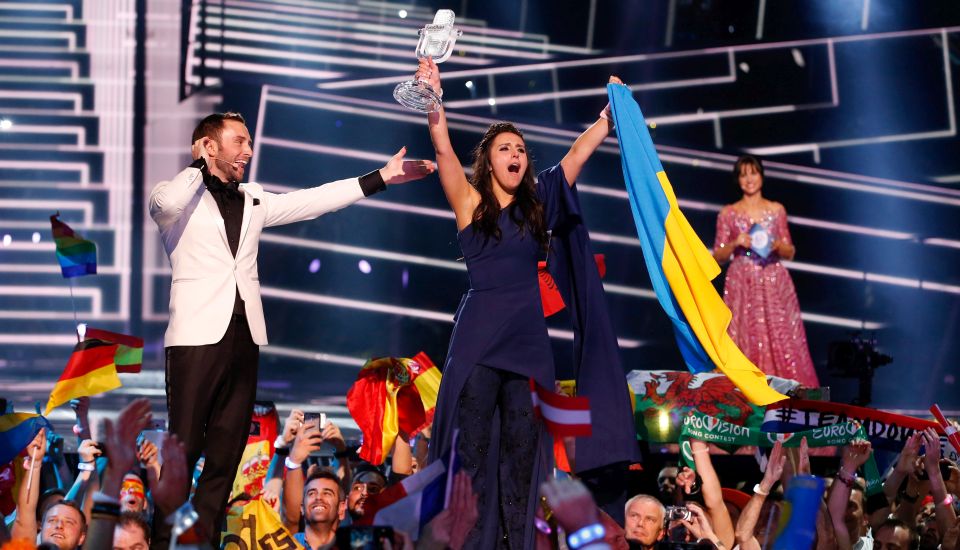 Ukraine's victory in Saturday's Eurovision Song Contest has caused wails of complaint from the Kremlin and on Russian media, with mutterings that Russia may boycott next year's contest if, as expected, it is held in Ukraine. As ever, the Eurovision voting is not immune to politics, but was Ukraine's victory really down to anti-Russian sentiment?
Ukraine's song, '1944', written and performed by Jamala, is ostensibly about the forcible deportation of Crimean Tatars, which led to thousands of deaths from starvation and disease. Jamala herself is of Tatar extraction and was said to be inspired by her family's experience. But the words are vague enough that they could easily be read as a veiled criticism of Russia's intervention in Ukraine, particularly the annexation of Crimea.
In the past, political songs (or at least, ones that might cause a diplomatic incident) have been barred from Eurovision. In 2009, Georgia's entry, 'We Don't Wanna Put In', was rejected as a barely disguised prod at Russia's president, Vladimir Putin. Jamala herself has made the connection with present-day events. 'Of course it's about 2014 as well. These two years have added so much sadness to my life. Imagine, you're a creative person, a singer, but you can't go home for two years. You see your grandfather on Skype who is 90 years old and ill, but you can't visit him. What am I supposed to do: just sing nice songs and forget about it? Of course I can't do that.' But on this occasion, the contest organisers allowed '1944' to be performed, despite protests from Russia. Clearly, that's a political judgement to some extent, but '1944' makes no specific mention of Russia or events in Ukraine today.
After Ukraine's win, Franz Klintsevich, the deputy chairman of Russia's Federation Council Committee on Defence and Security, declared: 'It was not the Ukrainian singer, Jamala, and her song "1944" that won the Eurovision 2016, it was politics that beat art. If nothing changes in Ukraine by next year, then I don't think we need to take part.'
Yet it's not clear that politics or skulduggery were the chief reasons for Ukraine's victory. Russia actually came third, not second, beaten to second place by Australia. (No, there's no logic to Australia being in the contest, apart from the fact that Eurovision has a strong following in Oz.) In fact, halfway through the voting, it was Australia that was winning, based on the scores from juries of 'music experts' in each country. Russia did relatively badly among jury voters. However, Russia did come top among the public – no doubt heavily influenced by the song's spectacular staging – pipping Ukraine and comfortably beating Australia among viewers.
Clearly, the voting public had not been put off by concerns about the war in Ukraine. The juries, who are supposed to focus on the quality of the song and the performance, did not think the Russian effort was particularly brilliant – and, in truth, the song itself was fairly run of the mill Euro-pop. Whether the juries were really all that 'expert' is another matter. For example, the UK's anodyne song did fairly well by recent standards and even got 12 points from the Malta jury, but cut little ice with the public, finishing up third from last.
There has been plenty of propaganda from both Europe and Russia over the war in Ukraine, and that has some effect on Eurovision. Russia clearly thought winning Eurovision would be a propaganda victory, which is why it spent so much on its entry. For voters, it's hard to completely separate your feelings about a country from your feelings about a song. But politics is a much smaller part of Eurovision than many believe. When neighbours vote for each other, for example, it's more about common culture and votes from ex-pats than politics as such.
Ukraine won Eurovision because a combination of jury members and voting viewers decided it was the best song. Despite Russia throwing the kitchen sink at its entry in a desperate attempt to win, it didn't appeal across Europe quite as much as Ukraine and Australia. Winning the votes of people in 43 different countries is a big ask. Russia's failure wasn't even the oddest story of the night. Poland's song, 'Colour of Your Life', a plodding power ballad sung by a man who looked a bit like 'Weird Al' Yankovic, picked up just seven points from the juries but received 222 points from viewers. There's no accounting for the tastes of an entire continent.
For me, the entries from Bulgaria (fourth) and France (sixth) were more deserving winners than either Ukraine or Russia. If anyone was robbed, it was Spain, which deserved far better than 22nd place. But hey, that's Eurovision, folks. Better not to fret about the result and just enjoy the show.
Rob Lyons is a spiked columnist.
To enquire about republishing spiked's content, a right to reply or to request a correction, please contact the managing editor, Viv Regan.