The rot runs deeper than Zuma
The ANC has betrayed ordinary South Africans.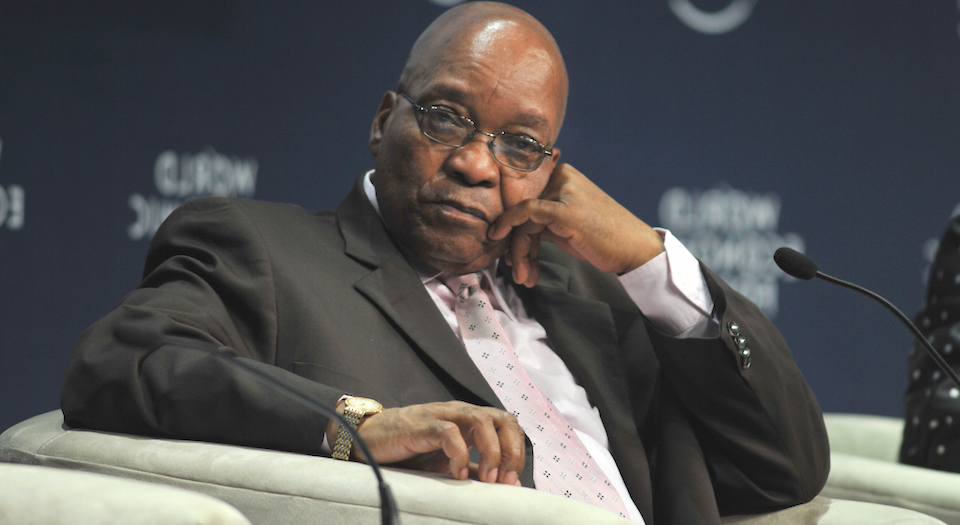 Jacob Zuma has had a rough 2016. So far, he's been hit by three court rulings, he's been accused of allowing businessmen to appoint cabinet ministers, and his nephew has been implicated in the Panama Papers leak.
In March, the Supreme Court of Appeal ruled that the government's failure to arrest Sudanese president Omar al-Bashir while he was in South Africa was unlawful and that its conduct in preventing his arrest was 'disgraceful'. In the second court ruling, the constitutional court found Zuma guilty of failing to uphold the constitution by refusing to obey the public protector.
He was ordered to repay a proportion of the 246million Rand (£11.7million) of taxpayers' money spent on 'security upgrades' at his private estate in Nkandla, which included a chicken run, amphitheatre, cattle kraal, visitors' centre and swimming pool (or 'fire pool', according to Zuma). More recently, it was ruled that the dropping of corruption charges against Zuma weeks before he became president in 2009 was 'irrational'. He may also need to return to court to answer on charges relating to corruption in the 1999 46.7 billion Rand (£2.2 billion) arms deal.
Zuma's financial illiteracy was clear for all to see when he went through three different finance ministers in four days last December, causing the Rand to fall to an all-time low against the dollar. South Africa is now in imminent danger of a credit-rating downgrade and the economy has the slowest growth in sub-Saharan Africa. The government shows little concern for the economy. Indeed, the ANC has presided over an increase in unemployment since the end of Apartheid.
But the Nkandla estate saga is only a part of the broader crisis of the ANC: its corruption, its lack of integrity and its drift away from the interests of ordinary South Africans predate Zuma's premiership. But, having won over 62 per cent of the vote at the last General Election, there is little chance of the ANC being voted out any time soon. That it took more than five years for Zuma to apologise is typical of his party's arrogance (he still hasn't paid back the money). The ANC is still riding off its history of struggle, and the smiling face of Nelson Mandela. It can do no wrong.
And so the ANC revels in its mediocrity. While its president giggles shamelessly, facing criticism on the rare occasion he turns up to parliament, the ANC has neglected ordinary South Africans and has failed to lift the black working class out of the legacy of Apartheid. South Africa's education system is in chaos, maths and science teaching is ranked 138 out of 140 countries by the World Economic Forum, and the education minister is currently withholding a report on rampant corruption in the system.
Criticism of the ANC has focused heavily on Zuma. After all, he is an easy target. When he leaves, the opposition parties will need to reckon with the broader problems afflicting the ANC. But, up to now, they have failed to do so. As commentator Gareth van Onselen has pointed out, Democratic Alliance leader Mmusi Maimane's speech at this year's state of the nation debate mentioned the president 30 times, but only mentioned unemployment twice. Everyone knows there's a problem with Zuma, but focusing criticism on him misses the point. It's the ANC and the government as a whole that needs to take a real critical bashing.
This is far easier said than done. For many, the ANC is still the saviour of South Africa. Its local organisation and its support in most rural areas is unrivalled. Grinding down such an established political structure, regardless of its faults, is a mammoth task. Zuma himself has said that the ANC will 'rule until Jesus comes back'. Either the ANC will be brought down by some internal catastrophe – one far greater than Zuma – or there will need to be a steady and serious critical approach, with the divided opposition parties slowly eating into the ANC's support.
Whether Zuma can last until the end of his term is an interesting question, but it is of little relevance in the long run. Corruption, neglect and self-righteousness are problems endemic in the ANC government. Local elections will be held in August, and the opposition looks set to make some moderate gains. But, if the ANC brand maintains its potency, the party will survive worse scandals than Zuma has brought upon it.
Joe Arthur is a former spiked intern.
To enquire about republishing spiked's content, a right to reply or to request a correction, please contact the managing editor, Viv Regan.