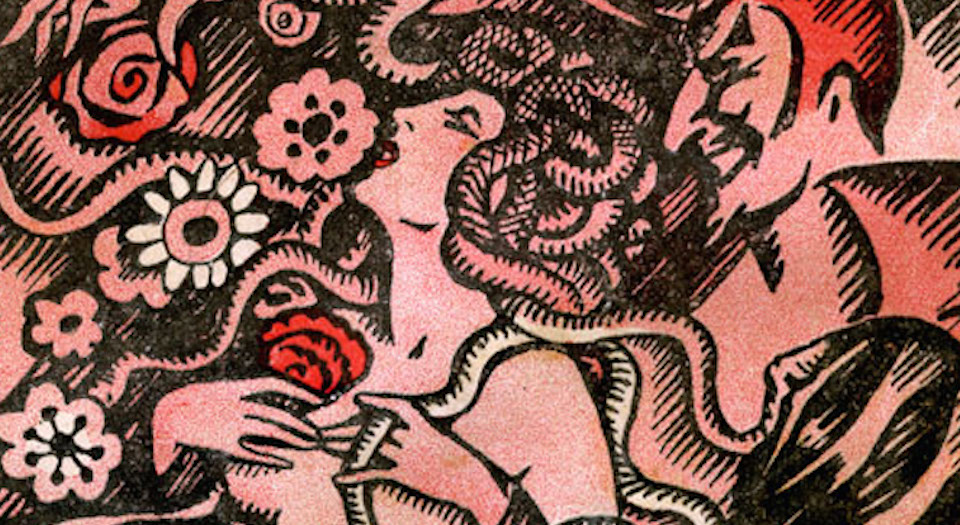 Long-read
The waltz of censorship
For the likes of Flaubert and Baudelaire, evading the censors was a very serious game.
Two of French literature's most enduring works of the early modern period, Madame Bovary and Les Fleurs du Mal, faced prosecution on grounds of obscenity. The two cases were prosecuted by the same lawyer, Pierre-Ernest Pinard, in the Sixth Correctional Court, where indicted authors were tried alongside petty criminals, disturbers of the peace and common sexual deviants. One author was condemned and one acquitted. The Censorship Effect examines the causes and consequences of the trials.
On Christmas Eve 1856 a little-known writer called Gustave Flaubert was indicted on charges of 'outraging public morals and religious and good manners' for the serialisation of his novel Madame Bovary. Revue de Paris published the novel in serial form but the cautious editor made many cuts to the text (so many cuts, that an exasperated Flaubert demanded that the journal publish a disclaimer to the effect that what was being printed was only fragments of the novel). Emma, the protagonist of the novel, embarks on sexual affairs and lives an indulgently materialistic lifestyle to combat the boredom of her marriage to a provincial doctor. The depiction of the heroine's lewd and immoral conduct – in addition to the fact that there is no express condemnation of her actions – raised the suspicion that the novel might lead astray female readers and arouse male ones.
As William Olmsted points out in The Censorship Effect, the oppositional binary model of free-speaking authors being constrained by prudish censors is not tenable. The author actively collaborates by self-censoring and adding didactic moralisation. The censor acts as the offended party, agent of retribution and force of 'political correction' – in effect, acting in loco parentis. Author and censor participate in a waltz of censorship, engaging in a battle of wits like star-crossed lovers in a romantic drama.
In order to avoid censorship, Flaubert honed his prose to convey the scandalous in a subversively indirect manner, making readers complicit in the immorality by inviting them to apply their own understanding to the text. Analysis of Flaubert's manuscript drafts of Madame Bovary compared to the published text reveals that the author trimmed and entirely cut explicit passages. It is hard to tell whether alterations were legally or artistically motivated. Flaubert was famously fastidious about writing and it could be that his wish to sublimate scandalous content was solely (or at least primarily) due to literary considerations.
Flaubert's artistry allowed him to imply a good deal more than he literally described. This subtlety caused the censor a degree of difficulty. How could one infer immoral actions – which are implied but not described – without opening oneself up to the charge of interpreting a neutral text in a lascivious fashion? The most famous example of this is Emma's carriage journey with Dupuis. While the coachman aimlessly drives them around for six hours, the implication is that the two characters alone in the carriage are having sex with the shades drawn. Yet the author never states that that is exactly what is happening in this comic and titillating scene. Flaubert never describes what is happening inside the carriage. When criticised for depicting this adulterous liaison, Flaubert and his publishers could disingenuously exclaim: 'Whatever can you mean?'
Flaubert was acquitted of the charges and, with no further impediment to publication, Madame Bovary was published in book form in April 1857. It remained controversial and went on to be a bestseller, which established Flaubert's reputation as a gimlet-eyed satirist and a writer of powerful originality and ingenuity. Charles Baudelaire fared less well in his obscenity trial that same year.
Baudelaire's Les Fleurs du Mal was a collection of Symbolist poems covering topics domestic, sensational and serious, with a pronounced fixation on the morbid and erotic. While some of the poems were considered potentially blasphemous, the clearest offence was erotic content. Pinard singled out poems with sexual language, including a vampire sucking marrow from a bone (common slang for oral sex) and 'girls with sunken eyes, amorous of their bodies, caress the ripe fruits of their nubility'. The descriptions of lesbians asserted the primacy of sinful sex for pleasure instead of marital sex for procreation.
Baudelaire's defence was that a work of art cannot be judged by a part, but only as a unified whole, which the prosecutor undercut by refusing to consider the book as a whole and fixating on salacious description. Passages of poems were taken out of context and considered to be sufficiently immoral to prove the case. (Olmsted quotes court transcripts and texts in French and translation, allowing French speakers to follow the nuances of language.) Baudelaire lost his trial and six poems were judged obscene and banned. Only in 1949 did a court ruling quash that verdict.
The Censorship Effect reminds us that censorship implicitly admits a gulf between a moral outlook and reality and, as such, is essentially an extension of religion, imposing an idealistic code upon unseemly facets of human nature. Official censorship, which polices words and admits the impossibility of changing a dislikeable reality by merely suppressing description or discussion of it, and at the same time attempting to direct thought by making public expression of candid thought impossible, parallels the philosophy of the identity politics of today.
The only shortcoming this approachable book has is that it assumes familiarity on the reader's part with the extent and procedures of literary censorship in Second Empire France and, moreover, with the facts of these two cases. The author might usefully have outlined cases to help readers and to allow us to understand the consequences of conviction and punishment. Were the authors present during the trials and how much did they direct the defence? How frequent were such trials and what newspaper coverage did these two receive? As it is, readers will have to go to other sources to learn what could have been summarised in the book. Nonetheless, The Censorship Effect is a valuable text for anyone interested in literary censorship.
Alexander Adams is a writer and art critic. He writes for Apollo, the Art Newspaper and the Jackdaw. His book On Dead Mountain is published by Golconda Fine Art Books. (Order this book from Pig Ear Press bookshop.)
The Censorship Effect: Baudelaire, Flaubert, and the Formation of French Modernism, by William Olmsted, is published by Oxford University Press. (Buy this book from Amazon(UK).)
To enquire about republishing spiked's content, a right to reply or to request a correction, please contact the managing editor, Viv Regan.