The Muslim versus the Posh Boy
The London election has been reduced to a shallow battle of identities.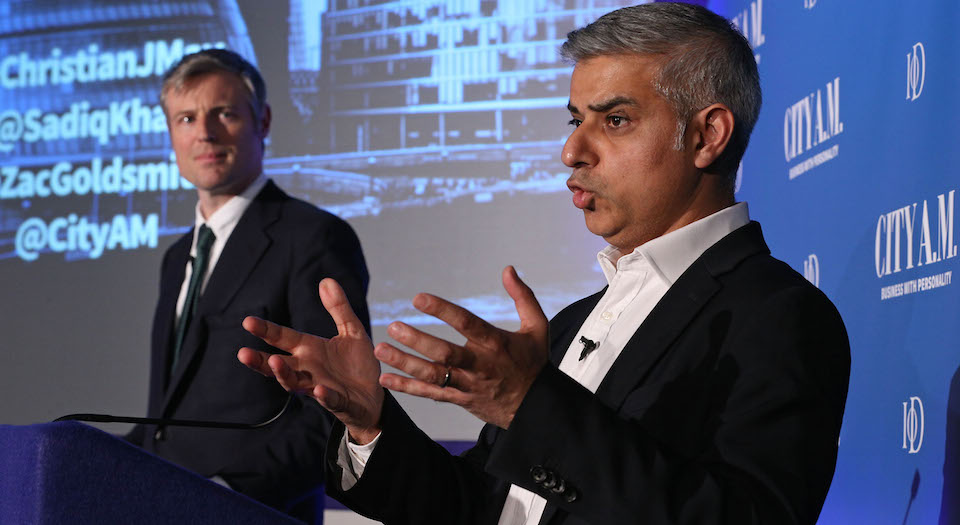 With Labour candidate Sadiq Khan now looking almost certain to win next month's London mayoral election, his only real adversary, Zac Goldsmith, the Tory candidate, is getting it in the neck. He is accused by commentators on all sides of being too diffident, too unenthused, too shy almost. 'Does he even want to win?', ask some. And that's the least of it. The more damaging accusation levelled at Team Goldsmith is that its campaign has been tirelessly negative, its focus all too often drawn to Khan's Muslim-ness and the extent to which that must make him a threat to Londoners' security.
And to be fair, that has been the substance and subtext of Goldsmith's campaign: Khan, by dint of his ethnicity, is inextricably linked to Islamic extremists, terrorists even. There was the story of Khan speaking at the Global Peace and Unity festival in 2008 while a few members of the audience waved proto-ISIS black flags; there was the tale of Khan's sister who was once married to someone who once spoke at events organised by the now-banned Al-Muhajiroun; and, just this week, there was a report that Khan, as the then chair of civil-rights campaign group Liberty, once shared a platform with a couple of al-Qaeda-lite Islamists. It's been a relentless guilt-by-tangential-association effort, and it's also been stunningly ineffective, largely because nobody actually thinks Khan is a Trojan Horse for ISIS.
'We can't let this go by', said Labour's Yvette Cooper in the midst of politicos and pundits refusing to let it go by. 'It's time to call it out for what it really is before it gets worse. What started as a subtle dog-whistle is becoming a full-blown racist scream.' The Guardian's Michael White joined the crowd not letting Goldsmith's crap campaign go by, noting that 'in the present state of high alert over Brussels/Paris attacks, it's easy to see how this election could get nasty as polling day looms, doing London's citizens no good at all'. And another commentator said that Goldsmith's campaign is 'as absurd as it is offensive', playing on a media bias 'against Muslims running for public office'.
Yet the flak now coming Goldsmith's way for a miserably racialising campaign is a little unfair. Not because his campaign hasn't been rubbish – it has – but because it has not been driving the racialising dynamic of the election. Rather, Team Goldsmith has been responding to an already existing racialising dynamic. In other words, it has been reacting to a political contest already dominated by identity politics, by the skin colour and ethnicity of participants rather than their political views.
After all, it wasn't Goldsmith who first made a big thing of Khan being a Muslim. It was Khan himself. Think back to June last year, when Khan was trying to win the Labour nomination. It was all about who he is, not what he stands for: 'The idea that the mayor of London could be the son of an immigrant, son of a bus driver, ethnic minority – and by the way, of Islamic faith – would speak volumes', he said. So Khan was entirely correct to respond to Goldsmith's campaign with the tweet, 'Hey @ZacGoldsmith. There's no need to keep pointing at me & shouting "he's a Muslim". I put it on my own leaflets.'
Khan's right – he has banged on incessantly about his background, his being a Muslim, so much so that next month's vote is now almost entirely about his being a Muslim. Vote for Khan, and you choose the right-on path of tolerance and diversity; vote against Khan, and you choose the way of racism and Islamophobia.
Goldsmith's whole campaign has turned on the attempt to turn Khan's identity, as the 'immigrant son of a Pakistani bus driver', from a positive into a negative, from a plucky minority into a terrorist threat. He has tried to play the game of identity politics, and failed. Which is hardly a surprise. While Khan has been able to champion his background, Goldsmith, a posh Old Etonian and self-described 'part Jew', has struggled to downplay his. His only move, in an election dominated by who one is as opposed to what one believes, has been to try to make Khan's background as problematic as he finds his own amid all the privilege-checking and rich-bashing. It has been singularly unsuccessful.
In just over a fortnight, over eight million Londoners ought to be getting a chance to choose competing visions for one of the world's great cities. That this choice has been impoverished, reduced to a toss-up between the posho and the Muslim, is an indictment not just of Goldsmith and Khan, but of the parlous state of British politics as a whole.
Tim Black is a columnist at spiked. He is the editor of the spiked review.
Picture by: Dan Kitwood / Getty Images.
To enquire about republishing spiked's content, a right to reply or to request a correction, please contact the managing editor, Viv Regan.