The EU's use and abuse of Syrian migrants
Whether it's welcoming or deporting them, the EU is behaving cynically.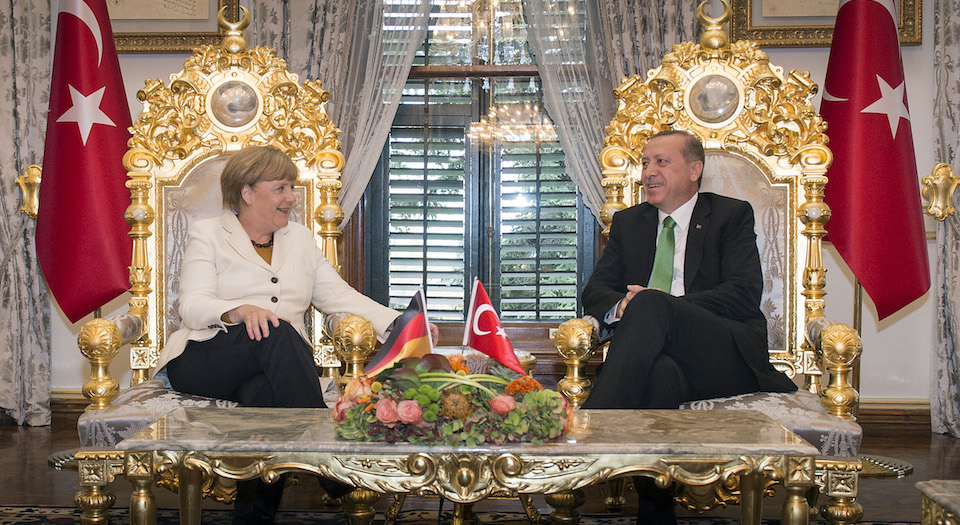 The mask slips. After months of posing as the grand protectors of migrants, the European Union's grubby deal with Turkey to deport Syrians arriving on Greece's shores has brought its hypocrisy into sharp relief.
Under the agreement made in March between the European Council and President Erdogan's ruling regime, migrants are being sent back to Turkey in exchange for the EU resettling some of the 2.7million Syrians housed in Turkey on a one-for-one basis. Flotillas have been commissioned to ferry migrants back and forth. And the EU has put up a further €6 billion in funds to Ankara, and dangled visa-free access to Europe for Turkish citizens.
Only a month down the line and the deal is already beginning to unravel. Greece was told that, as part of the new deal, the EU would help resettle some of the 45,000 migrants Greece is currently struggling to feed, house and process. To date, less than 3.5 per cent of those pledged to be relocated have moved. Turkey, meanwhile, is continuing to pile on the pressure, saying that if the EU doesn't come through on visa-free travel it will call off the deal.
The incompetence of the EU in dealing with the migrant crisis is writ large. Last September, the EU emerged from fraught negotiations with a pledge to reallocate 160,000 Syrians – a small fraction of the total. As of last month, only 660 have been reallocated, after efforts buckled under logistical chaos and the refusal of Hungary and Austria to take their share.
Putting aside these states' right to assert their democratic mandate, the current chaos gives the lie to the idea that the EU allows European states to take decisive, collective action. The Turkey deal shows the EU is now happy to kick the can further down the road and outsource responsibility for the crisis on its shores. More than ever, it's clear this ramshackle institution simply doesn't work – even on its own democracy-dodging terms.
The Turkey deal has been a PR disaster for the EU. For an institution so infernally beholden to its own rules and treaties, its liberal interpretation of the asylum system – which requires that refugees claim asylum in the first country they land in – has been greeted with scorn. One commentator called the deal 'shady', noting that Turkey – which isn't signed up to the UN Refugee Convention – has been cynically labelled a 'safe third country' by the EU in order to sneak the deal through.
The deportation programme itself has been slammed as illiberal and heartless. Médecins Sans Frontières has ceased its support efforts in the Moira refugee camp in Lesvos, because of the EU-Turkey scheme's 'unfair and inhumane' treatment of refugees. Similarly, Farah Karimi, Oxfam's executive director, said the EU was 'prioritising detention and deportation over people's rights to safety and dignity'. 'Deportation from Europe', as one writer reminded us, 'has a dark history'.
But the criticism has been unhelpful in that it has focused on the EU's perceived complicity with Turkey, and its willingness to turn a blind eye to alleged abuses in Turkish camps. Reports of shootings on the border, and the forced deportation of some Afghans and Syrians, have led to the deal being painted as a grubby compromise that has let Turkey off the hook. For all the talk of it being a 'safe third country', wrote one commentator, 'we should be under no illusions that the deportees are being sent to safety'.
But this misses the point. The EU's actions are not the product of desperation, nor complicity with a brutal regime – they're entirely consistent with its own record on non-EU migrants. Despite its high-minded promises to aid those fleeing conflict, the EU has always done everything it can to keep Middle Eastern and African migrants out. The same Eurocrats who are now castigating Eastern European states for erecting razor-wire and bristling at migrant quotas have been keeping Fortress Europe on lockdown for decades.
Before the migrant crisis hit, thousands of migrants were dying in the Mediterranean each year. For decades, the EU agency Frontex has sternly policed Europe's external borders, deploying armed patrols in the Med to round up and detain brown-skinned migrants. And you can forget the Turkey deal – in 2011 the EU funded then Libyan dictator Colonel Gaddafi to the tune of €50million a year to keep migrants from Europe's shores.
The EU's commitment to free movement has never extended beyond white Europeans and was designed only to meet its own narrow political aims. Even Angela Merkel's 'principled' decision to ignore the public's wishes and throw open Germany's borders to Syrian refugees last summer was entirely contingent. It was an attempt to quell tensions and avoid clashes on the Hungarian border, and to atone for Germany's past. Now, after a huge political backlash, she is chumming up to Turkey. As ever, European elites are only interested in holding the EU together.
Those of us who want a liberal, humane approach to immigration, one that allows people to pursue their destinies and carve out a new life, should refuse the Eurocrats the moral high ground. And, more crucially, we need to do what the EU is designed against – take democracy seriously. At its best, European free movement is an imposition on European peoples, at worst it's a political weapon. We need to retake control of our borders, and then make the case for why they should be opened to outsiders.
Tom Slater is deputy editor at spiked. Follow him on Twitter: @Tom_Slater_
Picture by: Handout / Getty Images.
To enquire about republishing spiked's content, a right to reply or to request a correction, please contact the managing editor, Viv Regan.