Hillary, quit the gender game and give us some politics
Ella Whelan reports from yesterday's Hillary rally in Brooklyn.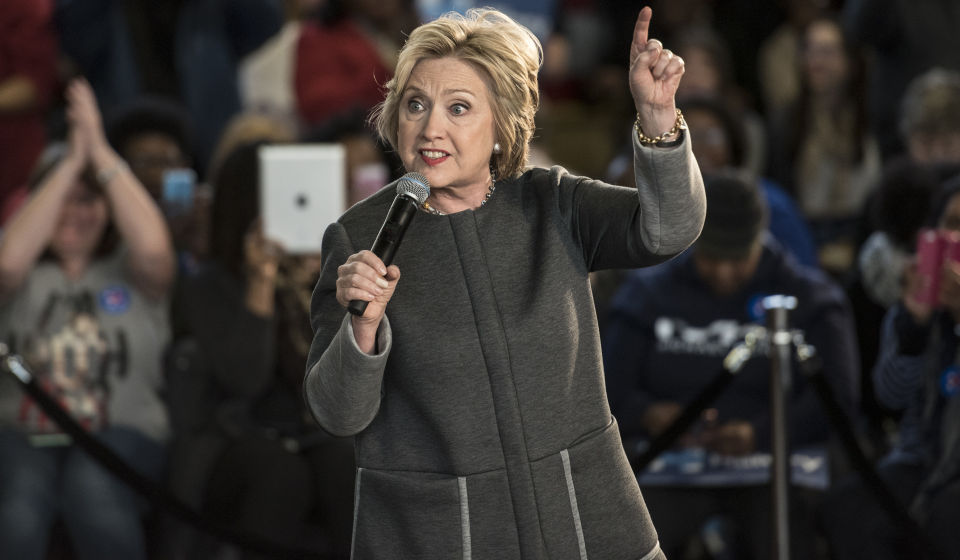 Waiting – and shivering – outside Medgar Evers College in Crown Heights, Brooklyn, stood a long line of Hillary Clinton supporters, snaking round the block. They filled out supporter forms, bought badges, and chatted about the CNN and ABC trucks that lined the street.
In the queue, I overheard one woman saying: 'This white, young woman said to me, "But you're black, why are you voting Hillary?" And you can imagine what I said back.' The woman next to her chuckled.
It often seems that Clinton's speeches are formulaic: she starts by calling out to all those supposedly oppressed on the basis of their race, sexuality, gender or disability; she then proceeds with nods to more jobs, more education, more focus on women's issues; and then ends, where she began, with a rallying cry to all those oppressed on the basis of their race, sexuality, gender or disability. For anyone outside of the identity-politics bubble, it's hard to find any actual political content in a Clinton speech.
Clinton supporters waiting outside.
The venue, Medgar Evers College, is a public college in a predominantly African-American area. Clinton's team clearly wanted to play to the crowd. Before her entrance, TV screens showed a short endorsement video featuring the mothers of Treyvon Martin, Eric Garner and Sandra Bland — black people killed in acts of violence by police or neighbourhood security men — before the warm-up speakers desperately drew attention to Clinton's work with the African-American community.
There were two special interests at play during the rally: women and African-Americans. Even the audience was split between white, middle-class women in heels and groups of black New Yorkers with their families. There was an awkward tension in the room as Clinton's predominantly white, polished and professional crowd-fluffers ran around trying to get 'HIL-LAR-RY' chants going among a crowd that was enthusiastic, but not over the moon after waiting two hours outside. Yes, she had support, but this was no Trump rally. The applause was sporadic, the cheers shortlived.
In the warm-up speeches, the first lady of New York City, Chirlane McCray, among others, praised the fact that we were 'voting for a woman'. Those who argue that Hillary isn't courting the female vote on the basis of gender often seem suspiciously comfortable doing just that: playing to the gender bloc. As Clinton herself said, 'I care about women's issues because I am one'. If that isn't encouraging 'vagina voting', I don't know what is.
The whole event was tense and weird. There were empty claims about women being at a disadvantage in the workplace, calls for equal pay and frequent mentions of 'women and girls' – that glorious lumping together of adults and children which so infantilises women. Clinton was ringed in by a semi-circle of black women who all said that she really cared about the black community, and yet there was no discussion of what Clinton would do to change the lives of black people in a place like Crown Heights. Women were repeatedly described as 'under attack' and yet abortion was only mentioned in relation to Trump's crass comments – a point which prompted a pantomime boo from the crowd.
Clinton addresses the rally.
It was very apparent that Clinton is trying to ride the diversity vote. And what better place to do so than New York, home to the student politics of Black Lives Matter and campus rape panics. It certainly felt as if much of the crowd had been shipped in from uptown and the universities.
Clinton's appeal seems to be stagnating. Her falling approval ratings show that people often think she comes across as fake and unconvincing, which was borne out by her uncomfortable performance at Medgar Evers. She awkwardly asked for the podium to be put away so she could 'include others in the conversation', and called out to all the 'mothers' in the crowd, praising them for being, well, mothers.
What Clinton doesn't seem to get is that most women don't think of themselves primarily as women – they think of themselves as individuals and as people who live and work with men and who are just as keen to see their men doing well as themselves. To put women in a box, to gender them to the point that it controls the way they vote and the issues they're meant to care about, is a huge step backwards for both women and democratic politics. And it seems that, as Clinton's struggles attest, many women recognise this.
Ella Whelan is staff writer at spiked.
Main picture by: Getty Images.
In-article pictures: by Ella Whelan.
To enquire about republishing spiked's content, a right to reply or to request a correction, please contact the managing editor, Viv Regan.